Still struggling with this tire tread profile, it has proven more difficult than I thought. But I think Im happy with this one. Maybe once I get more familiar with the way the program works I will revisit it.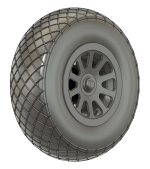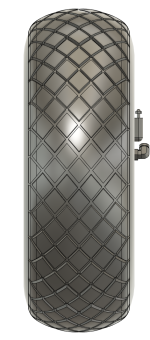 This is a new mustang tire in current times....did the 1940s version look like this...After consulting all my books, Id say it does. For the diamond tread. I'm having problems getting the very outer diamond to contour to the tire. So I made a compromise. I made a profile to shave the outer edges to give it a wear look. I may give the edges a slightly more wear look. But I need to see how this prints first.
This pic is a tire after some use.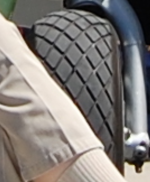 I kinda tired of getting hung up on this particular tread pattern. I have a few more treads that were common to the mustang to do. And Im getting itchy to build a mustang with my parts.
And for those interested, here is a cut away of the assembly. The hub is two pieces, for ease of painting. When assembled in the tire it will look like a solid hub. I hope!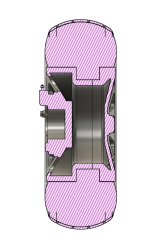 Im sure you're getting tired of seeing damn diamond tread tires!!! I know I am!