I goofed up a decal on my Ki-45 Toryu. I had painted it in a home island defense scheme which put me in a problem. Only two Sentai (wings) operated it, the 53rd which I had prepared the plane for and the 4th. Unfortunately, the 4th wont work as I had painted a single white band behind the Hinnomaru and the 4th by all accounts had three. So while waiting why not pick up a few others and continue.
Here is the beginning stages of my Aichi M6A1 Seiran special attack plane. It was designed to be transported aboard I400 class submarines and launched at sea. Each submarine carried three of these planes. They were produced in very small numbers and were issued to only one Kokutai.
The kit is 1/48 Tamiya #61054. I traded a Revell Ventura for it several years back.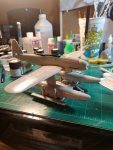 Last edited by a moderator: