My apologies to Frank for the title but sometimes my weird sense of humor kicks in and I can't help myself. The following are kits on hold, which is different than the SOD, the SOD kits will probably never be completed I just haven't decided to bin them yet. Kits on hold I fully intend to finish in time.
First up is the Dornier Do 335B-8. This was the Tamiya B-2 kit with a Paragon conversion set. The B-8 was to have been a high altitude night fighter which incorporated the Heinkel designed high aspect ratio long span wings. The kit was started and the original build log was entered in the Defense of the Reich group build at Swanny's models back in 2008. It was completed to the point shown below in early 2009 and shelved until I could master the night fighter scheme. In the intervening years I have tried to master the technique involved on multiple occasions and have repainted my paint mule at least three times and as of this time I have only come close to being happy enough with the result to attempt doing it on the model. Maybe someday !
​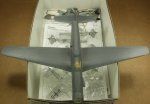 Next up is the Hasegawa F-104C which I started back in 2018 for one of the campaigns here. It currently is as shown below. Other than stating that I really hate masking I have no other comment to make on this one.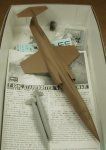 Also started in 2018 is this Hasegawa D3A1 Val again for a campaign here. I decided to use a CMK resin interior and all went well until I got to the gunners position in the back and ran into some fit issues and some very fiddly parts which eventually wore me down and I decided to move. I'd really like to finish this one but the mojo is not up to it yet.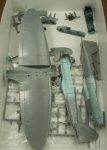 Lastly this 1/32 Hawker Typhoon. This is the old Revell kit festooned with rivets and raised detail and not much in the way of cockpit detail. I added an MDC resin pit and have a set of their rockets to use on it as well. I wanted to do a car door bird with invasion stripes but it seems most of the car door versions had either been converted to bubble tops or out of service by the time of the invasion. Fortunately I was able to find a photo of one that was used. I decided not to fool with removing the rivets as I thought it gave it that flying tank look. It got this far when I ran out of steam. That was back in 2012, still waiting for the steam to return.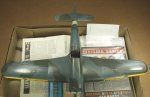 I currently have four kits in various stages of completion, two of which also date back quite a ways and hope to have them ready to post in the next month or so.
As always, thanks for looking !