First time I saw the B-2 flying over was at the Patrick AFB airshow, 1995.
Another time the wife and I were returning from the Bahamas on a cruise ship going into Port Canaveral when two C-17's where doing touch and goes at Patrick AFB, that was the first time a was able to see C-17's flying around. Watched them from our balcony of our stateroom from about ten miles out.
Took these picture in Cedar Rapids, Iowa. It was a support aircraft for the president when he came into town.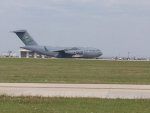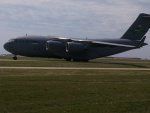 Frank