Thanks, Gary.
Well, I got the fourth figure completed. He took longer to complete than I had anticipated. After I painted the base color, I later decided I wanted to make it a bit darker so I just glazed it with Black Green to make it darker. I wanted to make this guy's uniform a tad darker so it would look like a newer uniform hence his not being able to handle his drinking like the others. I must not have mixed the Anti-Shine additive in well enough as it had the opposite effect, so I had to repaint it all. I was not able to make the uniform as dark as I had intended, but at least he got a new looking pair of jungle boots on. Then since he is bent over and I had already glued his arms into place, there was some difficulty in accessing the front torso and the legs behind the arms for shading and highlighting. The face did not come out as well as I would have liked, but since he is bent over throwing up, it won't matter that much. I think he turned out OK.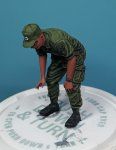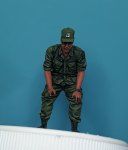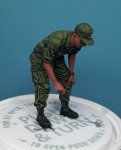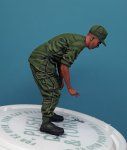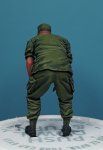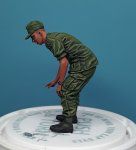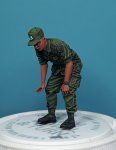 Now on to the final figure. I already preshadowed his uniform and face, and his pose will be easier to paint.
Thanks for looking. Take care and stay safe.
Cheers,
James