Many of you here will know that I spent a few years in the RAF back in the 1980's - for almost all of my time I was around the SEPECAT Jaguar - in my opinion one the very best attack & recon platforms of its' time and certainly one of the most photogenic.

I've built a number of Jag's over the years but all of them in 1:72, so time to change that. When we moved house two years ago, an Airfix 1:48 that I'd completely ignored suddenly surfaced and has been hanging around my bench ever since. SO....

Time to build one of 'My' Jag's to celebrate the Ten Year Anniversary and to remember some of the very best years of my life: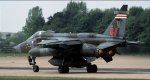 Ian.
Last edited: