Master At Arms
Staff member
The Great War still rages with no end in sight. France is a wasteland, the very air is filled with choking gas. The Brits have information that must make the front lines, so a lone messenger is dispatched under cover of night. His steed is the latest Le Haitre caterpillar motorcycle. With the ability to navigate muddy roads and steep grades, the Grohl is well suited.
The kit is from Weird Armies Reign, a Greek company and is cleanly molded and assembles easily.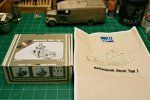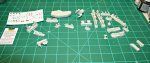 Included are eight different heads and decal markings for different nationalities.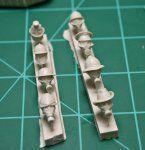 The running gear is mostly one piece and is very cool looking.
Some of the pieces appeared to be pretty fragile, so I added some additional support, so I wouldn't knock them off while handling the piece.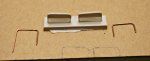 I traced the parts, then bent some annealed bronze phosphor wire to match the running boards. I drilled the body to accept the boards and installed them.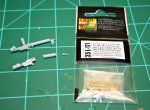 One of the weak points of this kit is the machine gun, it just lacked detail. Bob and Gary met us in Spartanburg last weekend and brought me some leftovers for consideration. Thanks, Bob! These are cool, but Aber makes a brass set, I just couldn't resist the temptation to kick them up some. The unmolested piece is at the top, I sectioned the lower gun in preparation for the Aber parts.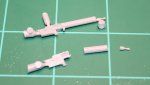 Last edited: