Information Overload
Staff member
With the border of the Caliphate moving East, the Germans are now reconsidering the Philippine model and sent out a request for help to the rest of Europe. Hungary, Finland, and Poland immediately signed up. Italy signed the pact but was embroiled in its own battles to protect the Vatican. A hodgepodge of equipment has started arriving. So did the volunteers, Scandinavians, Americans from both North and South, and Asians.
The Germans found themselves needing easily identifiable combat uniforms with increased protection for urban fighting. They developed armored suits which were custom fitted therefore denying captors their use. However, the suits were heavy with the consequence that injured soldiers would need specialized equipment to recover them and transport them to field hospitals.
While the suits had basic first aid built in such as automatic tourniquets should it sense a missing limb, things such intravenous medications and fluids were limited to what was carried. Therefore, a recovery vehicle capable of bringing an armored fighter back to the ambulance was needed.
The ambulances in use by the Germans, the Boxer GTK B05 model, were refitted with a built-in gantry, defensive weapon, weapon ports, and quick disconnects of the ambulance module to allow a heavy lift helicopter to whisk away the patient to a field hospital.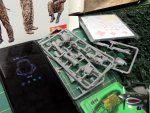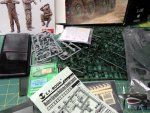 I began with the specific mission module for this build, the ambulance. Being Revell, it fought me all the way! Fifteen minutes work.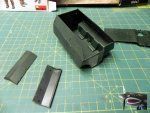 Lots of sanding to get it to fit and I ended up trimming the port side vertical mission module armor's rear edge.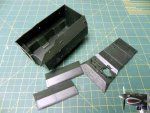 After gluing on the upper slanted armor, I noticed something...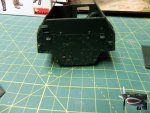 The roof now won't fit! I have a plan to fix this as it was my doing.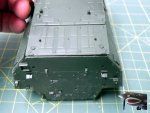 I created a flipped image and printed them out...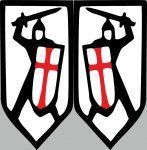 This is where I plan to place them. The stowage boxes will be all white.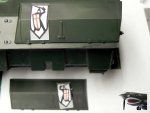 Regards,