Master at Arms
Staff member
Operation Unthinkable
was the name given to plans by the Western Allies against the Soviet Union. The creation of these plans was ordered by British prime minister Winston Churchill in 1945 and developed by the British Armed Forces' Joint Planning Staff at the end of world War II in Europe.
The first of the two assumed a surprise attack on the Soviet forces stationed in Germany in order to "impose the will of the Western Allies" on the Soviets. "The will" was qualified as "a square deal for Poland – which probably meant enforcing the recently signed Yalta Agreement. These plans were never implemented, but if a increasingly paranoid Stalin got wind of these plans and decided to get the jump on the Allies and attack first in order to capture all of Germany and force the Allies out of Europe.
In early May ,instead of the happy linkup of U.S. forces and Soviet Forces on the Elbe, US forces are caught by surprise by a Soviet attack on Allied forces along the entire front. The main axis of attack are from Berlin to the Rhine and Prague to the Rhine. Secondary encirclement's from Berlin and northern Germany and Czechoslovakia.
Allied forces caught completely off guard reel from the attack. British and Canadian forces are largely encircled and captured including Field Marshal Montgomery. Patton's Third Army executes a brilliant fighting withdrawal turning west out of Czechoslovakia along the Danube to the extreme western Germany. US First Army is rendered useless, but scattered units withdrew back to the Rhine to form the reconstituted First Army.
The Russian advance is finally halted by overwhelming Allied air attacks. With the front line stabilized Allied forces are planning a new offensive to push the Soviets out of Germany and eventually Poland.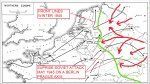 Last edited: