Finishing off a few projects and need to do some more gluing. My buddy James got a T-60 for his birthday so the two of us are going to do a bit of a group build. So starting my T-60 from Plant Number 37. I'm either going to do a 30th Guards tank or one from the Volkhov Front in 1942. The Guards one is neat because of the white commanders hatch. Will see as I get closer. Have some figs for it and some Fruil Tracks.
The T-60 was built as a replacement for the T-30 and was hated by its crews. This led to the name
Bratskaya Mogila na Dovoikh
or A Brothers Grave for Two. The Germans found it underwhelming but it was a good tow prime mover for artillery and as an ammo carrier.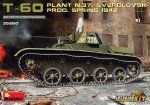 Instructions
James