Master at Arms
Staff member
Got everything painted.
The kit parts come with an excellent finish, especially the gloss parts. I imagine many will build it without painting. Having said that, I have been there and done that and have never been satisfied. It always looks like plastic to me no matter how good the plastic finish was.
So, I painted everything. First, the high gloss parts. The shin guards, the shoes, the shoulder armor and the helmet.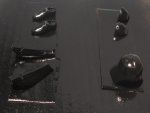 The face mask, In the movie, was all gloss black. Due to scale, when it is all gloss, the various parts do not stand out, especially the eyes. So, I sprayed it flat black. Then I glossed the eyes and all parts that faced the viewer. That allowed the individual [parts of the mask to stand out, again, especially the eyes, which, at least to me, are the most important features of the mask.
Here are the flat black parts before painting. They're not especially glossy, but they have a sheen that is unrealistic to me. By the way, this kit is, more or less, a Snap-site kit. No glue needed. However, the coats of paint made it necessary to use glue here and there.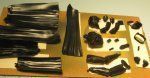 Especially with the cape and other draping, Vader also has a skirt like material like the cape that fits at the waist and is only open in the front. Painting them Matt black only didn't really give the illusion of cloth I was looking for. So, I shot them with a clear Matt varnish and immediately used a old and large brush with stiff bristles. Then, I ground a black pastel stick into powder,.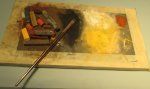 And then, while the Matt varnish was still slightly wet. I dipped the brush into the powder and using a jabbing motion, applied it to all surfaces of the "cloth" parts. Here are the various parts of the cape with the pastel powder applied. The two pieces of "Skirt" are the two horizontal pieces at the top of the photo. I think the pastel powder gives them the texture that more closely approximates cloth.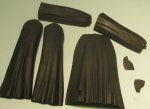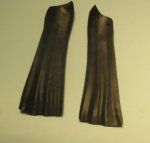 These are the ":Flat" parts after spraying with flat black enamel and before applying the pastels to the cloth parts.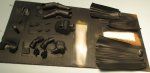 Here, once again, are the Gloss parts. I actually gave the helmet 3 more coats after this photo. It was extraordinarily glossy in the movie and I wanted to get as close to that finish as I could.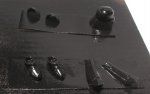 Here are the "cloth" parts compared to the high gloss parts.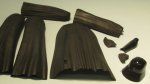 Thanks for looking in!
Bob