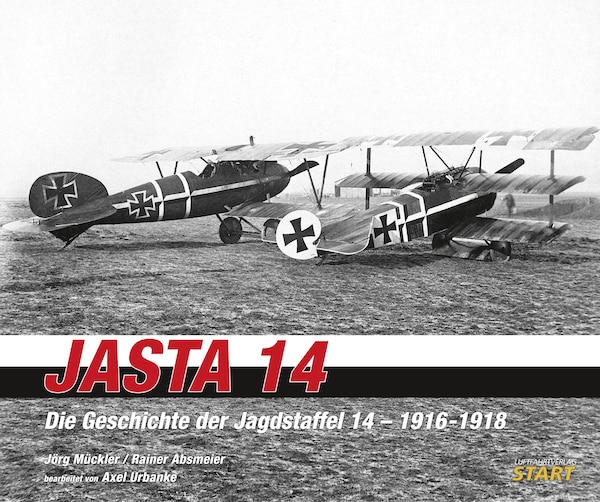 From
Luftfahrtverlag-Start
comes a fantastic new book on the history of Jasta 14. I have read a number of books from this small publisher in Germany and have never been disappointed. The quality of writing, clarity of pictures and detail provided all combine to make fantastic references. I believe this is their first WWI book. As soon as I heard of it and going by their other books I knew I needed to buy it.
I have have been happily reading through and poring over the pictures since it arrived. My only regret is that WNWs is no longer around in order to get some more Albatros kits for the very nice profiles found in the books pages. Decals will be forthcoming in 1/72 and 1/48th scale. I thought decals would also be available in 1/32 but I have not seen any listed on their web page.
The book is hardcover with dust jacket and measures 24 by 29 cms. It has 222 pages and from their web site Jasta 14 has 13 colour pictures, 251 B&W photos, 21 colour profiles and 9 maps. The text is in German and English. The maps are simplistic but provide the necessary information showing the front lines, important landmarks, and data required to enhance your understanding.
The photographs are amazing. All of them are so clear and simply perfect. For the time period and from other sources I would expect grainy or fuzzy shots. Instead the pictures are crisp and clear. I just can't get over the quality.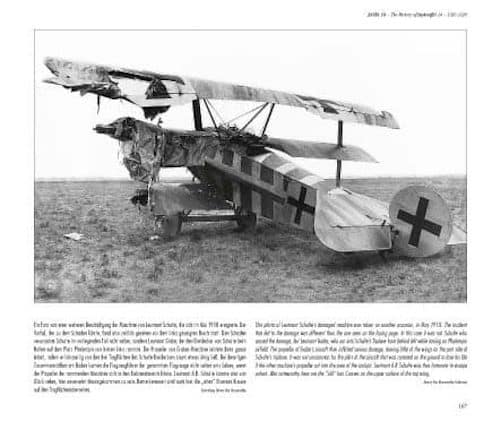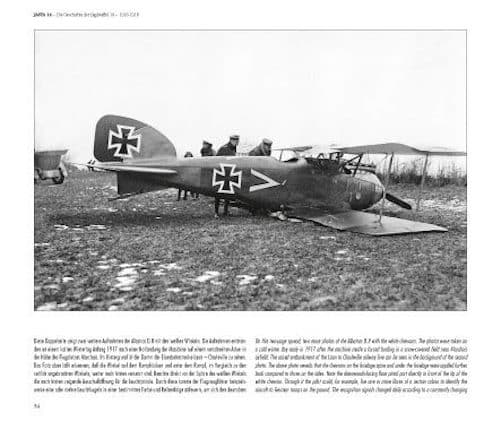 The colour pictures are more modern but still pertinent. The profiles are of the various aircraft in the unit. They have been beautifully rendered by Juanita Franzi. I find them very inspiring and now I'm getting itchy to build WWI aircraft again.
What do you get in the book content wise? Well it starts from pre Jasta 14 and begins in February 1916 with Kek (KampfeinserKommando) Falkenhausen. It continues with the formation of the Jastas and Jasta 14. The first Commanding Officer, Hauptman Kreig, was an observer and not a pilot so shortly after the formation of Jasta 14 he was replaced with a "fighter Pilot" Oberleutnant Berthold. It continues through year by year with all the important details covered until the end of the war, from Weiher near Strassburg to Schelderwindeke near Gent. Milestones, Pilots coming on strength and taken off strength, particular foes are all covered. The text is backed by photographs depicting everything from personages to living quarters, crashes and airfield life. Its very interesting to see how some of the airfields are laid out and what kind of maintenance facilities are available. Allied aircraft also show up, both captured or crashed.
The annex includes: The Airfields of the KeK and Jasta, Commanding Officers, References, A List of aircraft Serial Numbers, Abbreviations, Ranks, Pilots, Victory List, and Losses.
The Pilots table is a gem with all the info you could want on each pilot. It lists name, place of birth and date, date of death, and victories. There are a number of blanks but I imagine finding all of the detail would be very difficult and what has been found is extensive.
For a historian there is plenty of information and supporting photographs to keep you captivated. For a modeler the pictures are probably of the greatest interest. To see the staining of the fuselages, how uneven the paint jobs were, the maintenance support equipment and various transports will be very useful in your build.
To sum up, I am beyond pleased with this book and its contents. The bar had been set high with previous books from Luftfahrtverlag-Start and I was not disappointed. Clear crisp photographs with a good write up for each, maps, colour prints, and colour photos all make this an extremely good read. The price is reasonable for such a book at 64.00 Euros direct from the publisher. I believe any good book store will have them or be able to get it..
Panzerwrecks
has them for £58.99, and.
RZM
has it for $85.00 U.S.
I highly recommend this book and look forward to any more unit histories that may come.
Thanks to my wallet for this book and I promise I won't spend any more money, lol who am I kidding.
Addendum. Some more pages.