Iwata HP-TH
Full disclosure, I love Iwata. I purchased my first, the HP-BC2 for use with makeup EFX 33 years ago on the fourth floor of the original Pearl Paint in Manhattan. It was well over $300 (my first car around the same time was $200). I remember it was the fourth floor because I had to take a freight elevator to get to this exotic land of airbrushes, where no one but photo retouchers ever ventured, where a hunched, old man peddled wisdom. I still use that very same brush today and didn't feel to the need to get another until about two years ago when I wanted to try a gravity feed for quicker color changes (Iwata HP-AH)
Recent discussions regarding proper spray coverage for primer and large colors prompted the need for a larger pattern brush. After looking at the ABs mentioned in Paul Budzik's videos, even the lowest priced, the Iwata Kustom 9200 was out of reach for me in the low $400s. I couldn't justify that cost for something that would mostly be used for primers and clear coats.
I was wrong, both on the price and usage capabilities.
I've been buying a lot of stuff from Japan over the years, from books, cooking utensils and supplies to model kits, and there's one strange phenomena regarding what is exported and what is sold in Japan. A great example is a 1/16 Tamiya RC tank kit. The kits released in the Home Island market includes a Futaba transmitter, receiver, battery and charger. Same kit released for anywhere else has a transmitter shaped void in the packing, along with the teasing pages in the directions on how to setup the radio you're not getting.
Turns out Iwata does the same thing. There are the Japan market releases and there are the rest of us. In the US, The Hi-Line Professional TH is released as the Kustom K9200 TH. It includes a grip style moisture trap and beautiful aluminum case. In Japan, the exact same brush is released as the HP-TH in a simple cardboard box without the moisture trap.
The rise of Japanese shops selling to overseas customers has broken open many options, not just for wet stones and Nori, but a lot of other good things. I just bought a Hasegawa Scribber for $12 shipped as well as a Fujimi Claude for $8.80. This Iwata HP-TH was $154 on Amazon, in my hands in two days.
Okay, on to the brush:
As mentioned, you get a simple cardboard box: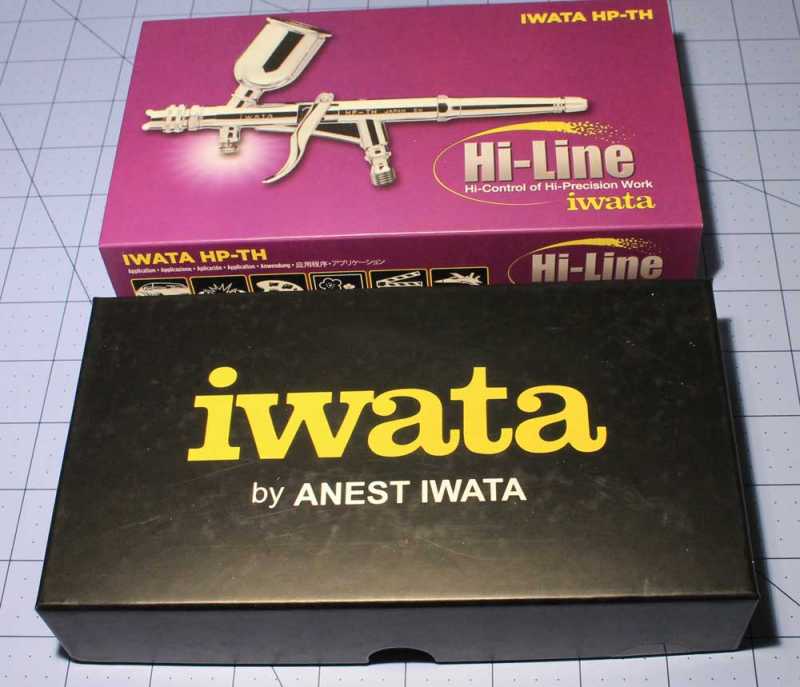 Inside you get the body, two air caps (circular and flat patterns), a sizeable color cup with lid, a small tube of Superlube, instructions (Japanese) and a Iwata bumper sticker.
------------------------------------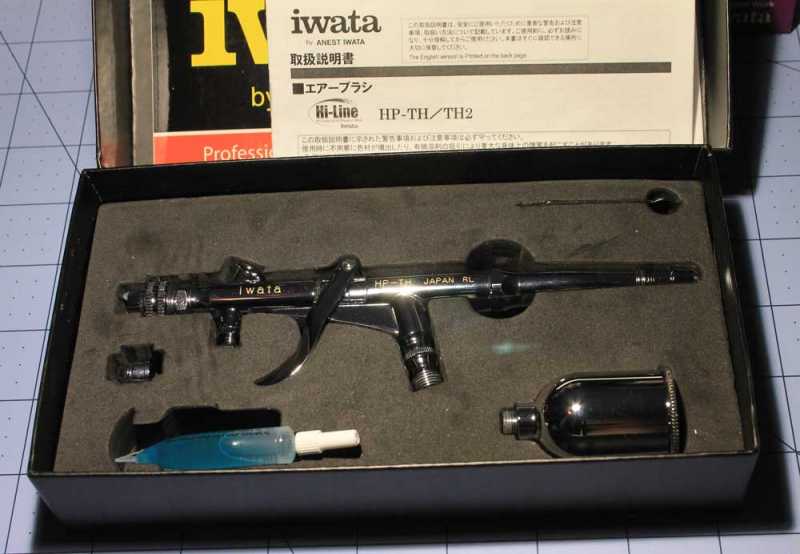 First thing to strike me was the size and weight. It's well balanced and comfortable. I have a hand grip moisture trap, I'm not sure whether that helps with the balancing, but suspect it does. One thing to note, the brush is really sort of a single action. The trigger pulls back about a quarter of an inch releasing air flow before the needle is engaged. I'm not sure about the true definition of single vs dual, but you can't change airflow via the trigger with paint still flowing. It's not an issue (theres the MAC valve) and frankly it felt so natural, I didn't notice the first time I fired it up.
Here's it is assembled: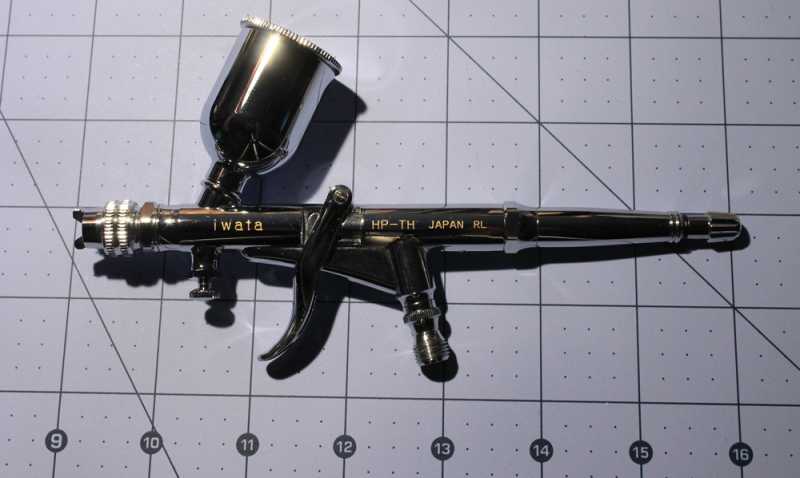 For giggles, I decided to pull out the old triple beam to compare the weight of the TH to the AH.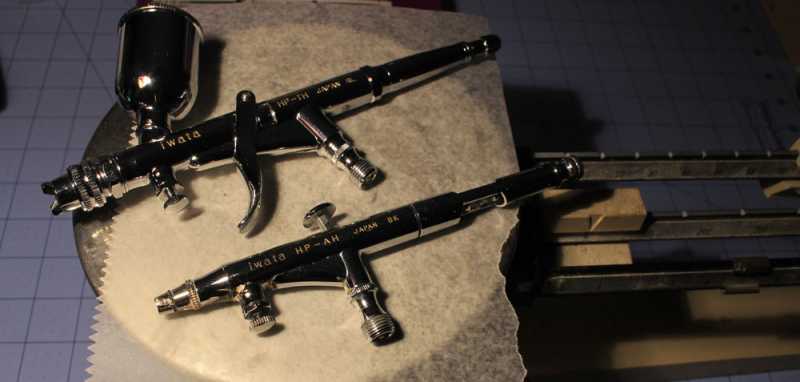 I knew there would be a difference, but it was much more than expected, the HP-AH weighs in at 85 grams, the HP-TH...187.5! More than twice.
Here are the length comparisons between the AH, BC2 and TH needles:

And the tips. You can see how blunt the nose is compared to the detail brush tips. You can also see the BC2 tip that is over 30 years old. I call that quality:
The nozzle with needle seated: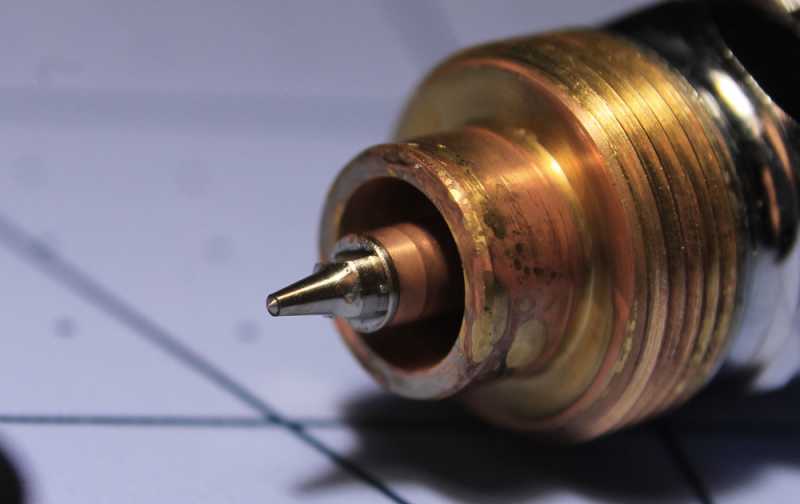 Two air caps and the retainer: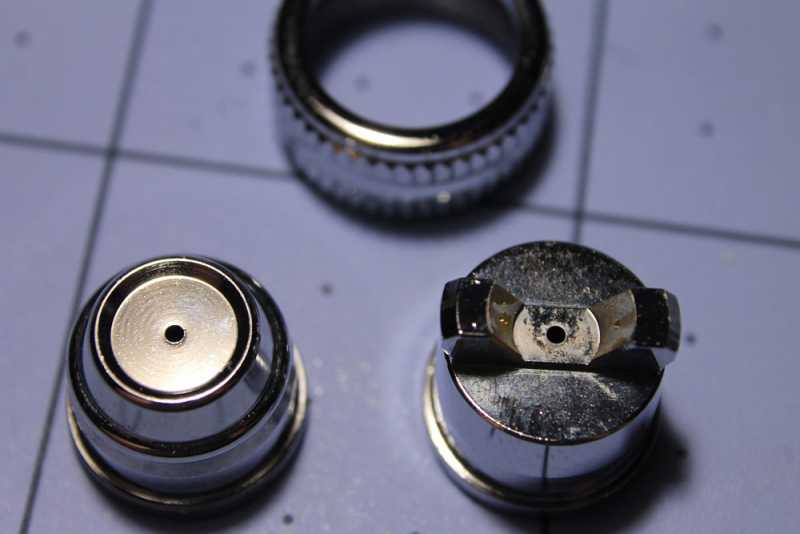 As my first real test with it, I primed the Moebius Batman. I thinned Vallejo Grey Poly Primer by 25% with their AB thinner and started with dusting coats. I soon realized there was no reason to go as light, and started to really get a wet coat going as seen in the Paul Budzik videos. The brush performed like a champ. Nice wet coverage that dries dead flat, no pooling or pebbling whatsoever.
Here's Adam West's mug with one quick pass of primer, nice coverage, smooth as glass: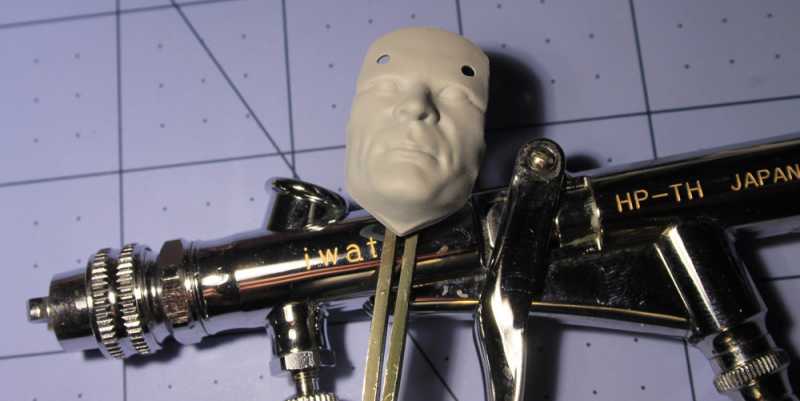 Cleanup was simple, I ran some water through the color cup, removed it to wash separately and dunked and fired the brush head underwater. Backwashed and dunked again, then added some cleaning solution to where the cup attaches and sprayed that out. Pulled the needle and it was clean as a whistle.
One important note: This brush pushes a lot of paint. I wouldn't use it without a spray booth. There is a considerable amount of atomization going on here, a fair amount of fogging. Using this without mechanical ventiation would be a mess. As it is, I have a large booth with a 350 cfm exhaust and this was the first time I felt the need to grab eye protection while using an AB.
Bottom line, I'm extremely happy with this purchase. It's a lot of brush for $150 and fills a need beautifully. One thing that struck me when I bought my second Iwata after 30 years, the design or quality hasn't changed. This one just increases my respect for Iwata. I'm positive this brush will be in use for a long time to come and hopefully will get passed on to the next generation.
Can't wait to blast some clear...