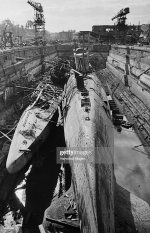 Another image that had me running around chasing info is this very dramatic photograph of a Mk9C/40 and a Mk21 damaged and lying in dry-dock together at Kiel in April 1945, after the British bombed the Deutshe Werke Naval yards.
So mant opportunities for detail..........

U-1227 (TYPE 9C/40)
and
U-2516(Mk 21)
- a great photo with lots of drama, detail and a good opportunity to model 2 different uboats together with full hull detail. Very exciting to model.
....and the same location when flooded.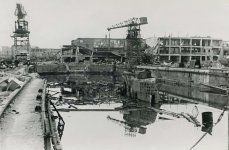 U1227 was a Type 9C/40 that was launched on 18th Sept. 1943, which means it was built with a plank deck, however it did not get modified with the Fast Dive Deck later in the war, so it will require me to modify the forward deck section. The Revell 9C/40 kit, 05133 only comes as a FDD version. The 9C40 hull has some unique features compared to the 9C hull of the earlier boats, so it's worth doing the small mod to the forward hull sides. I will also scratch-build the deck planks with plastic strips, based on the RC brass deck set pattern, as well as the edges where the torpedo storage containers are. They are covered in 8 planks, which is an incorrect pattern. There should only be seven planks and these may or may not have support strips. Revell had to go generic but their TORPEDO storage covers have been incorrect on every kit.

The Type XXI seems to have the same tower vent configuration as U2540, which enables me to use another RC Subs U2540 model.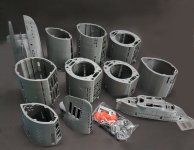 I will create the drydock from Blue foam and carve in the details. The added details like pipes and wires and wooden boards will all be added in the usual way with brass pipes, plastic stip and light wood strips.
Last edited: