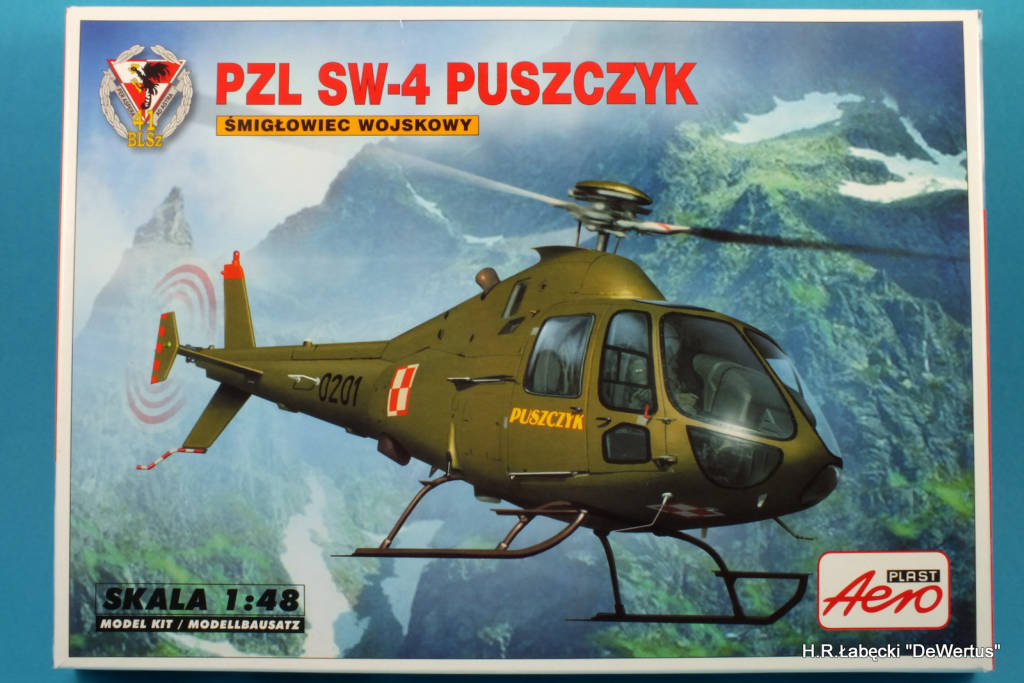 The PZL SW-4 Puszczyk (pl. Tawny Owl) is a Polish light single-engine multipurpose helicopter manufactured by PZL-Swidnik. The origins of PZL-Swidnik's SW4 five seat light utility helicopter date back to the early 1980s.
------------------------------------
Background
PZL-Swidnik began development of a new four/five place light utility helicopter in 1981. This original SW4 was to have been powered by a 300 kW (400 shp) PZL Rzeszow GTD350 turboshaft and was built in mockup form. It would have had a top speed of 240 km/h (130kt) and a max range with auxiliary fuel of 900 km (485 nm).
The collapse of the Iron Curtain allowed Swidnik to substantially redesign the SW4, based around the Allison 250 turboshaft. Aside from the powerplant, design changes included a more streamlined fuselage and revised tail and tailboom.
The first prototype, a non flying ground test aircraft, was rolled out in December 1994. Two flying prototypes have been built, the first of which was completed in 1996 and first flew on October 26 that year.
PZL-Swidnik aims to attain US FAA FAR Part 27 certification for the SW4 which will allow it to enter production in 1999. The program was delayed somewhat when PZL Swidnik decided to redesign the rotor head, enlarge the horizontal stabilizer and improve the hydraulic system.
Once the basic Allison powered SW4 is certificated and in production PZL Swidnik aims to offer a Pratt & Whitney Canada PW200-powered variant. A twin engine model is also planned to allow the helicopter to meet forthcoming European regulations which will restrict single engine helicopter operations under some conditions.
The SW4 is expected to be able to fulfil a range of utility missions ranging from executive transport to medevac and police roles. Border patrol and military pilot training are other planned missions.
The Polish Army was equipped with 24 helicopters PZL SW-4 which are used in the 1st Aviation Training Center in Deblin.
General characteristics
Crew: one, pilot
Capacity: 4 passengers
Length: 10.57 m (34 ft 8 in)
Rotor diameter: 9.00 m (29 ft 6 in)
Height: 3.05 m (10 ft 0 in)
Disc area: 64 m² (684 ft²)
Empty weight: 1,050 kg (2,310 lb)
Loaded weight: 1,600 kg (3,520 lb)
Max. takeoff weight: 1,800 kg (3,960 lb)
Powerplant: 1 × Allison 250-C20R/2 turboshaft engine, 336 kW (457 shp)
Performance
Maximum speed: 260 km/h (141 knots, 162 mph)
Range: 790 km (427 nmi, 493 mi)
Service ceiling: 5,200 m (17,056 ft)
Rate of climb: 618 m/min (2,027 ft/min)
Disc loading: 3.4 kg/m² (0.7 lb/ft²)
Power/mass: 0.21 kW/kg (0.13 hp/lb)
Model
The big surprise was the publication by AEROPLAST (a small company known mainly from the relatively simple and qualitatively rather average models in scale 1/72) nice and what is very importantly - presenting one of the little-known Polish construction from the last years - SW-4 a light helicopter. With this model AEROPLAST certainly return the favor of national (and perhaps foreign) modelers.
The model consists of a dozen parts cast from gray plastic contain a single frame.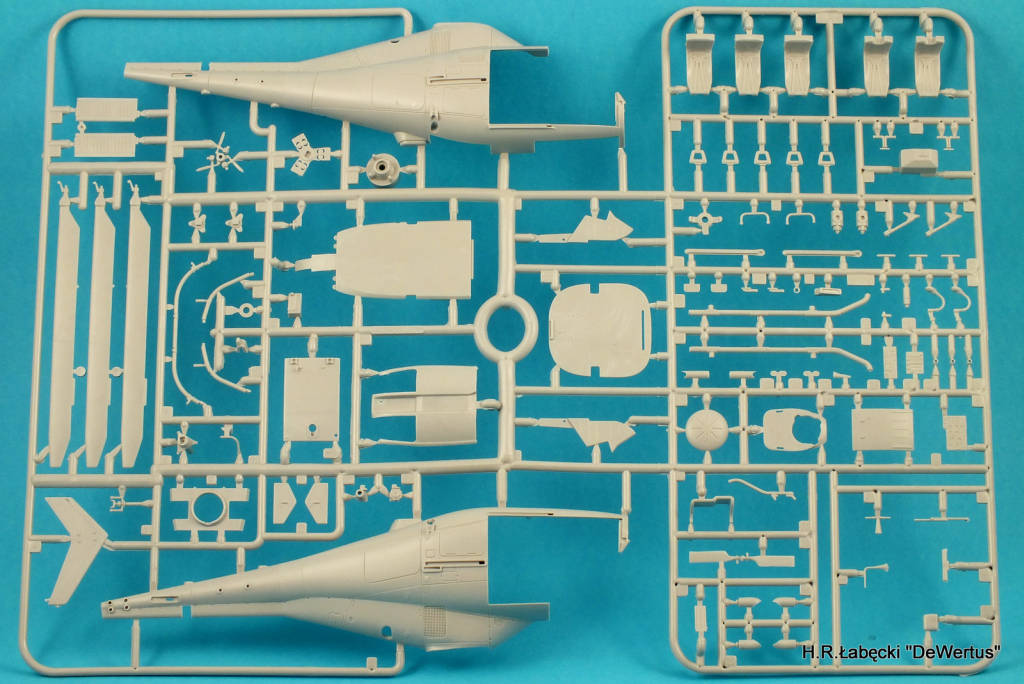 Most of molded parts are clean, with no mold shifts or flash, but I some small elements there are minimum shift. Panel lines are delicate and engraved.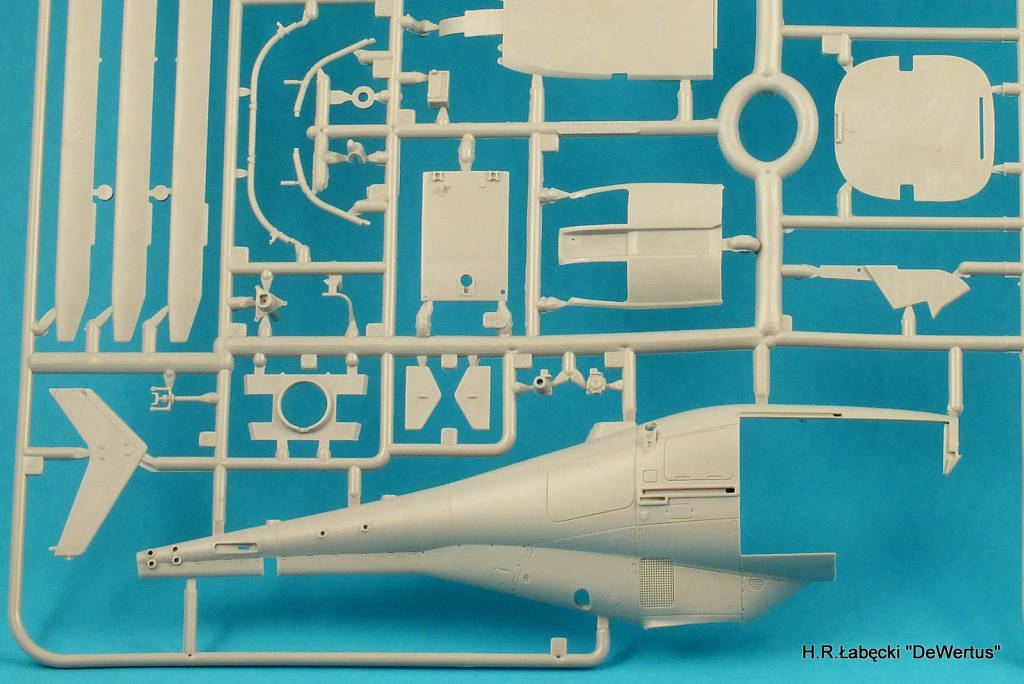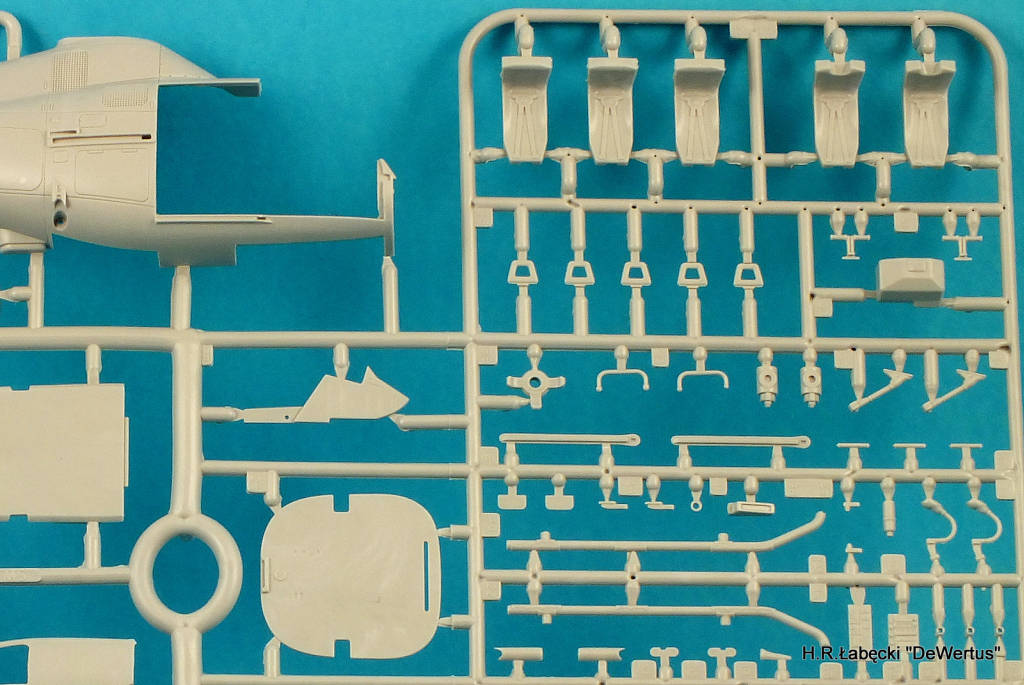 The texture and quality of the material make a decent impression - treatment should be easy and painless. The quality and the details of elements is satisfying, more demanding modelers can use a dedicated set of photoetched parts prepared very quickly by PART (it was amazing – a PART set appeared on the market in several days after the release of the model).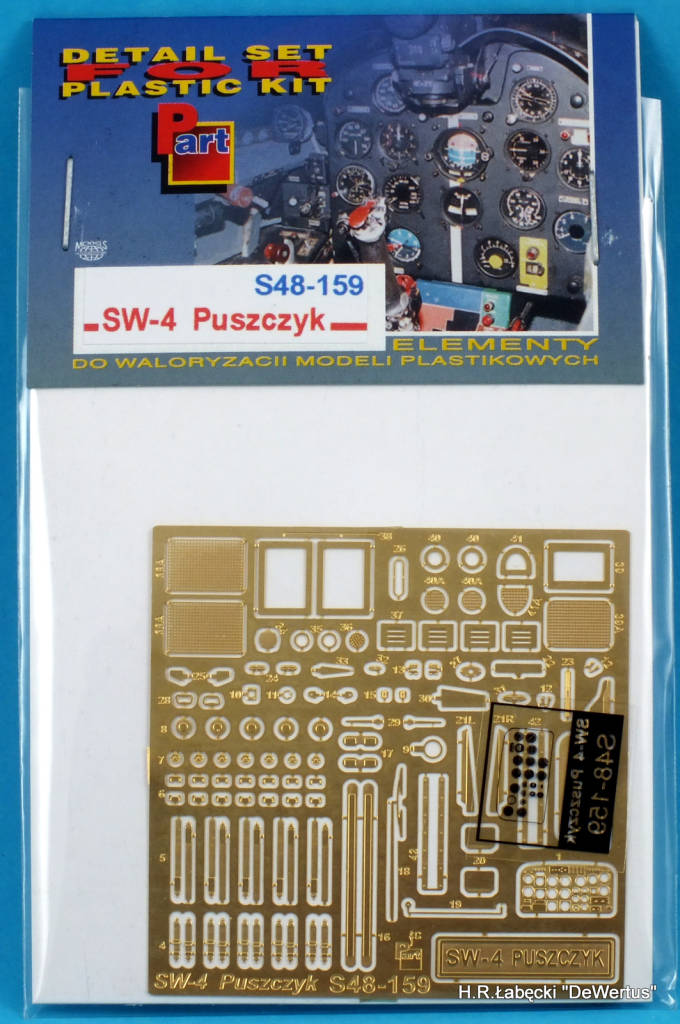 Glass elements are clear and transparent. A separate doors to the crew and passengers cabins allows to made a model with it in the open position to show off inside of the cabin.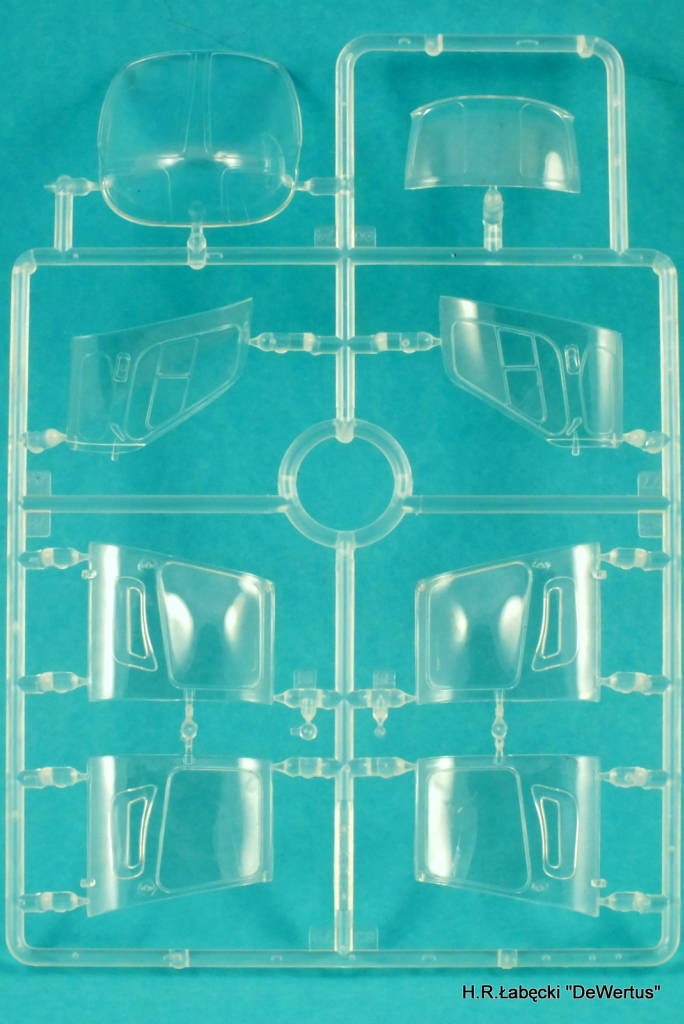 Decals and assembly instructions
At first view, the decals looks good - they are delicate, clearly and cleanly printed.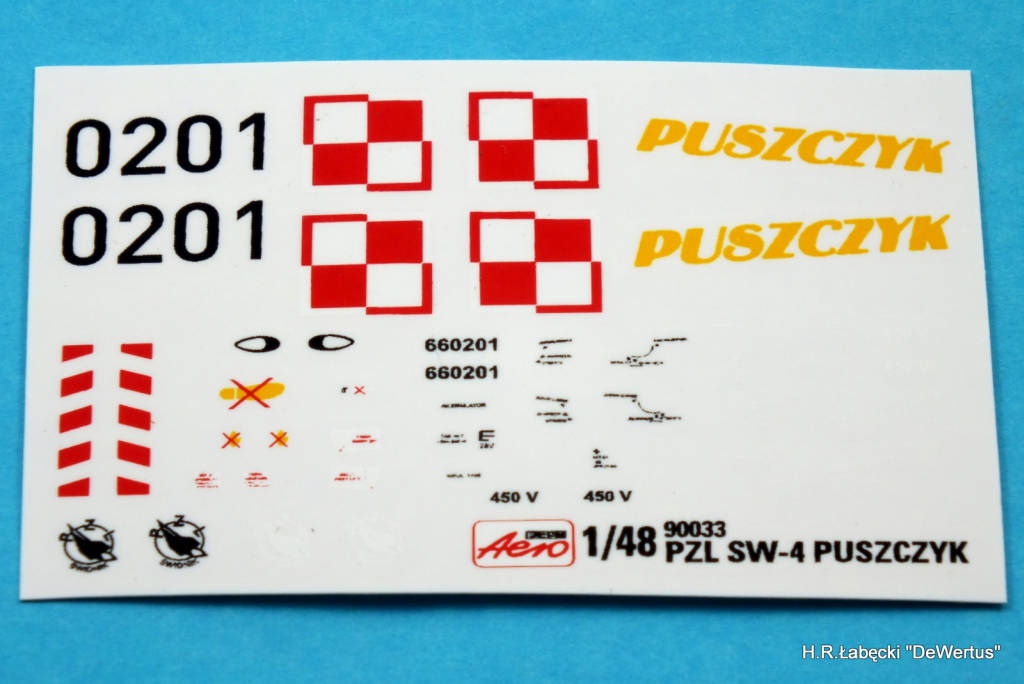 The instructions are printed on both sides of a big sheet. The first page includes the paint schemes and a last set of assembly steps. Second side is a assembly chart shown in total within 21 steps - all drawings are made in 3D technique . Assembly is illustrated clearly and logically - building the model should not be a problem.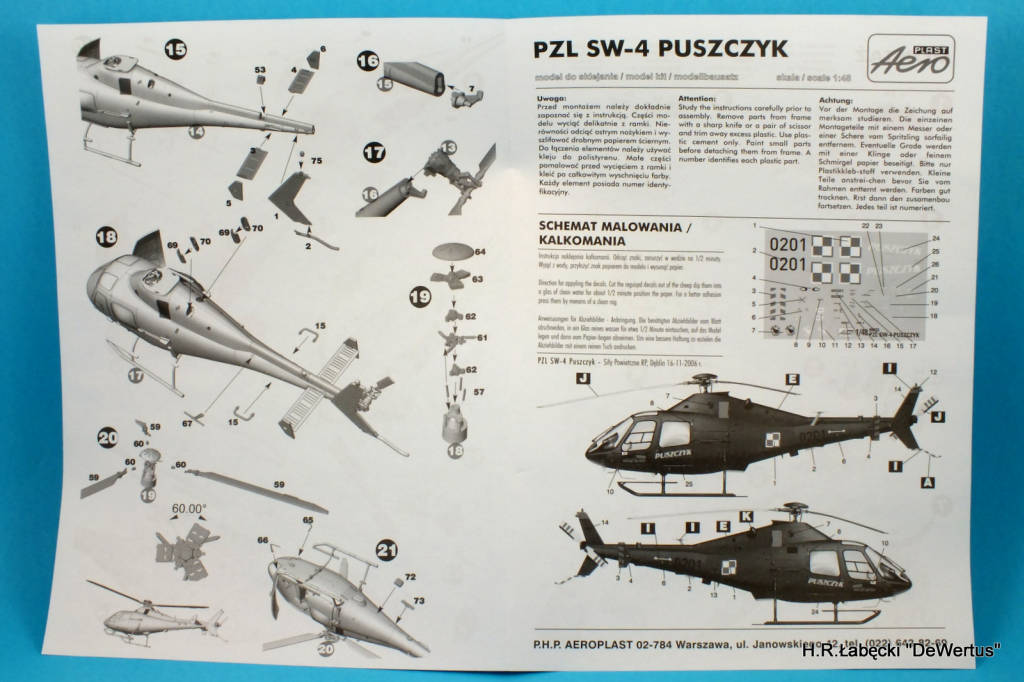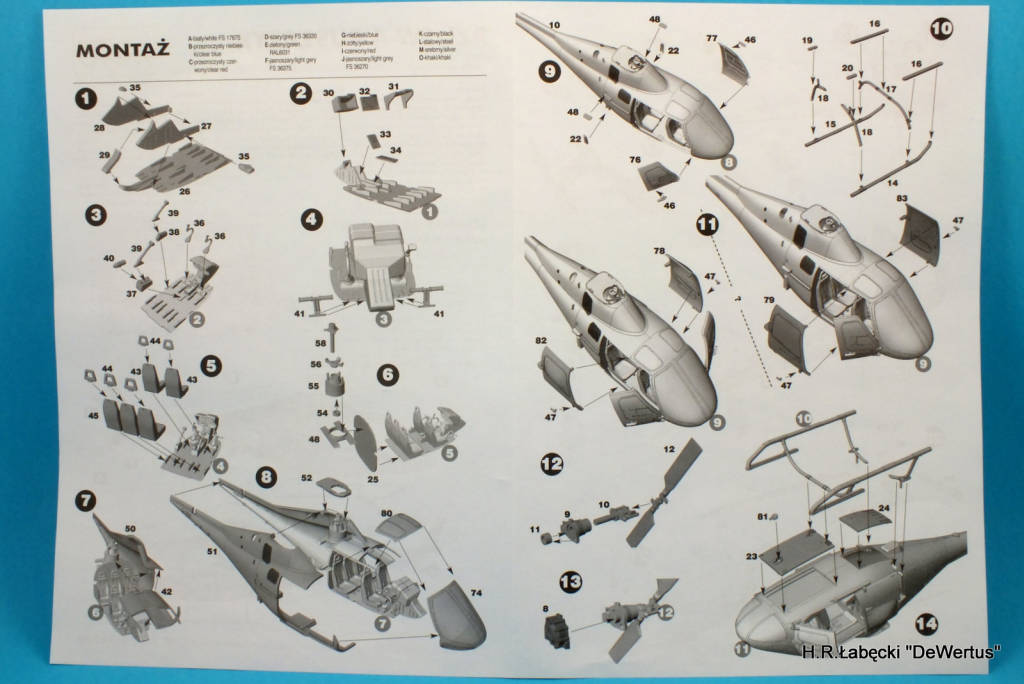 The bottom side of box present in color a paint and decal assembly instruction.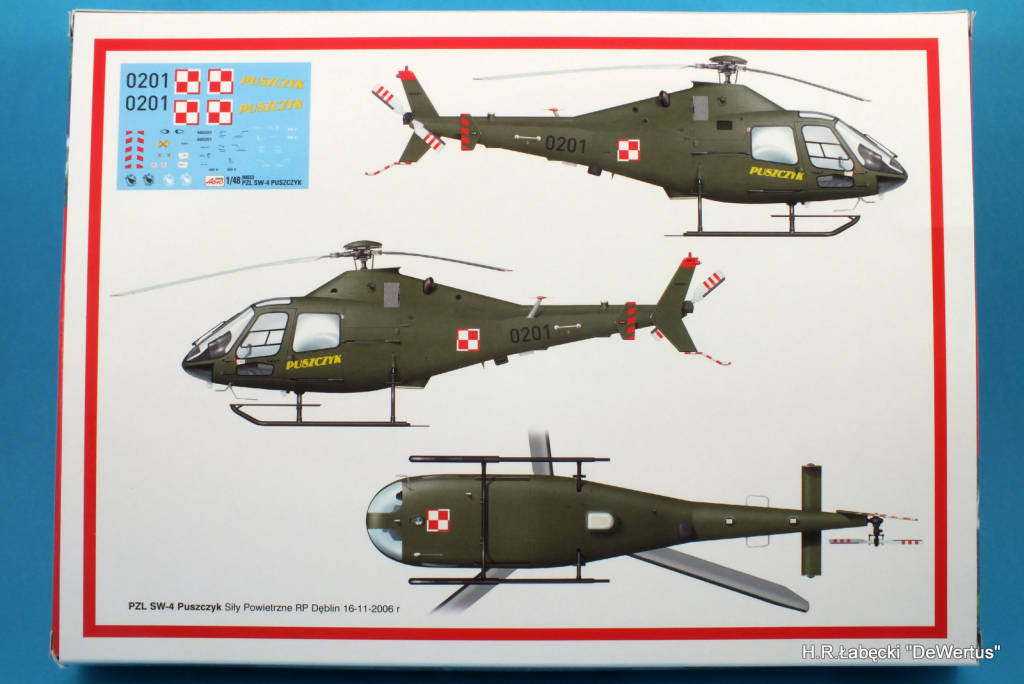 Summary
I was surprised by AEROPLAST the quality and price (~15$ in Poland) of this model. I bought it thinking about my friend who collects unusual construction from less popular regions of the world.
Is it recommended? Definitely yes! For small money we get a good quality model of exotic helicopter developed and built itself by the country, which is not a leader in the airline industry. SW-4 can be a very unusual pearl of many collections – special related with helicopters…