The newest Nuts and Bolts is out and its another awesome tome of knowledge. Volume 42 is about the Einheitsdiesel which was the standard 6x6 cross country truck.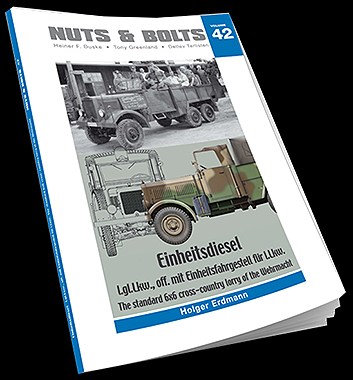 Presented in their standard format the book covers the history of the vehicle, technical descriptions, use of, and camouflage and markings. This include period pictures, orbats, and technical pictures. Excellent 3 view drawings and colour plates help illustrate what is in the text. Finally colour pictures from museum examples and restored vehicles are presented. Everything a historian or modeller could want.
Speaking of modelling there is a small blurb mentioning that it was in Volume 13 that they first presented a modeling section. Something that makes this useful book even more so. I may be mistaken but I believe Tony Greenland has presented his fantastic builds in every volume since then. In this volume he and Vinnie Branigan present their models and a write up of the IBG kit is very informative.
The book is soft cover and 209 pages long. Written in both German and English

Volume 42: Einheitsdiesel – l.gl.Lkw., off. mit Einheitsfahrgestell für l.Lkw. – The standard 6x6 cross-country lorry of the Wehrmacht

As usual this book is probably all you need to help you build an Einheitsdiesel in either is cargo or myriad of other forms. There is plenty of info and also detail pictures for that truck, telephone exchange, radio truck, or crane truck. There are also some very interesting versions with snow blowers or plows on them. Its interesting seeing the different types of antennas and masts the various trucks could carry.
The book is the standard soft cover and is written in both English and German. Its is 208 pages long. From the Nuts and Bolts page it has 400 photos (230 contemporary photos and from manuals, 135 colour photos of the surviving vehicles in public and private collections, 37 colour photos of three models )
The talented Tony Greenland and Vinnie Branigan build three kits from IBG and I was quite interested in their take of the kits.
For the amount of information and detailed reference pictures you get the price is very good. From Nuts and Bolts it is €29.90. From the Last Cavalry is it $40.00 U.S.
From RZM it is $49.95 www.rzm.com/magazines/nab/nab042.cfm
All in all this is another fantastic reference book from Nuts and Bolts covering a very interesting vehicle. My thanks to Nuts and Bolts for my review copy.
------------------------------------