HAKKO FX888D Intro
Over the years I have been back and forth over getting a resistance soldering station but I just could not pull the trigger on $400+ for something I may not use that often.
Biggest problem I have had with soldering is the heat and the tip. Most of our soldering irons we get a the local shops are not made for detail and small application, just utilitarian in nature. The big Waller gun I have heats up nice but it's heavy and has limited selections of tips. The smaller irons are generally 25-35 watt, takes a while for them to heat up and the tips are still rather big.
Allow me to introduce you to my new Hakko FX 888D BY (Blue and Yellow) soldering station, they have a silver model also.
Read the technical info about the FX888D here. I'll not get into all this because it's lost on me, I just need heat!
http://www.hakko.com/english/products/hakko_fx888d.html
]
www.hakko.com/english/products/hakko_fx888d.html
[/url]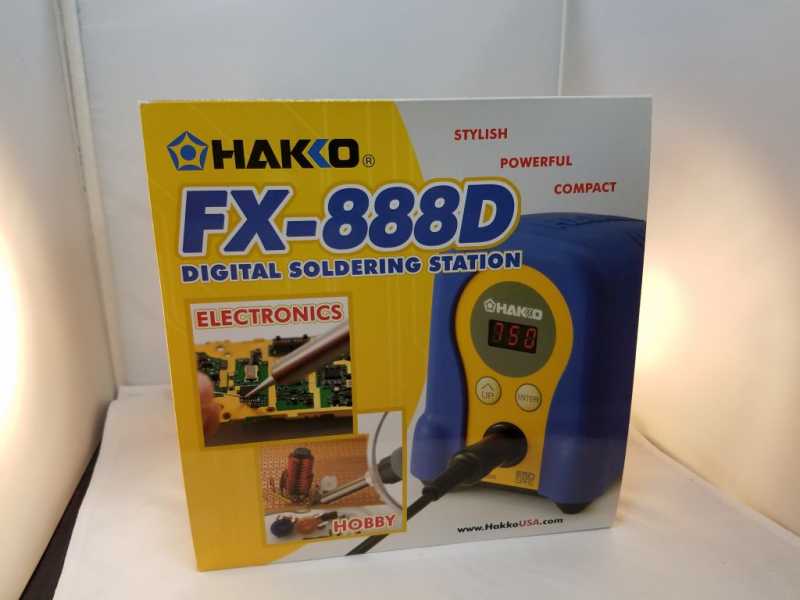 Stylish, Powerful, Compact. Just like the box says.
------------------------------------
In the box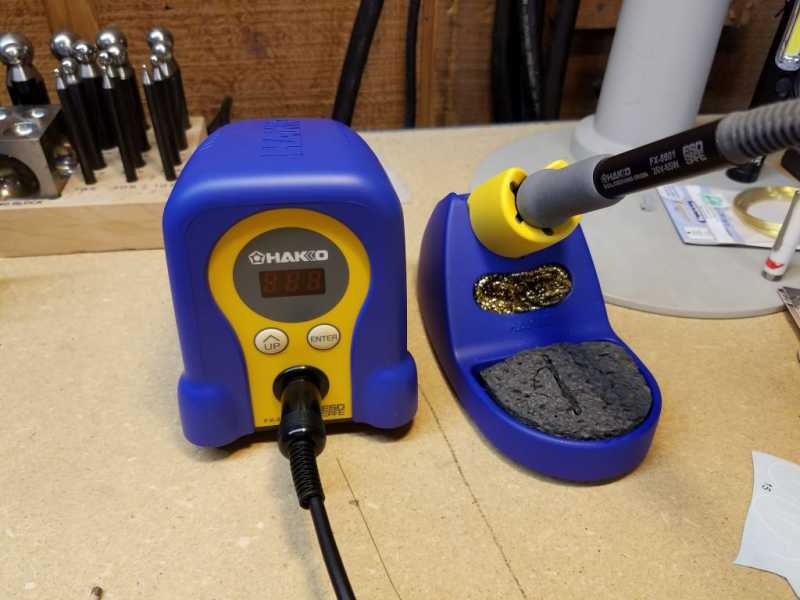 You get in the box the FX888D power unit, one HAKKO 8805 soldering iron and iron holder that includes a sponge and steal wool for cleaning the tip. Optional is a whole line of tips of various sizes and shapes.
You can also purchase a tweezer handset for this, it's twice the cost of the base unit but if you have a need go for it.
On top of that Hakko has a N2 solution for some serious soldering but I doubt our soldering needs get to that level.
http://www.hakko.com/english/n2system/index.html
]
www.hakko.com/english/n2system/index.html
[/url]
I got my unit from Digikey for about $125 shipped.
https://www.digikey.com/
]
www.digikey.com/
[/url]
Let's Solder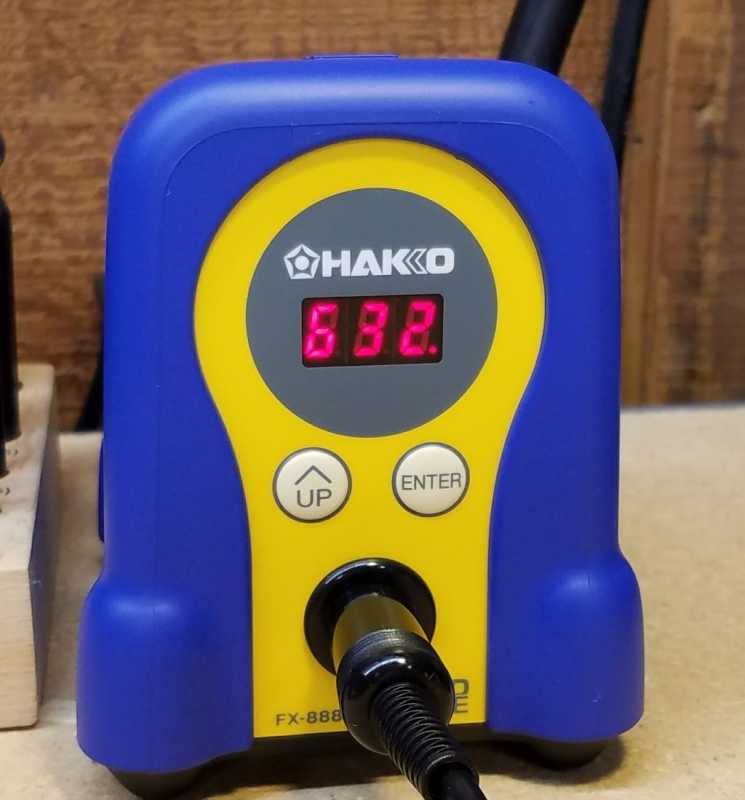 Cranking out 65 watts of power to the soldering iron it only takes a minute (literally) for it to heat up to 750 degrees F. You can see that progress on the nice red LEDs on the front panel. Simply three button control. Rocker switch on the side for power and two momentary switches on the front panel. Press and hold the Mode button to select your temp using the up button to select the numeric value of each LED. This thing is completely programmable with preset temperature settings and even password lockout. Overkill for my needs but nice to have. For the time being I've only used it at 750 degrees F. And yes, it will do Centigrade for our metric friends.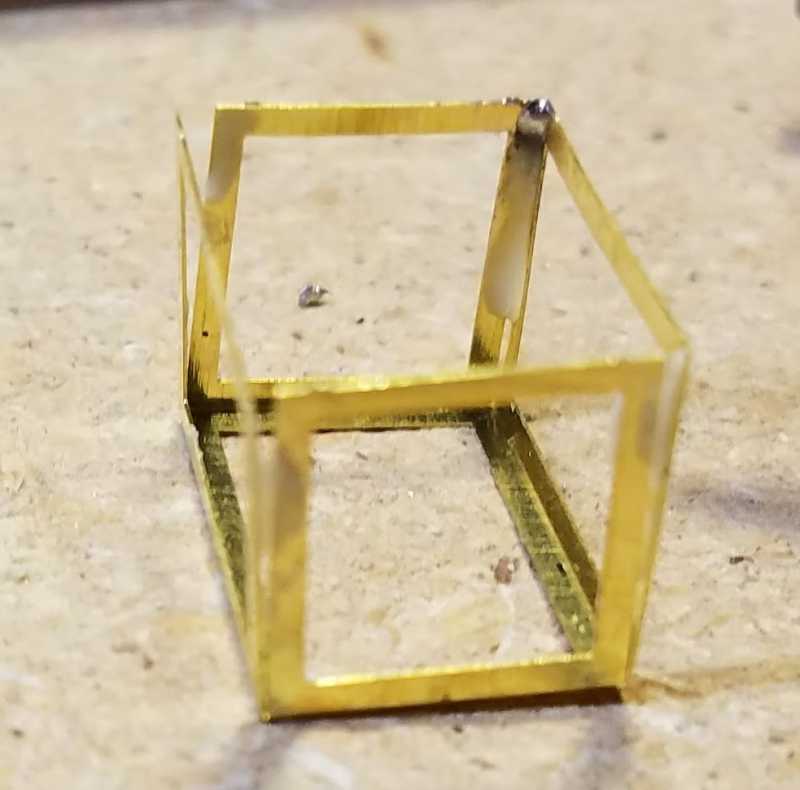 I grabbed some spare PE to play with, this is a frame for a jerry can holder on US halftracks...or whatever you'd like it to be.
Cleaned the brass and applied a spot of flux to my joint. Tinned the tip and set my heat sink/clamp just below the top and just let the tip come in contact. A whiff of smoke comes up and silver solder flows right into the corner to create a cute little spot weld to hold that corner of the frame together.
Trust me when I say I could not have done this with the tools I have used in the past.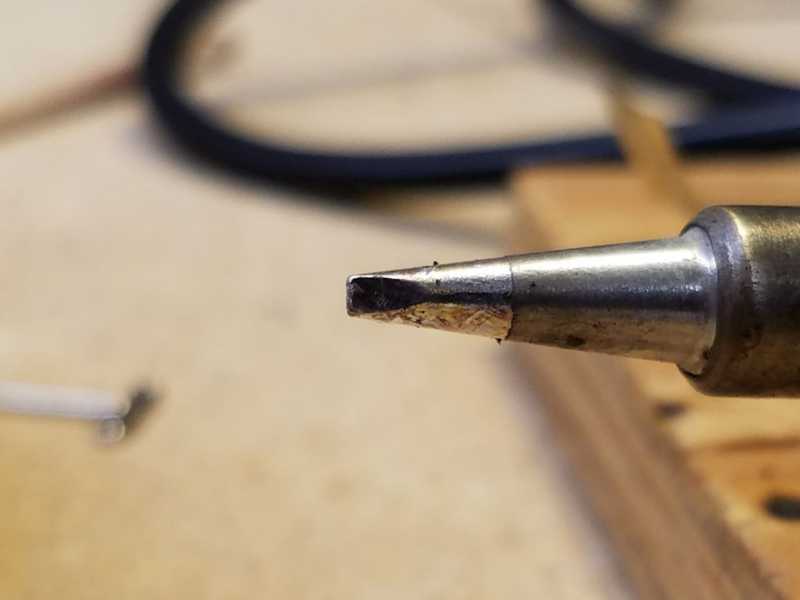 Nice sharp tip. Hakko offers various tip shapes and angles, even some that are only tinned on one side for precise solder flow.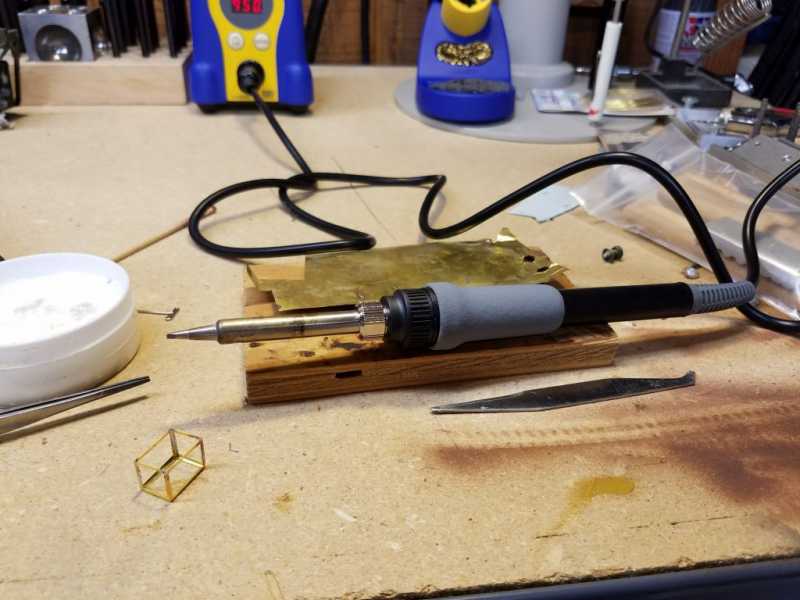 The hand piece is light and thin, easy to get in tight spots. The power cable is soft to the touch, of course you have to be careful arranging your work piece and not let this get in the way but that's with any soldering project.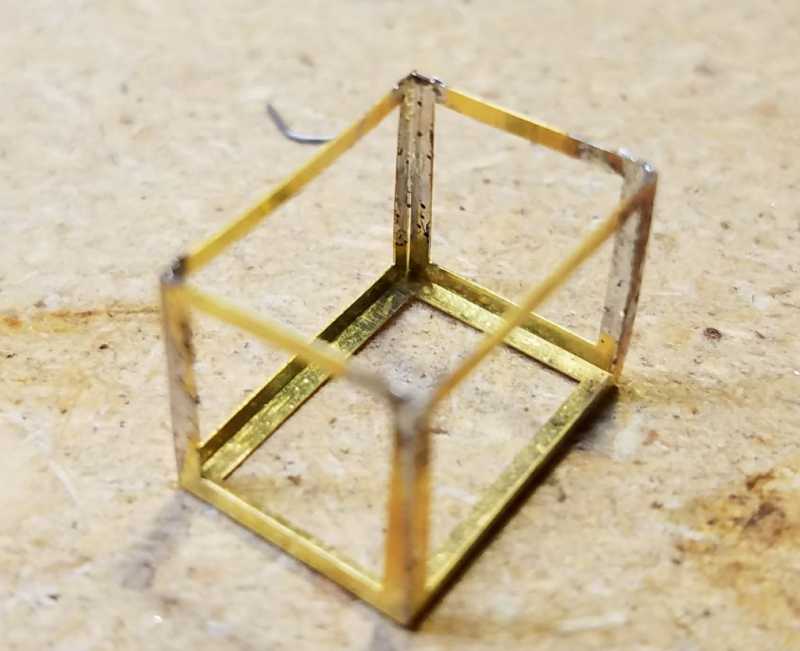 And we have the finished product. I went back and soldered in the joints and got a really nice flow without much fight. I have not cleaned this up at all but you can see we had good even heat flowing across the work piece.
Conclusion:
WOW, I really like this based on this one piece I've done. I'm sure it's going to work well for my needs.
Granted not every modeler needs to solder, just as every modeler doesn't NEED a lathe...but it sure is nice to have a real soldering station sitting on your work bench to build up those tricky PE parts.