Details

Category: Reviews and News
Created on Sunday, 05 June 2016 09:30
Last Updated on Sunday, 05 June 2016 09:30
Published on Sunday, 05 June 2016 02:00
Written by jknaus
Hits: 3326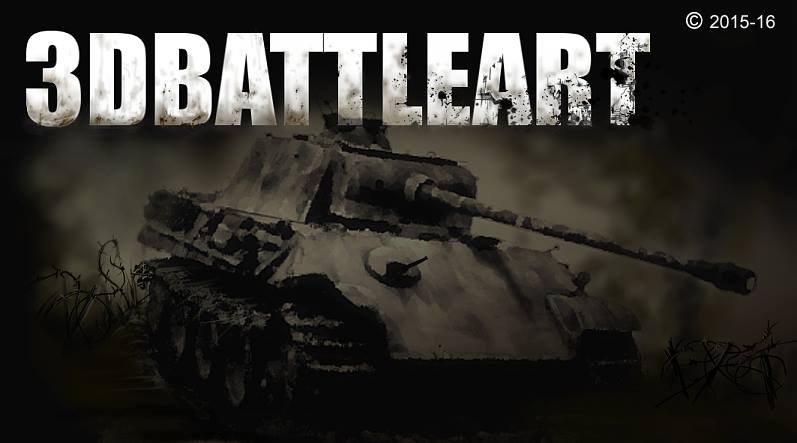 Today I would like to introduce you to a new endeavor from one of our own, Ian Hill. 3DBattleArt.
The premise behind this endeavor is to present a piece of art for the "Man Cave" although with the number of talented women modelers in our midst that term will probably need to be reconsidered. I really don't know a lot about art, but I do know what I like and when I first saw pictures of what was being created they grabbed me at a visceral level and I knew I had to have some.
Ian has been modelling for the past 40 years and is already known for his dioramas and the incredible amount of detail he researches and includes. His passion is for WWII armour and aircraft. Coming from a Industrial Design background Ian has been not just building his models, but adding realistic weathering and more importantly battle damage since before it became a mainstream thing to do. As an example check out this beauty.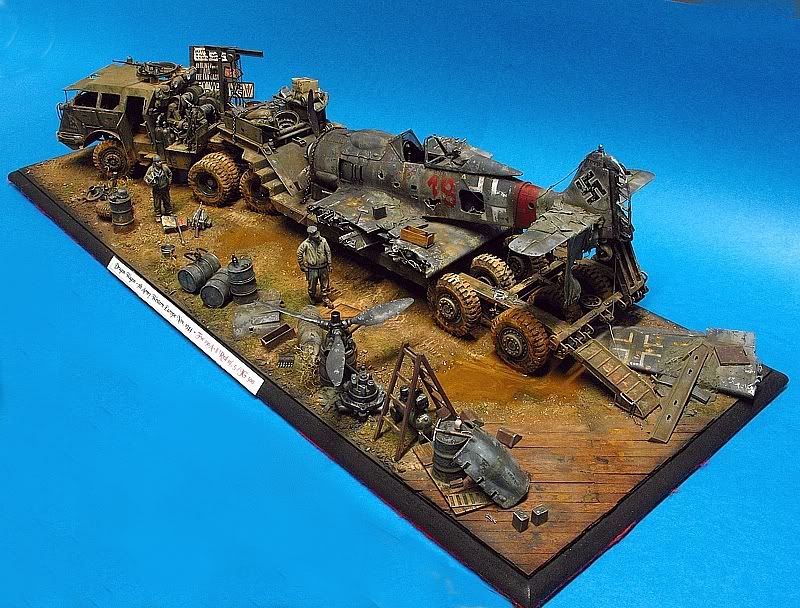 Ian has now decided to combine his passion for highly detailed, gritty, and realistic modeling with his passion for art to create something very different. This is not your usual military art with fairly pristine aircraft or tanks in a static setting or in a battle scene. This art is Real. Precise, Weathered, and showing the End Game. Something that I have not seen presented before. While graphic in nature it is not morbidly so. It is evocative. Your imagination will be given free reign to explore how this aircraft or piece of battlefield equipment got in this condition. To quote Ian "I am endeavoring to bring a 'gritting' realism to my work that provides a unique style that is both interesting for the modeller / collector, while still retaining 'soul' via the actual manual painting style. Each piece must have that intangible aspect that attracts the enthusiasts and keeps them looking and enjoying for hours to come."
Currently Ian has 3 pieces for sale as follows with all prices being in Australian dollars.
1. The fw190 [75cm x 48cm in size] is available on 2 types of surface.
Canvas = $250.00
Textured fine art paper = $230.00 (high quality paper , thick at 300 gsm with light texture)

2. 109 G10 Standard [80cm x 41cm in size] is available on 2 types of surface.
Canvas= $250.00
Textured fine art paper = $250.00 (high quality paper , thick at 300 gsm with light texture)

3. 109 G10 Limited Edition [Currently only 48 of 50 are still available] [80cm x 51.9 cm in size] is available only on canvas.
Comes with signed and numbered authenticity certificate.
= $350.00.
The prints are all done at high quality by professional printers with all inks being lightfast. Canvases are also coated in protective film rated at 100 year protection for normal gallery conditions. Canvas prints are archival quality, acid free Artists canvas using UV resistant pigmented inks.
The FW 190 A8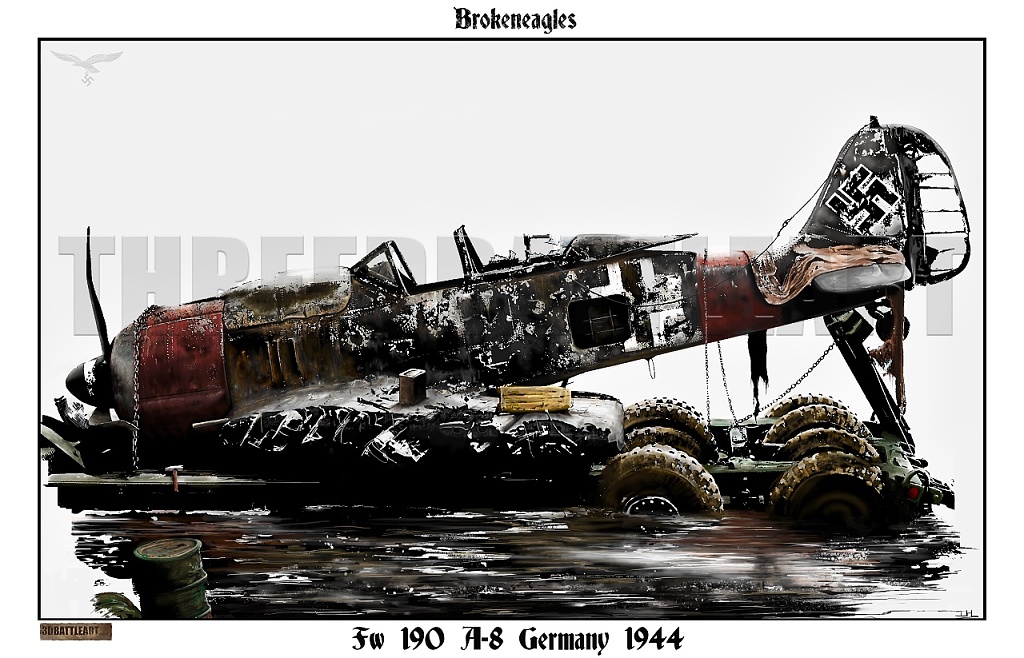 The Standard Bf 109 G10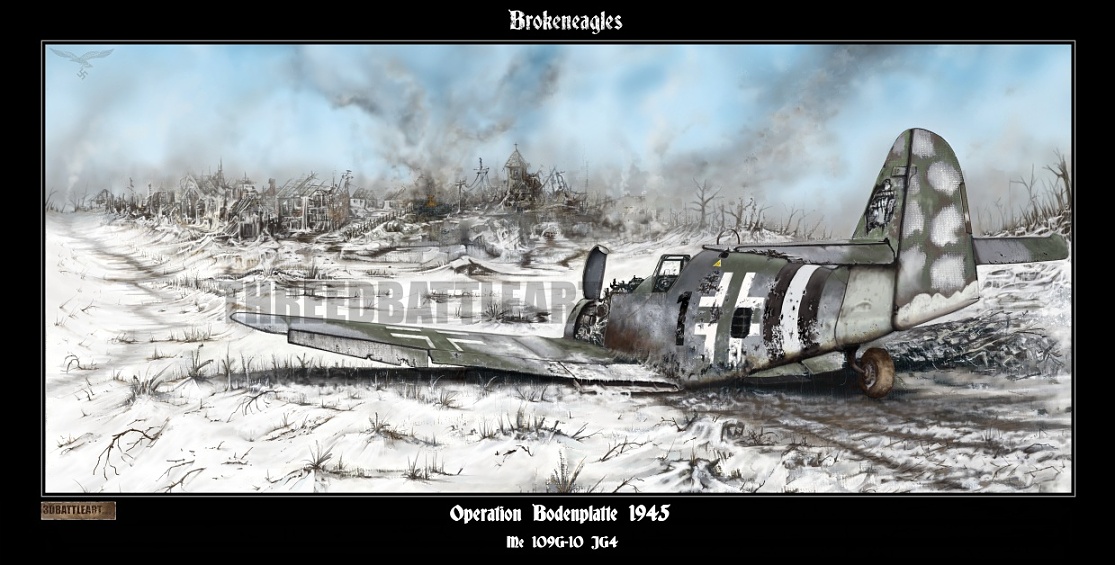 And the Limited Edition Bf 109 G10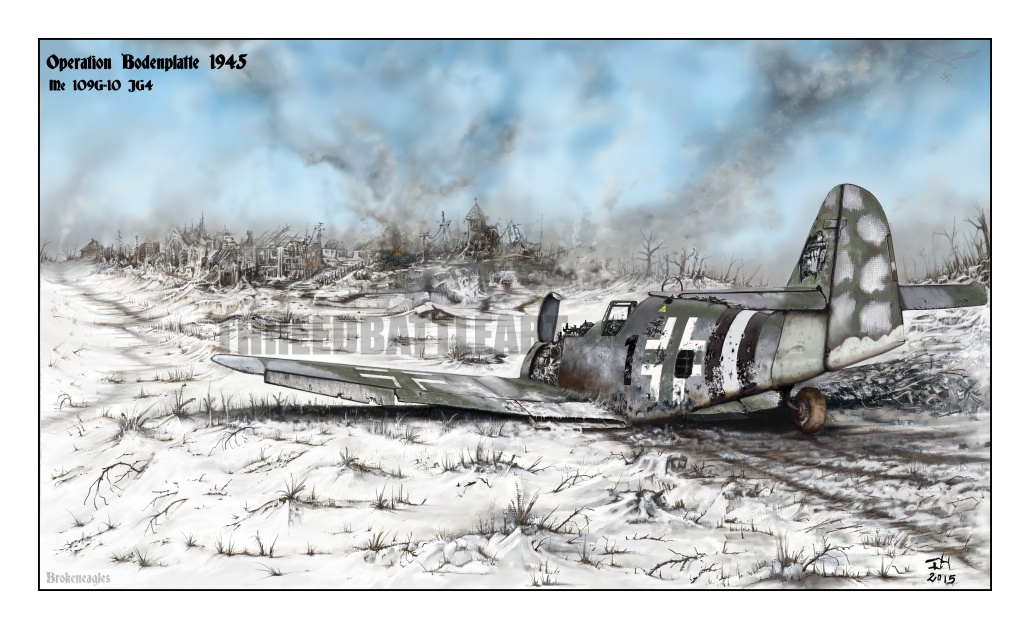 These works of art are technically perfect down to the smallest detail and while the preceding pictures look fantastic the actual art is amazing. Vibrant and Stunning. I was hoping to show the art on my wall but I am waiting for the art store in town to mount them for me. These come rolled in a very sturdy artist tube and are quite well protected for shipping. The larger piece has a nice sized border so it can be stretched and inserted into a frame with no fear of losing any detail. The smaller piece though doesn't quite have enough room to do the same, but our local shop has another method of mounting it which will work quite well. I am not criticizing this as much as giving a heads up. I think it will look just fine as described by our framer.
As mentioned there are currently three pieces in the collection. In the works though he has another Bf 109, then a FW 190D and a Me 262 as well as some ideas for WW1 planes. A 2010 Mustang, 1969 Z28 Camero and a '57 Chevy round out his Automotive ideas, while for Rolling Stock he is considering a German ww2 BR 52 and an American Big Boy. Also as seen in his Masters Section this ship which looks to be a stunner already, although not yet completed.

I am looking forward to seeing his WWI collection as that is of great interest to me right now as well as the Me 262, although that ship is certainly looking very cool.
While not wanting to stray from his chosen subject matter Ian will consider commission work. Any modeling companies who see this art might consider hooking up for some outstanding boxart.
Currently juggling a day job, a family and his new baby , 3DBattleArt, Ian should be a full time artist by the end of the year and I can hardly wait to see what he produces. He can be found on Face Book at https://www.facebook.com/Threedbattleart-Art-the-art-of-modelmaking-923076944394447/?fref=ts and is working on a website which should be up in August with full Ecommerce functionality. Right now you can email him at This email address is being protected from spambots. You need JavaScript enabled to view it. and make payments via PayPal.
I would highly recommend these pieces to adorn your walls. The quality , subject matter, and attention to detail combine to make these a true conversation piece and source of inspiration.
I would like to thank Ian for the pieces he sent for review.
Discuss this article in the forums (11 replies).