Modelers Alliance Logon
Search
Welcome to Modelers Alliance Website
Details

Category: Reviews and News
Created on Sunday, 06 October 2019 14:22
Last Updated on Sunday, 06 October 2019 14:22
Published on Sunday, 06 October 2019 14:22
Written by jknaus
Hits: 530
The newest Nuts and Bolts is out and its another awesome tome of knowledge. Volume 42 is about the Einheitsdiesel which was the standard 6x6 cross country truck.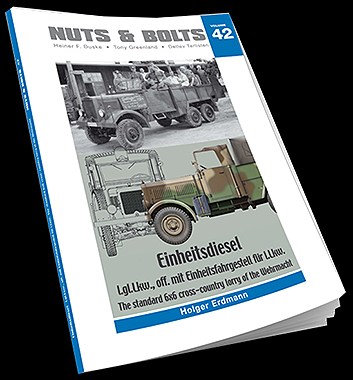 Presented in their standard format the book covers the history of the vehicle, technical descriptions, use of, and camouflage and markings. This include period pictures, orbats, and technical pictures. Excellent 3 view drawings and colour plates help illustrate what is in the text. Finally colour pictures from museum examples and restored vehicles are presented. Everything a historian or modeller could want.
Speaking of modelling there is a small blurb mentioning that it was in Volume 13 that they first presented a modeling section. Something that makes this useful book even more so. I may be mistaken but I believe Tony Greenland has presented his fantastic builds in every volume since then. In this volume he and Vinnie Branigan present their models and a write up of the IBG kit is very informative.
The book is soft cover and 209 pages long. Written in both German and English

Volume 42: Einheitsdiesel – l.gl.Lkw., off. mit Einheitsfahrgestell für l.Lkw. – The standard 6x6 cross-country lorry of the Wehrmacht

As usual this book is probably all you need to help you build an Einheitsdiesel in either is cargo or myriad of other forms. There is plenty of info and also detail pictures for that truck, telephone exchange, radio truck, or crane truck. There are also some very interesting versions with snow blowers or plows on them. Its interesting seeing the different types of antennas and masts the various trucks could carry.
The book is the standard soft cover and is written in both English and German. Its is 208 pages long. From the Nuts and Bolts page it has 400 photos (230 contemporary photos and from manuals, 135 colour photos of the surviving vehicles in public and private collections, 37 colour photos of three models )
The talented Tony Greenland and Vinnie Branigan build three kits from IBG and I was quite interested in their take of the kits.
For the amount of information and detailed reference pictures you get the price is very good. From Nuts and Bolts it is €29.90. From the Last Cavalry is it $40.00 U.S.
From RZM it is $49.95 www.rzm.com/magazines/nab/nab042.cfm
All in all this is another fantastic reference book from Nuts and Bolts covering a very interesting vehicle. My thanks to Nuts and Bolts for my review copy.
Discuss this article in the forums (1 replies).
Details

Category: Reviews and News
Created on Wednesday, 02 October 2019 09:43
Last Updated on Wednesday, 02 October 2019 09:43
Published on Wednesday, 02 October 2019 09:42
Written by sharkmouth
Hits: 580
The Single series is an excellent idea for a monograph in which plans, some photos, TM excerpts, and a color profile from their full blown book is placed into a 24 page compilation at an affordable price ($12USD from their US distributor; Casemate Publishing). I would like MMP to have some constructive criticism which applies to all these books in this series seen here.
I, for one, would like to see a right angle with vertical and horizontal scale bars included with the scale plans to assist in scaling them up and down as the 1/72nd scale plans include views not in the larger scale. It should be noted that MMP does offer 1/32nd and 1/24th scale plans in their Scale Plans series.
Also, there are TM illustrations for internal items when none of the illustrations or photographs cover the wheel well bays on the aircraft with retractable landing gear. Less of the former may allow room for the latter.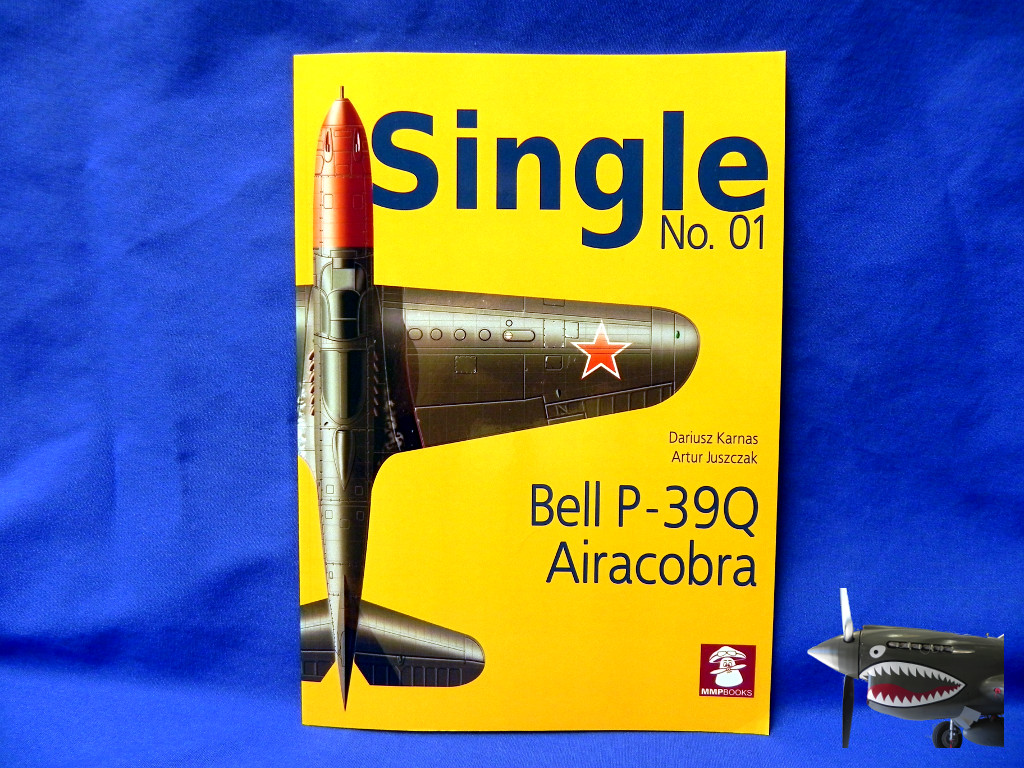 The first book is on the P-39Q, Artur Juszczak (color profile) and Dariusz Karnas (plans) are the illustrators of this 24 page monograph.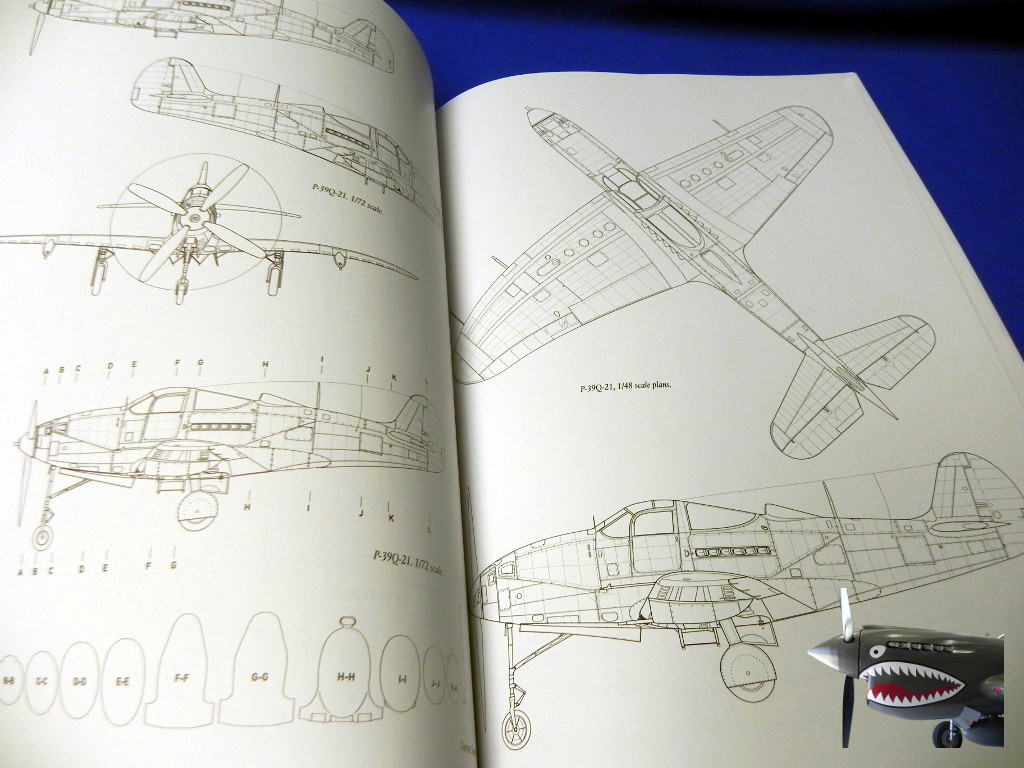 Pages 1-2 have seven 1/72nd scale plan views of the P-39Q with sections, and pages 3-5 have five 1/48th scale plan views plus cross sections.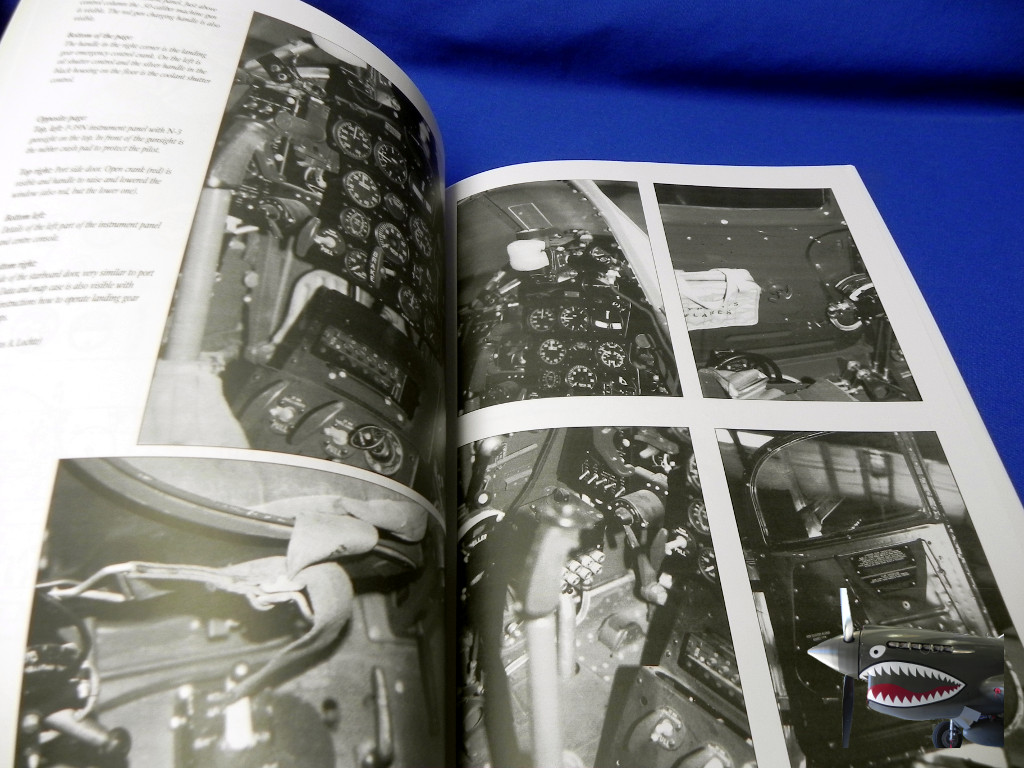 There are fourteen illustrations from the technical manual along with 35 detail images of museum specimen (of which ten are in color).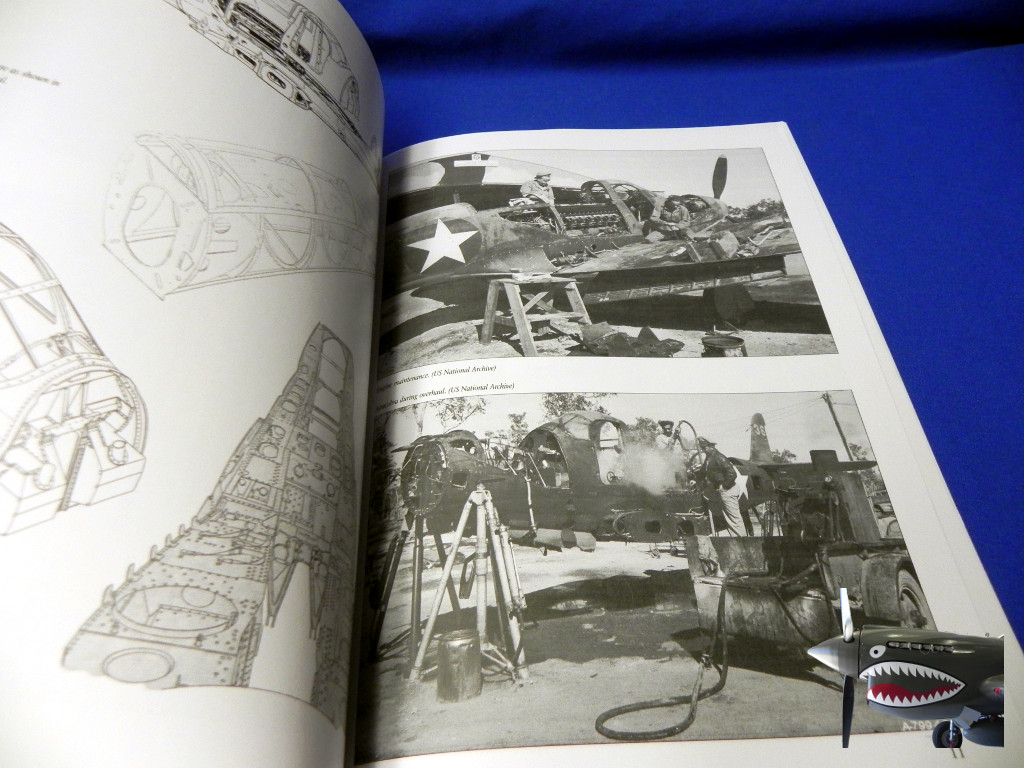 Nine archival images are included.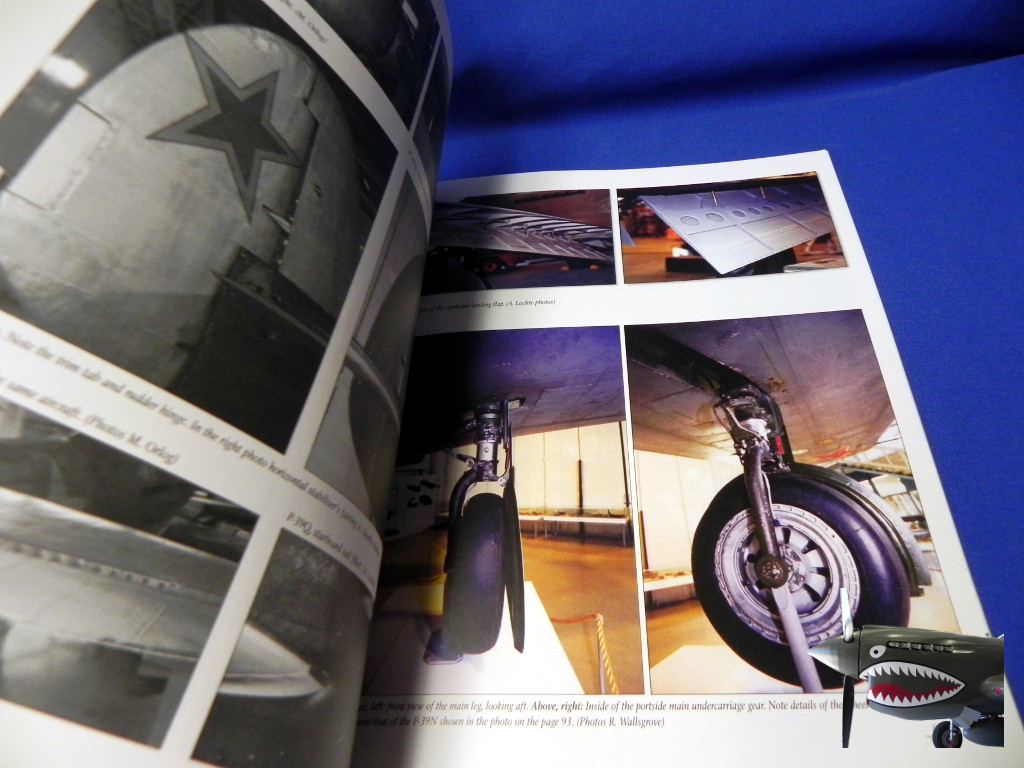 Ten color detail photographs to compliment the tonal images.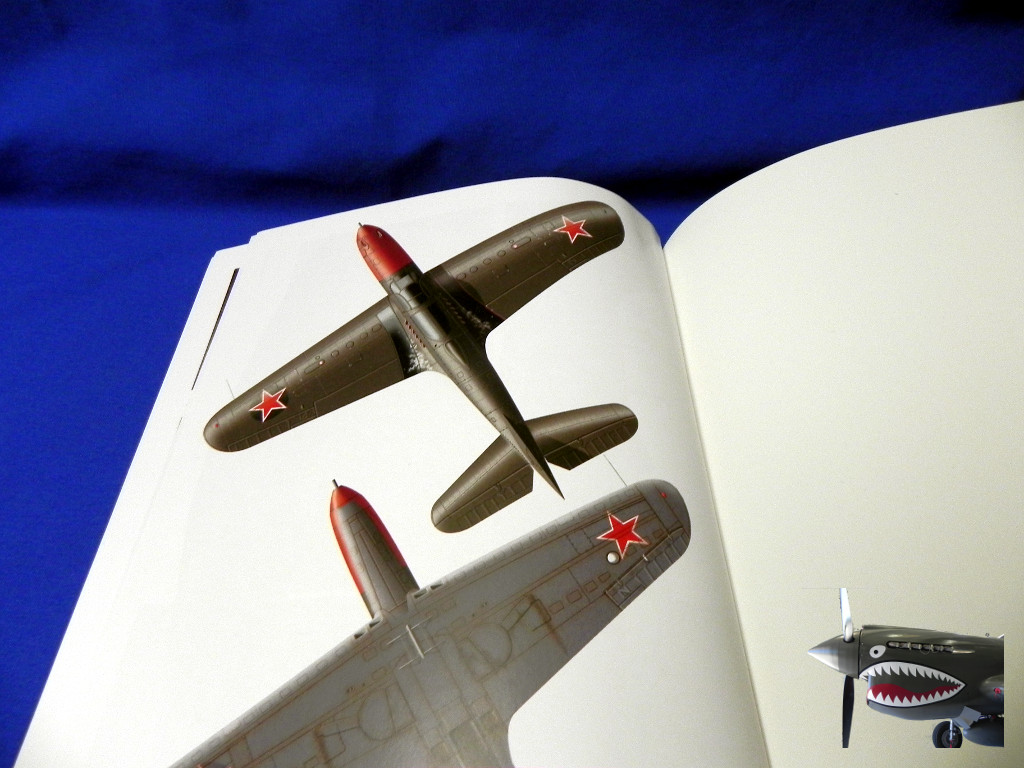 Only one color profile.
Discuss this article in the forums (2 replies).
Details

Parent Category: Reviews and News
Category: Tools
Created on Wednesday, 14 August 2019 08:07
Last Updated on Wednesday, 14 August 2019 08:07
Published on Wednesday, 14 August 2019 08:07
Written by Heavens Eagle
Hits: 986
Being a watchmaker, I handle fine tweezers for hours a day 5 or more days a week. Then there is the modeling side which takes the same tools and puts them to other sometimes more challenging tasks.

When I saw that Sprue Brothers had some new tweezers made by Meng it was time to step up and check them out. With many years of experience, it is easy for me to tell what works and what doesn't and what little things will cause the most trouble.

Here is a quick photo essay showing what was found.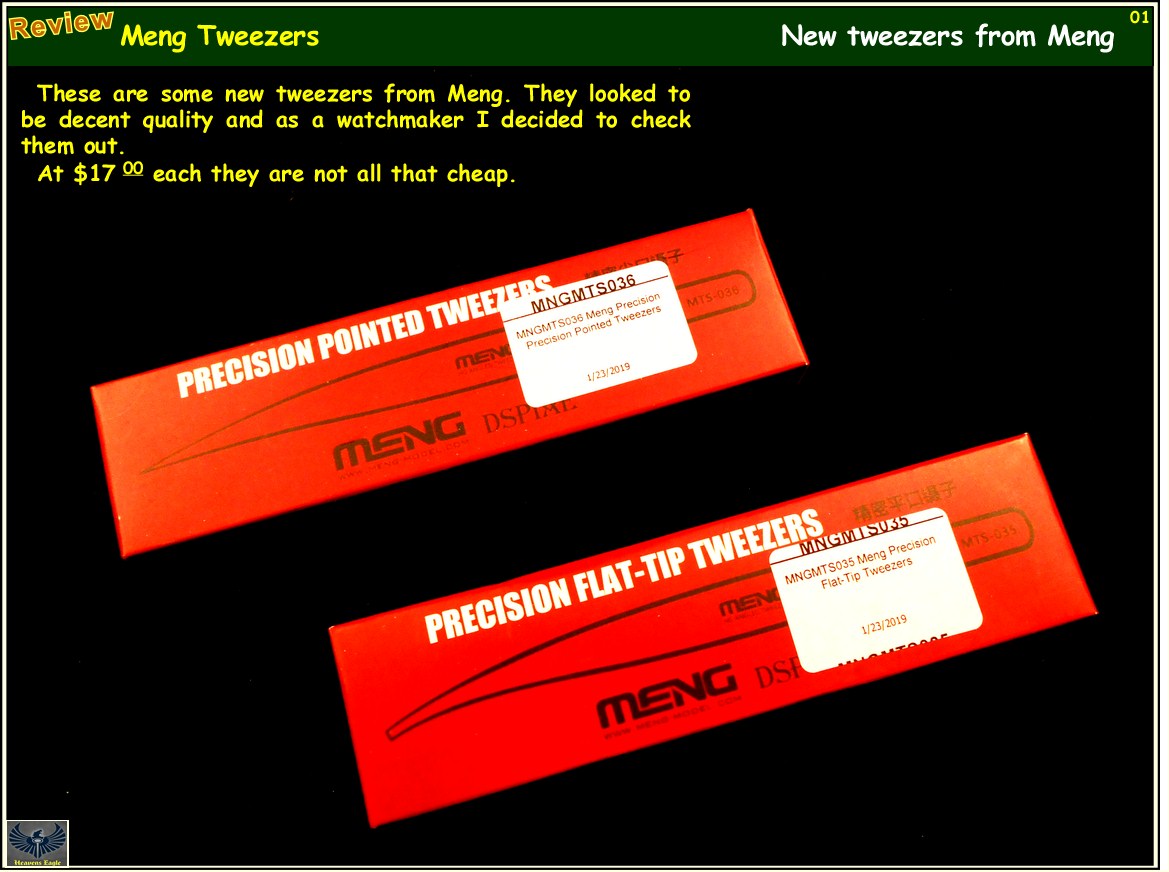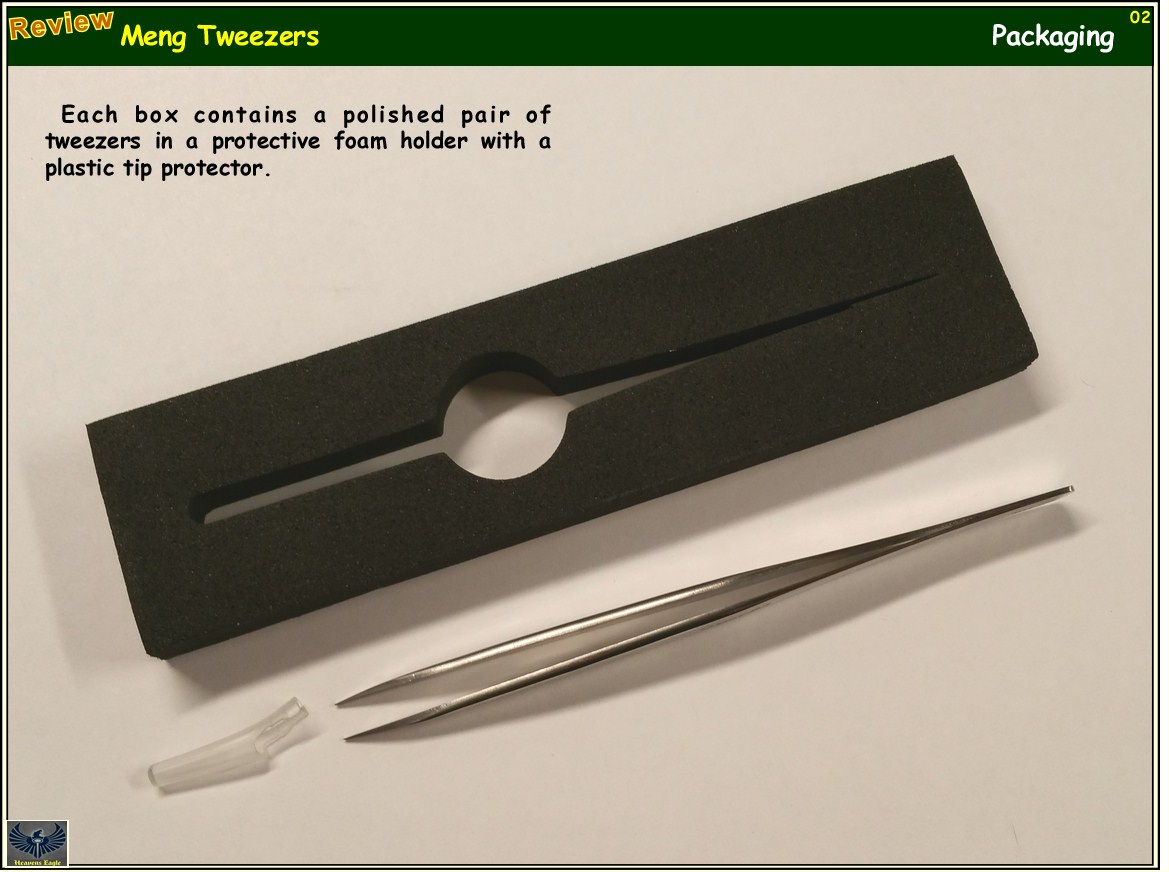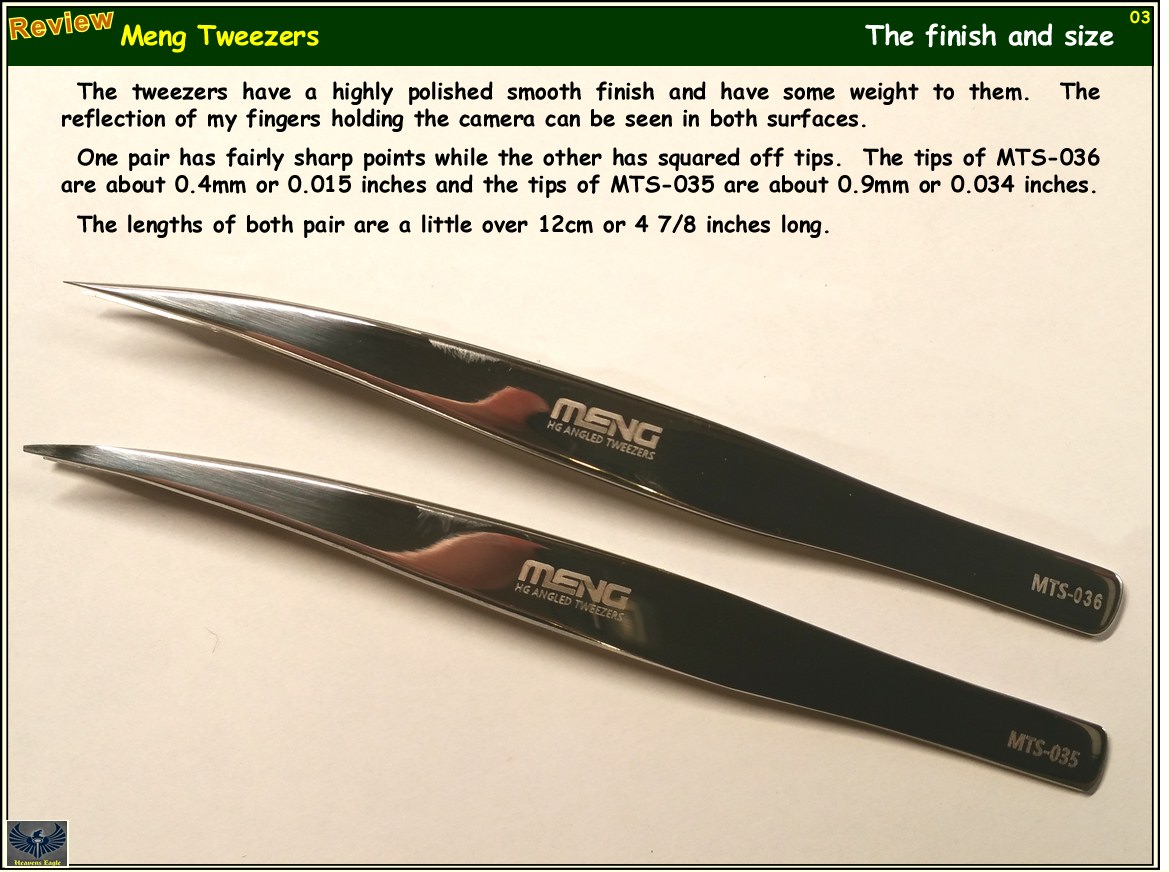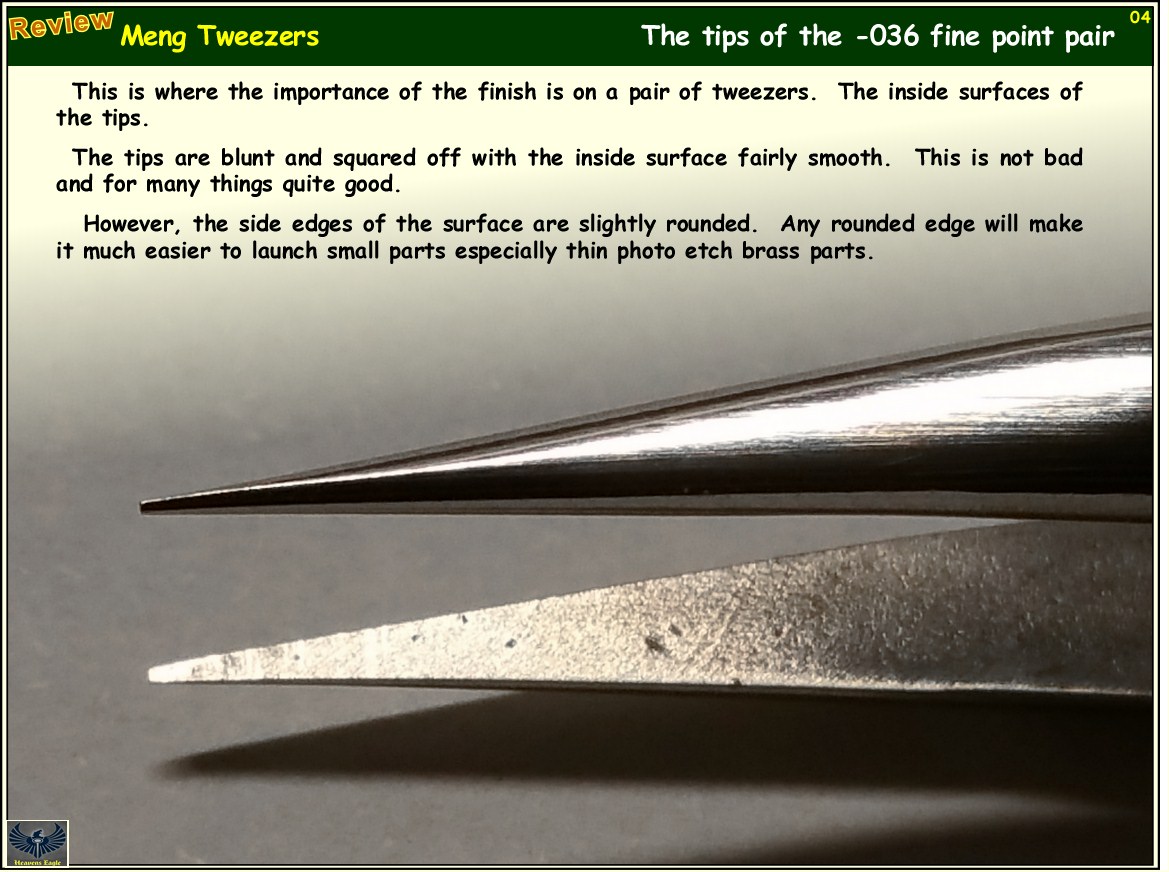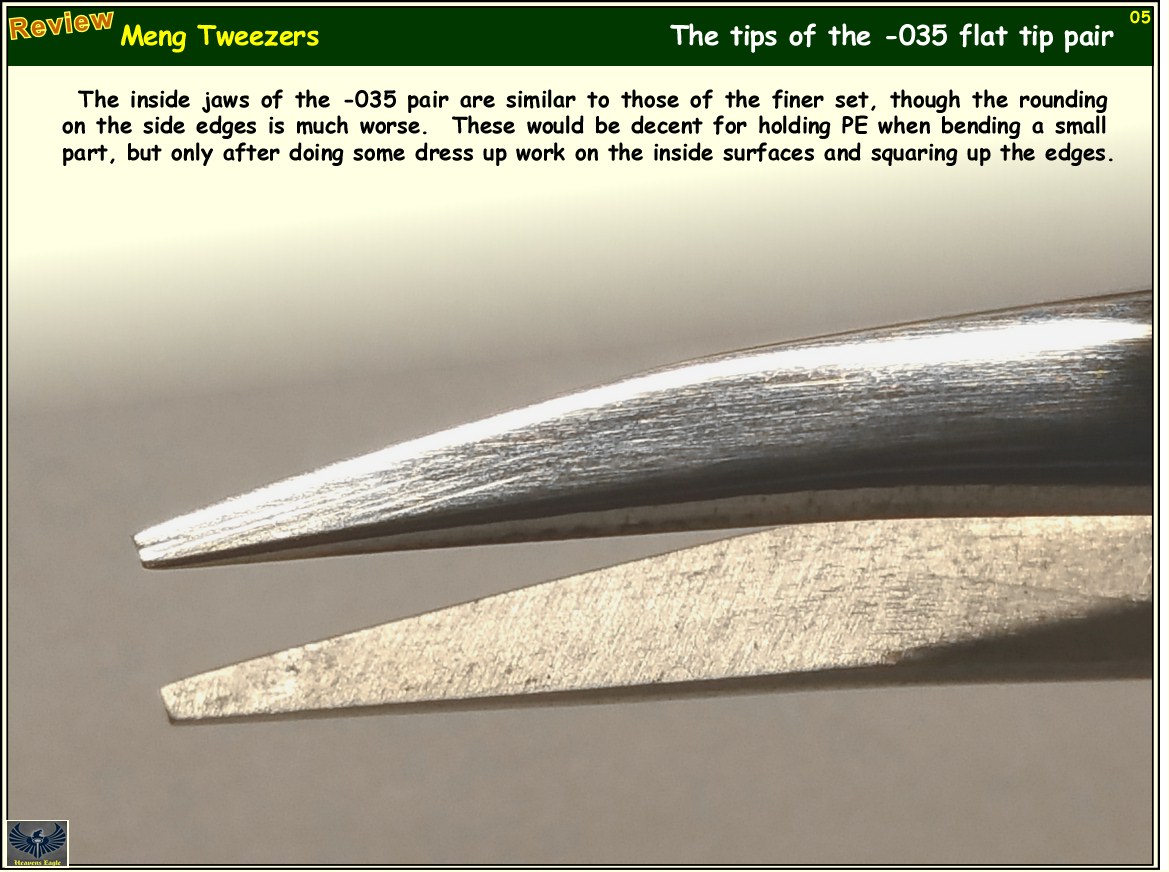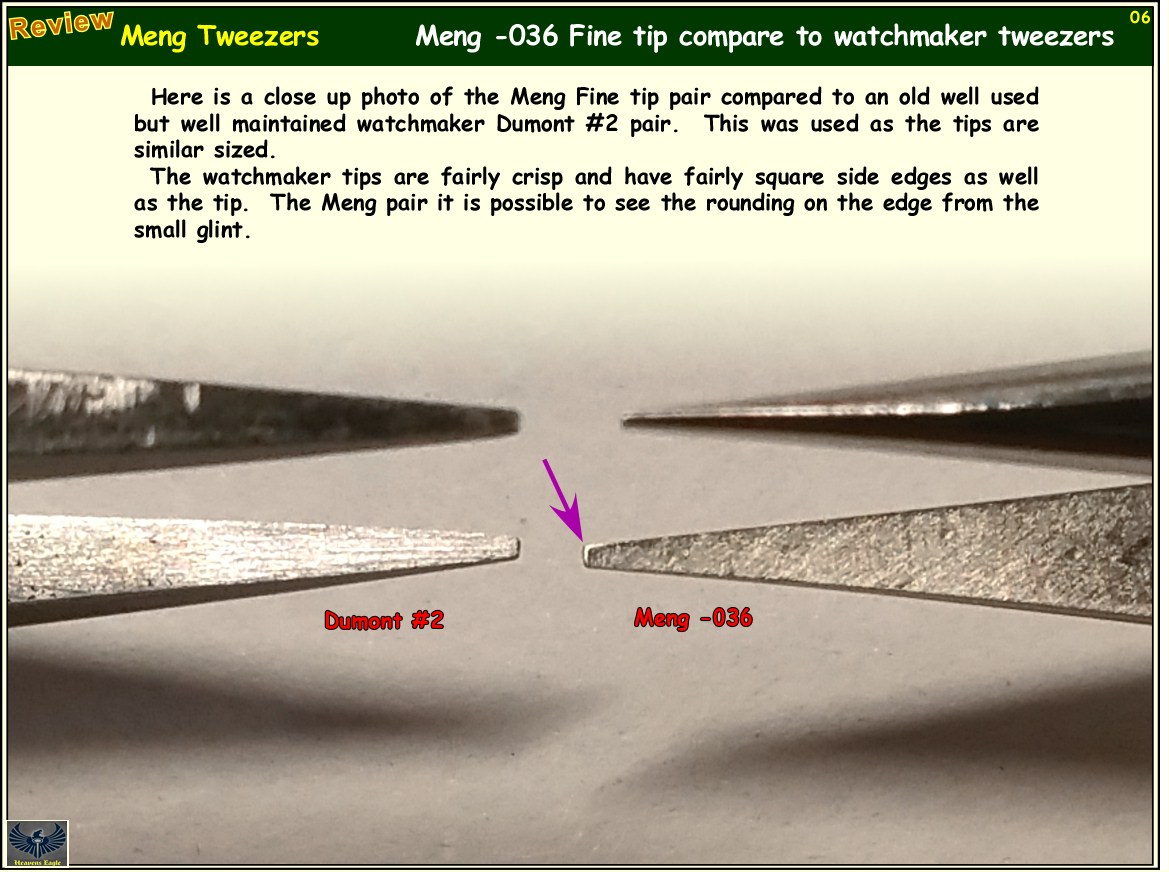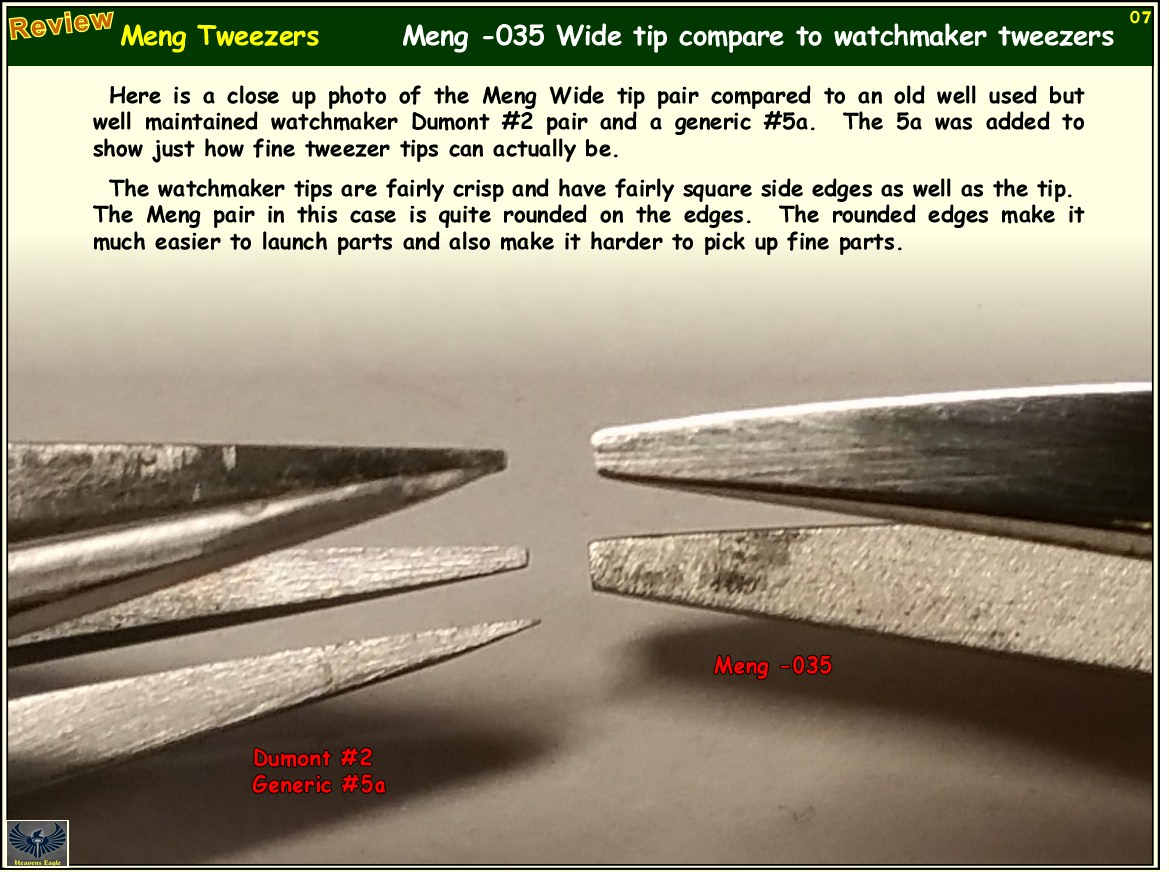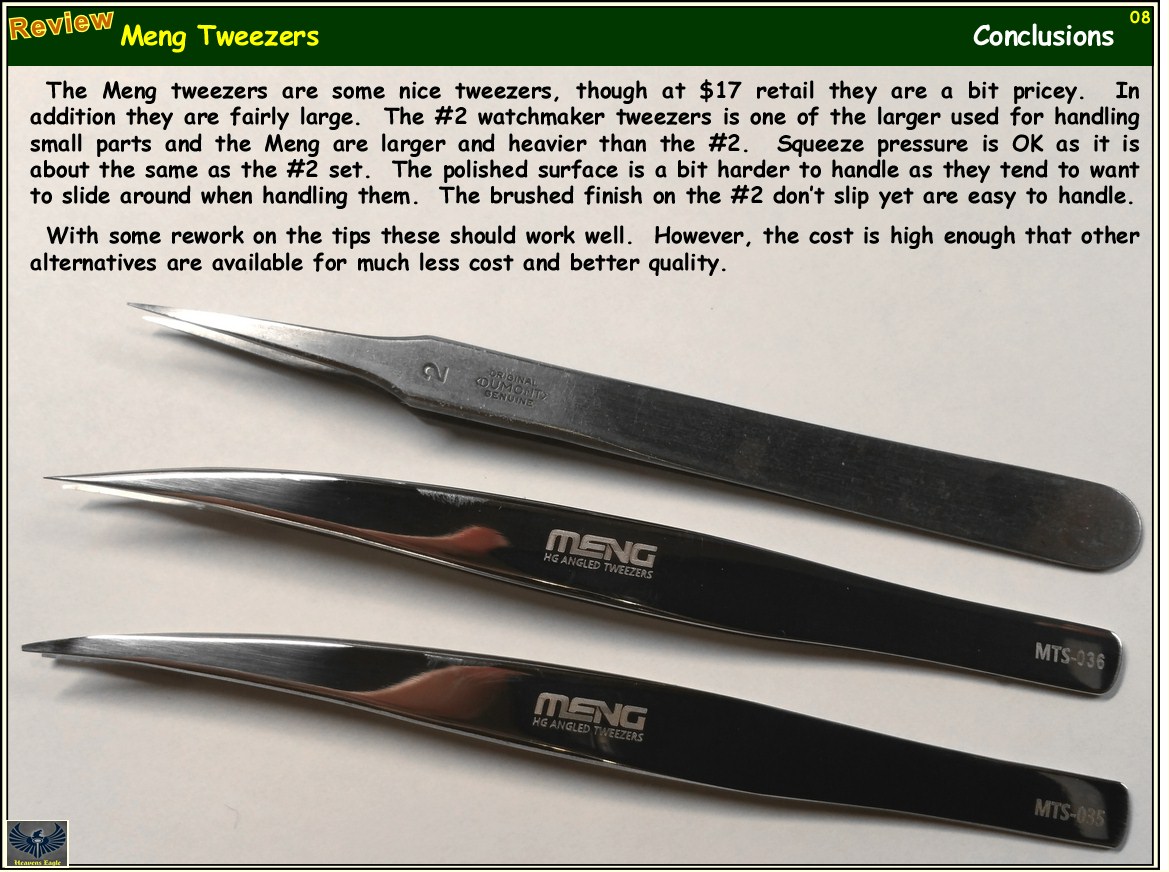 The steel quality seems good and they are probably going to be quite decent tweezers. For the cost they should have much better tips than they currently have. While the tips can be corrected with little work, there are other options out there that are better quality and will work correctly from the start.

For a quick run through on tweezer basics, handling, and how to restore and maintain the kind of tips that will allow handling fine photo etch with less part launches, refer to this thread:
TOPIC: TOOL TIME - Tweezers
Discuss this article in the forums (8 replies).