Details

Category: Reviews and News
Created on Saturday, 09 May 2015 15:08
Last Updated on Monday, 08 June 2015 21:50
Published on Saturday, 09 May 2015 15:08
Written by sharkmouth
Hits: 1297
This is now my favorite tool to cut parts free from the sprue…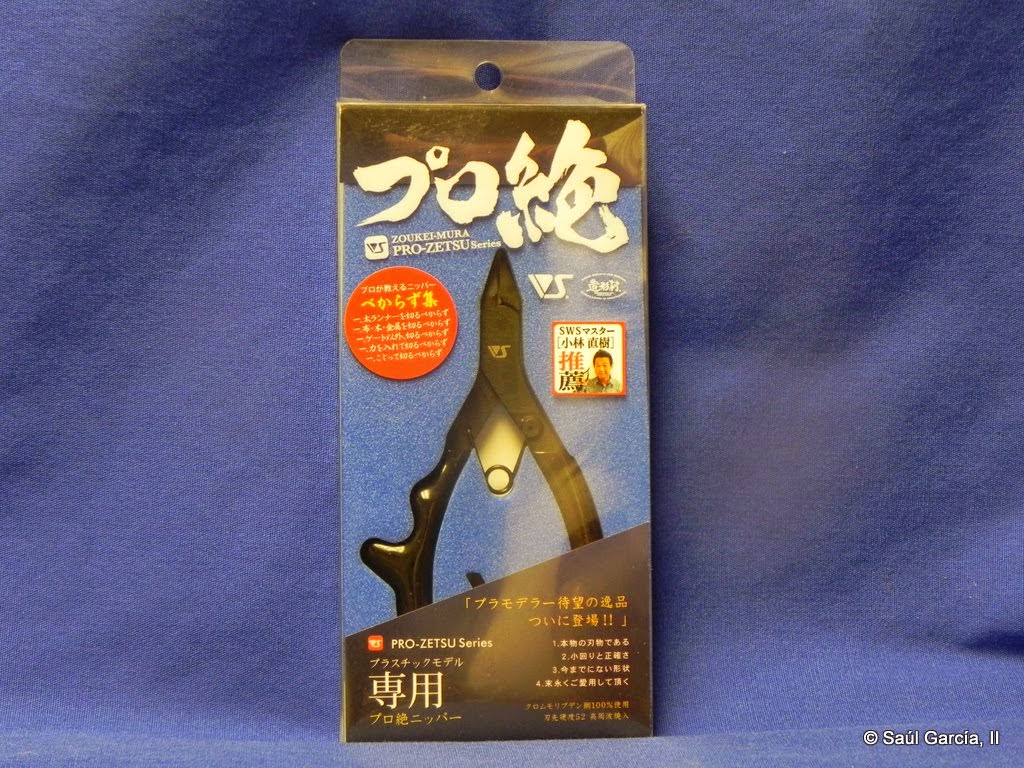 After seeing some lively discussions on side cutters as used for plastic modelling, I found two camps formed between users of Tamiya and those using Xuron products. Not having a Tamiya side cutter, I fell into the latter having a Xuron knock-off, Testors Modelmaster (made by Xuron) sprue cutter, and Xuron's 2175ET professional sprue cutter. For me, the test is how cleanly it cuts the sprue but… cutting a sprue runner doesn't have to be clean, does it? After all, it is what I relegated the Xuron knock-off for, until the rivet hinge came loose. What about cutting parts off the sprues, in other words, cutting the gate?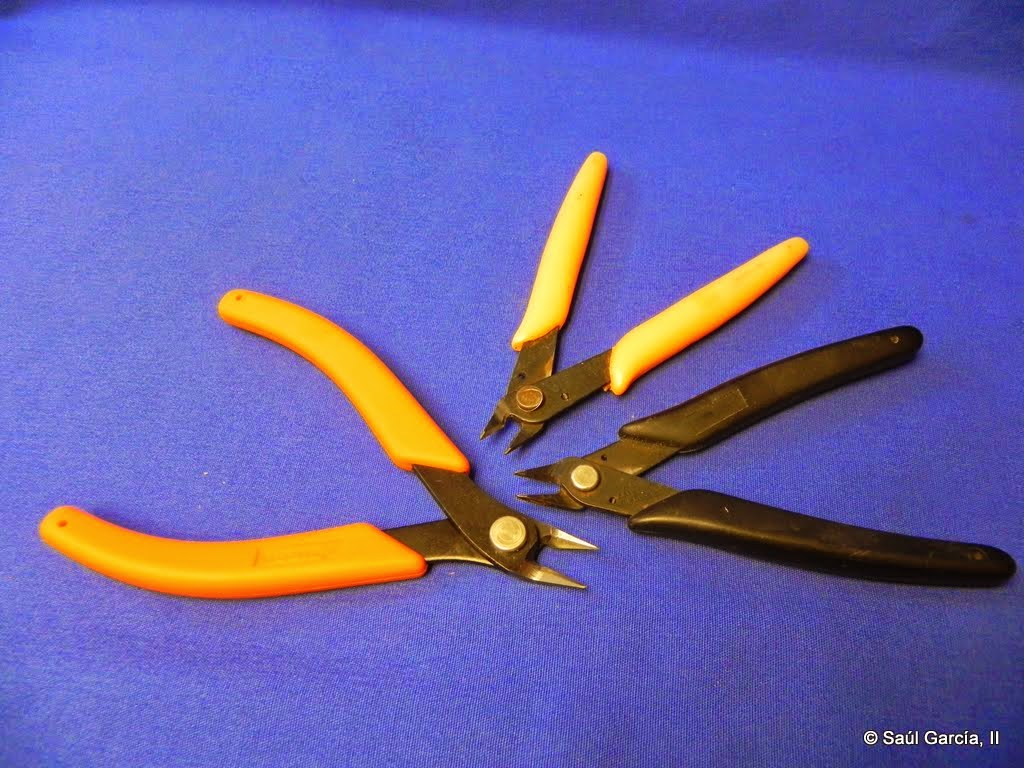 Well, one person mentioned that Zoukei Mura, the company with the insanely detailed aircraft kits, was to release their Pro Zetsu Nippers. These were specifically designed to remove kit parts from the sprues. Luckily for me, Volks USA kindly provided a translation of the Japanese text on the package of the nippers I ordered. Volsk is the parent company of Zoukei Mura. It is important to understand the limitations of a tool before using as one may end up with damage.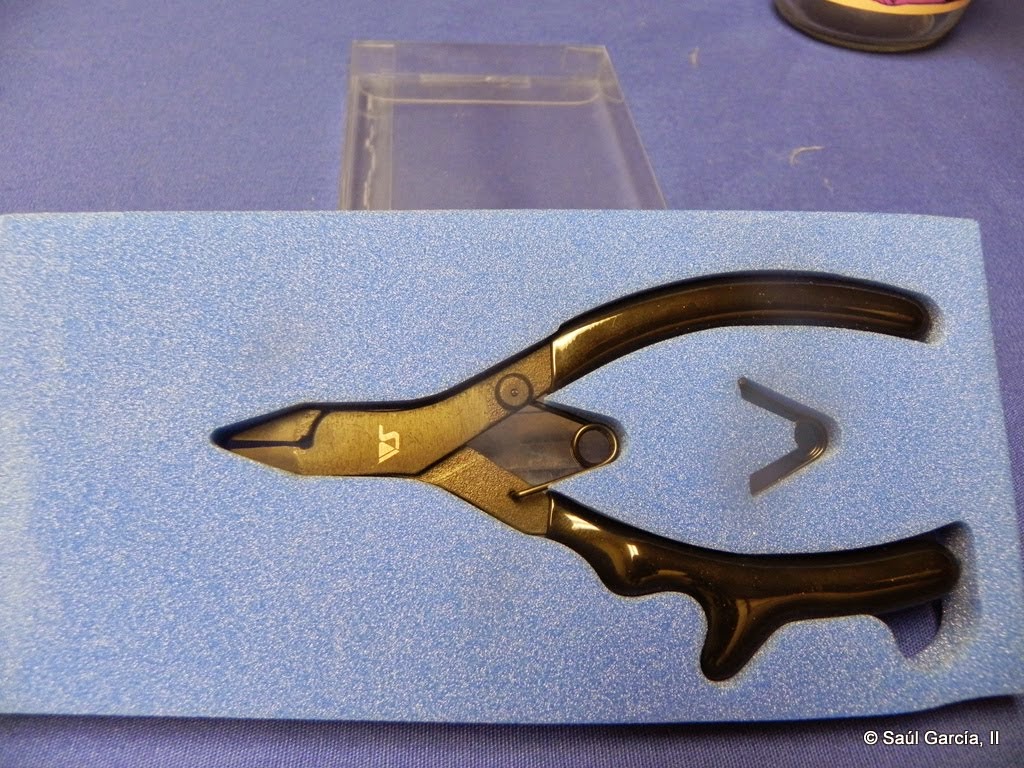 The packaging is incredible and there is an extra spring included.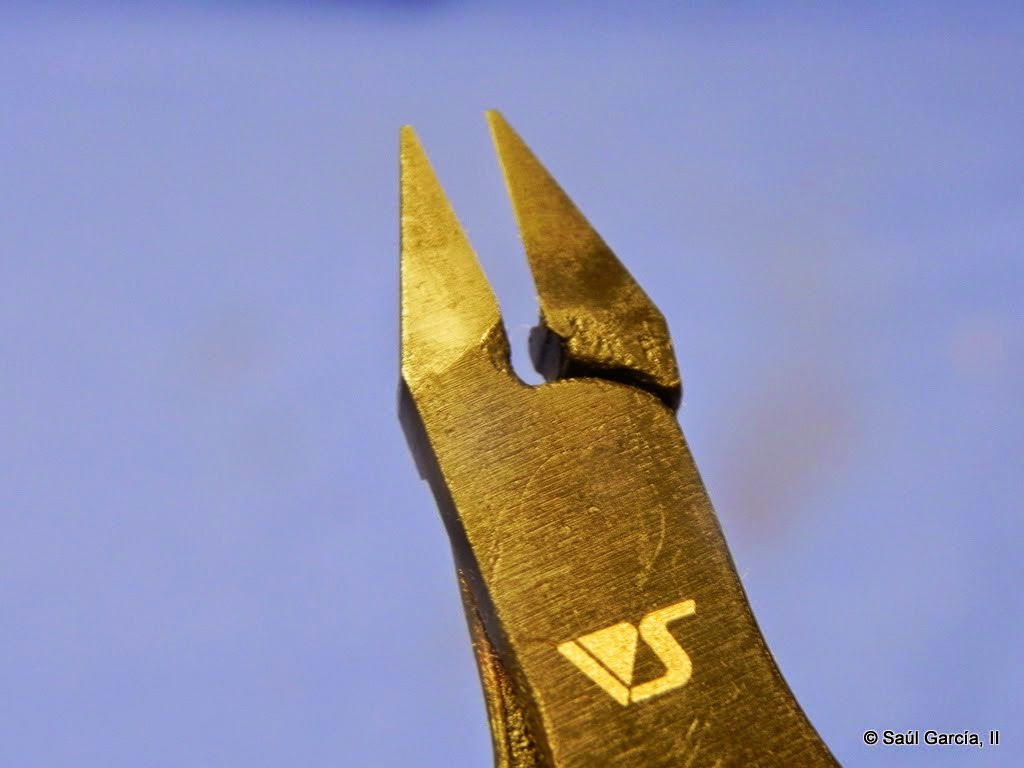 The blade is very sharp, and quite thin as well to reach into the srpue and get close to the part being freed.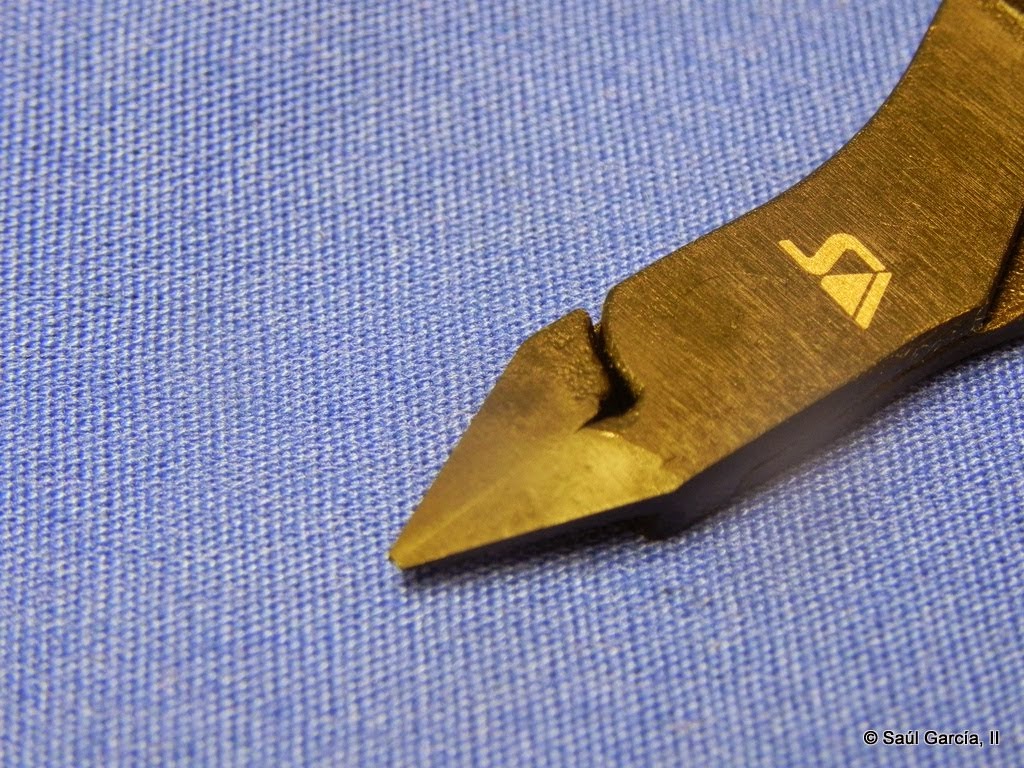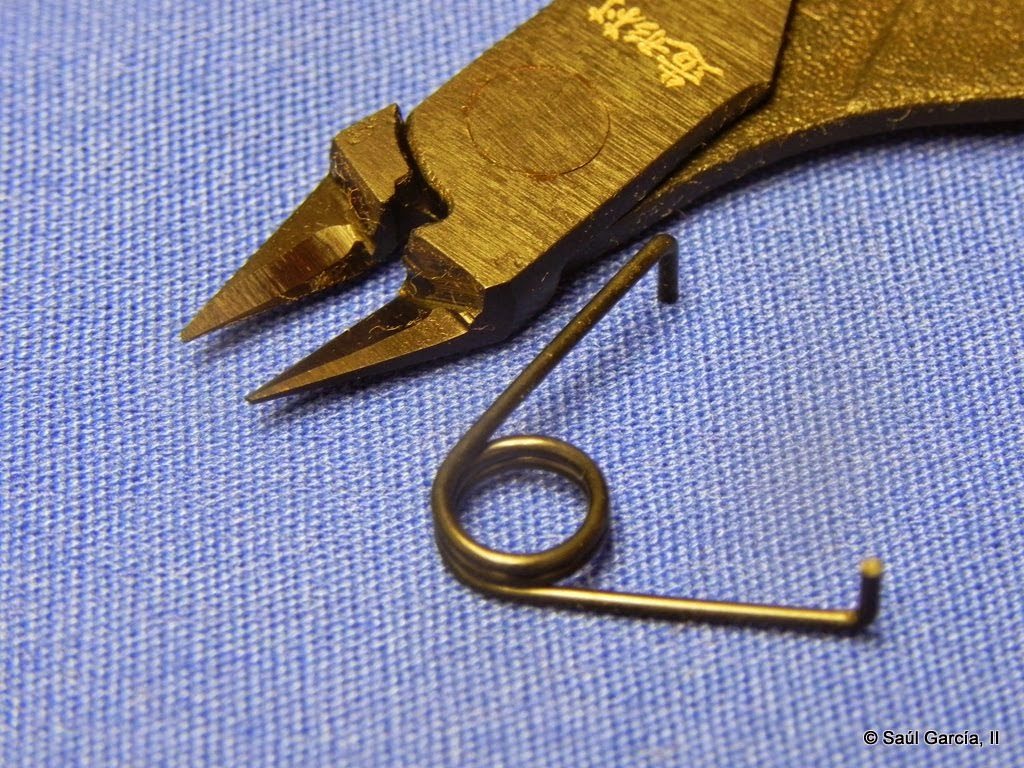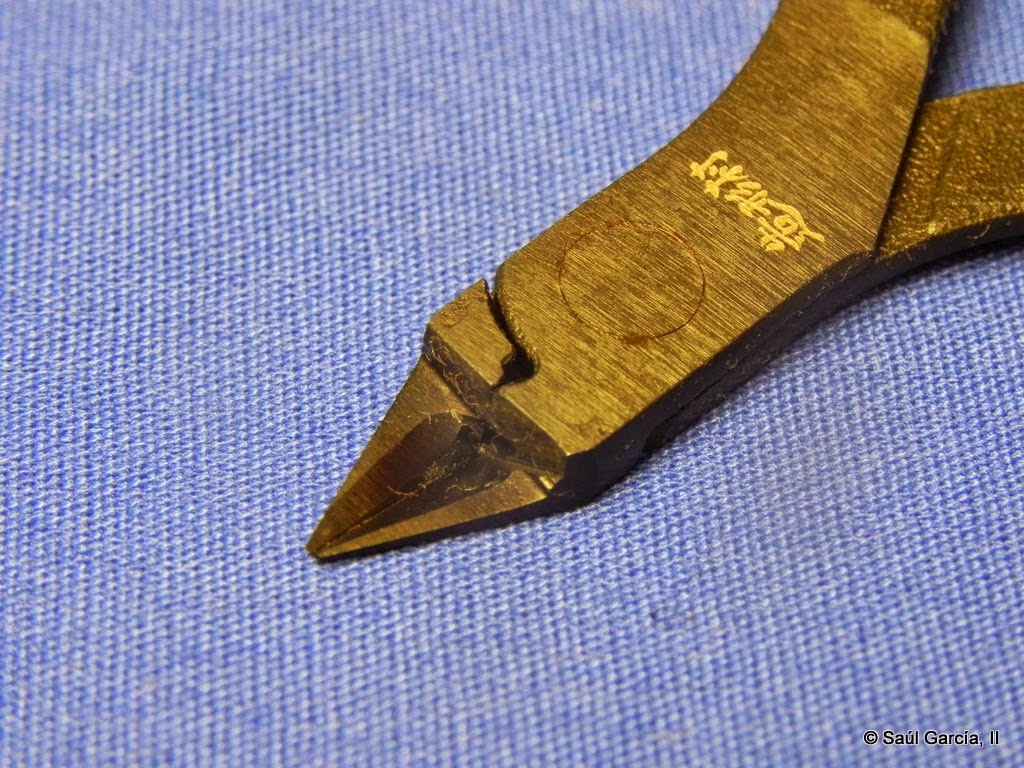 How does it cut?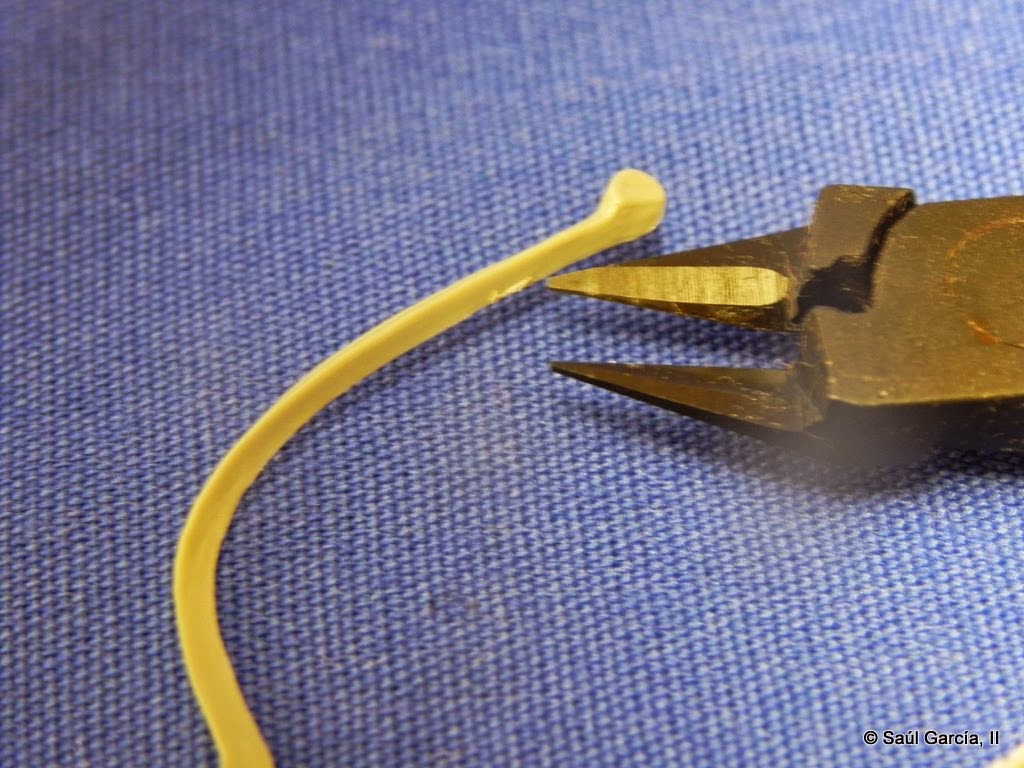 As you can see, it is VERY clean and the photo simply magnifies the small burr left behind. That protrusion on the handle is actually comfortable and increased my confidence that I would not drop this expensive ($36USD) tool. I also won't be comparing it to my Xuron Pro Srpue cutter because, while it is designed to cut parts free as well a the sprues themselves (to reach the part), this tool is designed only to cut the parts free and cutting anything else may dull or damage it. It is interesting to note that Volks, in Japan only, has a service to resharpen these nippers.
What follows is the translation of the text found on the Package.
【Front Cover】
*Attention*
Expert modelers recommend what you "MUST NOT DO" with this nipper:
ü Do not cut off thick sprues
ü Do not cut off cloth, wood or metal
ü Do not cut off other things apart from the kit's gates
ü Do not use too much strength while cutting off
ü Do not pry while cutting off
【Back Cover】
Concept
1977年に発売されたボークス伝説のニッパが37年の時を経て遂に復活。プロモデラーの絶対的な経験から思考さえ、プロモデラー制作に絶対必要なニッパーとして開発されました。プラモデルをご愛好される皆さまに、ぜひご愛用いただきたいおすすめの逸品です
In 1977, VOLKS first started to sell its legendary Nipper and finally after 37 years, has been resurrected. With the experience of Pro-Modelers and consideration, Pro-modelers have started developing a definitely needed nipper. To all you plastic model lovers out there, please use our fine product with love.
Point 1.
本物の刃物である
強靭な粘りと対摩擦性に優れたクロムモリブデン鋼を100%使用。刃先は高周波焼入による硬度52を実現。刃先を極限まで薄くし。取付角度を浅く調節。さらに、片刃にする事でまるで包丁で切ったかのような切断面に。ニッパーだけでゲート°処理が可能な、プロフェッシナルのための究極の作業精度と効率を実現しました。スパッとした切れ味をご体験ください。
A piece of real cutlery
Strong against friction and tough stickiness, this nipper is made from 100% Chromium molybdenum. The edge of the blade is the result of high frequency whetting, which achieves its fine hard level of 52. The cutting edge is thin straight to the end. Mounted angles are finely contorted so with that, the blade slices the same like a real knife. These nippers are just the gateway to processing professionally real works with accuracy and efficiency. You will be able to experience just a little taste of how well this nipper can cut.
  Point 2.
小回りと正確さ
刃先だけでなくニッパ全体を極限に薄くすることで、狭い所に刃先を入れやすく、小さなパーツでも刃先全体を確認しながら正確な切り出しが可能です。

Maneuverability and accuracy
Not only with the cutting edge, the whole part of the nipper is created thinly to the very limit. You can cut into narrow spaces with ease and as you check the nipper, you can cut to your exact specifications.
  Point 3.
今までにない形状
グリップ>の凸状空起は握るだけで。表。裏がすぐ判別可能。手になじみ、滑りにくく吸いやすさを追求。重心がグリップ側にある事で最良のトータルバランスの実現。本体には錆の発生を防ぐパーカー加工処理を丹念に施しました。

A non-existent form until now
Just holding the bulged grip, differentiating between the front and back is immediately identifiable. Form fitting for your hands and slip resistant is a specific point closely looked at. A total balance is achieved only through the highest quality product. In order to prevent instances of rust, a parker is carefully put on the body of the nipper.
  Point 4.
末永くご愛用して頂く。
最高級素材で作られたバネは様々な使用者様を考慮してバネの固さを調整出来るよう2種が付属取り替えが可能。長時間作集でのストレスを軽減でき、使えば使ほどその良さを実感して頂けます。勿論、刃は研ぐ事が可能であり、ボークスにて研ぎ直しサービスもいたします(有料)

For you to love for many years to come
The spring being made by using the finest quality materials with many uses put into consideration. Two springs are included to change between strengths. When used for long periods of time, stress can be reduced, the more you use the more you will feel that this is a great product. Of course, VOLKS has a blade sharpening service to fit your needs (Japan only. Extra fee)
Discuss this article in the forums (21 replies).