Details

Parent Category: Reviews and News
Category: Kits
Created on Sunday, 13 November 2011 19:41
Last Updated on Thursday, 12 April 2018 20:05
Published on Sunday, 13 November 2011 00:00
Written by sharkmouth
Hits: 3129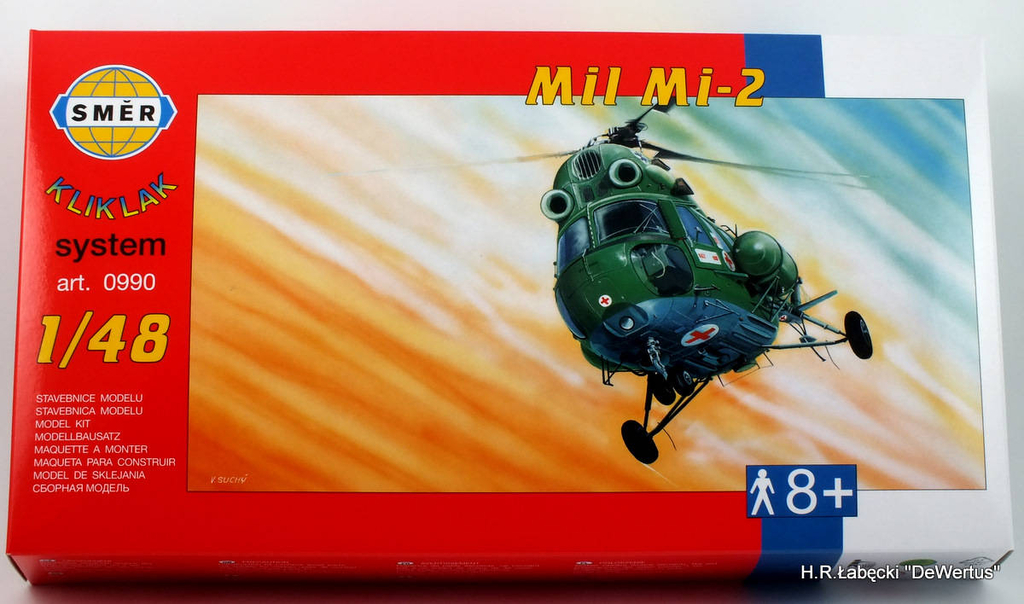 Background
Mil Mi-2 (NATO code Hoplite) is a small, lightly armored transport helicopter that could also provide close air support when armed with 57 mm rockets and a 23 mm cannon. Mi-2 was developed in the early 1960's by the Mil bureau as a turbine-powered version of the Mi-1 Hare. After initial development at the Mil bureau (Soviet designation V-2) this was transferred to Poland in 1964, after the first ?widnik-built example had flown. PZL-?widnik has since delivered many hundreds, possibly one-third of them to military customers, and developed plastic rotor blades and the wide-body Mi-2M seating 10 passengers instead of eight. Most typical role kits include four stretchers, as air ambulance, agricultural and police versions. In Poland, there were also developed into several specialized military variants, first of all for support or reconnaissance roles, with 23 mm cannon, machine guns and/or two 57 mm rocket pods, four 9K11 Malyutka anti-tank missiles or Strela-2 AA missiles.
Model
For several years on the market there are available simple models which can be built without using glue. These models are mainly targeted at the youngest and/or inexperienced modelers. The most famous series of this type (for aircraft) are: EZ SNAPZ from Pegasus Hobbies (scale 1/48), and close to them AUTHENTIC KIT EASY ASSEMBLY's from Hobby Boss (scale 1/72) or EASY from Revell (1/100). Recently to this club were join a Czech SMER with two versions of the Mil Mi-2 in 1/48 scale issued under KLIKLAK series.
The model I bought was to continue supporting and grow the love for the hobby shown by my son and godson. For these purposes, these models are ideal.
In a large box we will find four sprues, made from different colors plastic, intended by the manufacturer as a solution for some young modelers to replace the need to paint. The fuselage is green; rotors, interior and chassis components are black, and external fuel tanks are yellow. It is completed with the pieces from the transparent sprue. The parts are cast cleanly and without mold shifts. It gives the impression of a durable plastic and is pleasant to work with, although I have some concerns about its "compatibility" with paint (especially acrylics).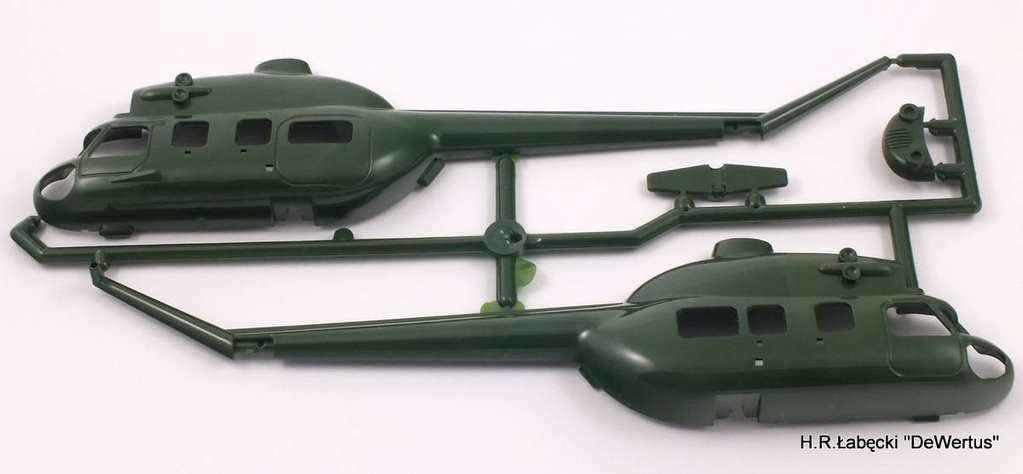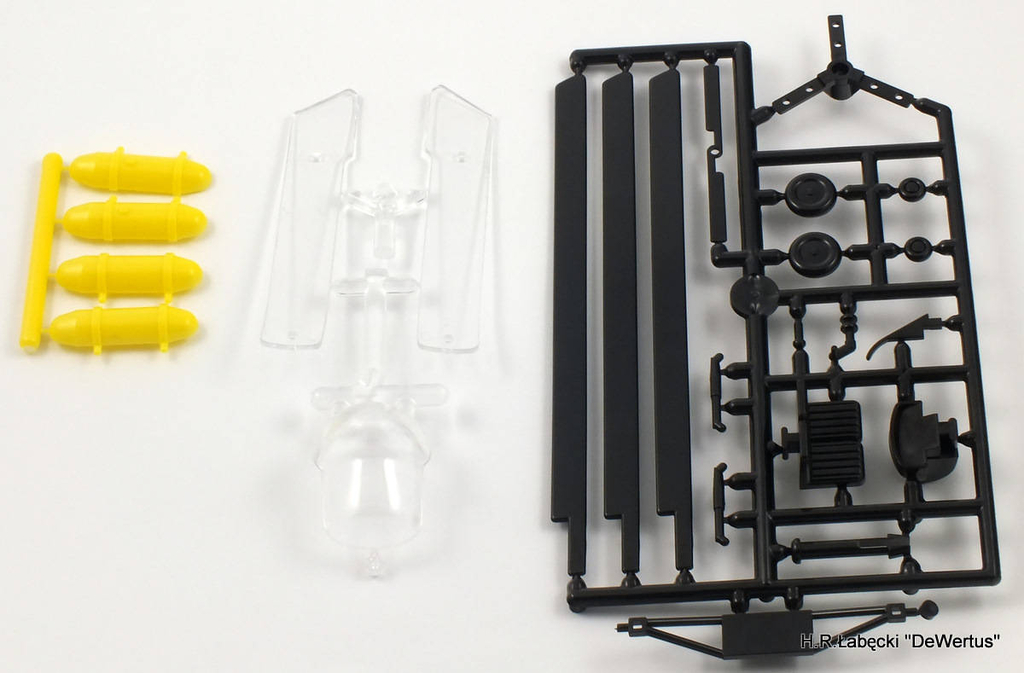 The accuracy and detail is not what the model is about - all parts have been simplified (in this respect, the Mi-2 resembles the first model of Pegasus - Spitfire). I hope that SMER will follow Pegasus and future models will increase in the amount of detail and accuracy of the items. Panel lines, well they don't exisit - in this respect even the Pegasus Spitfire, which is a point of reference here, presents itself as a sophisticated and accurate model.
The model box does not include a classic instruction sheet - the assembly is shown in the bottom of the box. A pity, because the beginner modeler will not have any information at hand (even basic)for the helicopter after the model is built. Also missing is information on how and where the decals should be placed.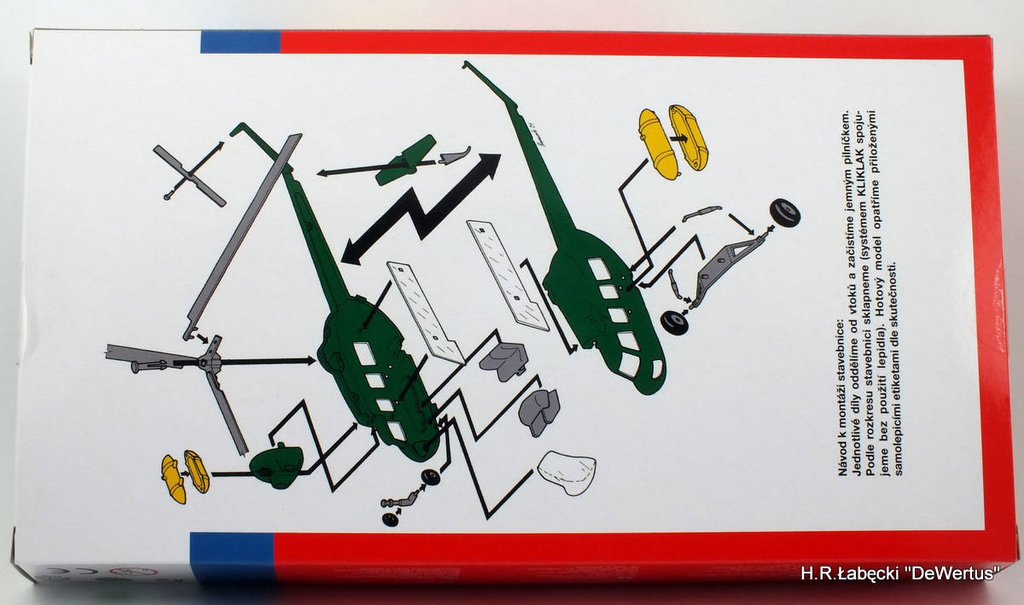 Decals - Again, I think it isn't a great idea in the absence of instructions - SMER has offered only two schemes on a single sheet. The need for fairly precise cutting with a knife or scissors can be troublesome, especially for young modelers. I will admit that the print quality is very good.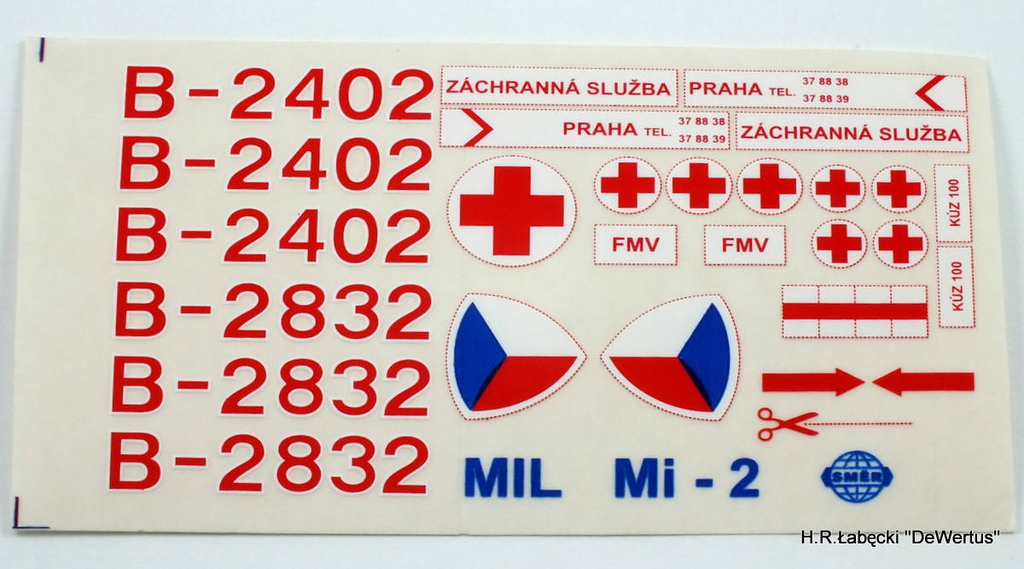 The low price (about $ 8) makes the Mi-2 "KLIKLAK" from Smer an interesting option for young and novice modelers. An unquestionable advantage is the fact that the model represents one of the most famous and popular helicopters, in addition in being the only one in this scale, which is not really even an "adult" model.
Discuss this article in the forums (5 replies).