Reviews and News
Details

Parent Category: Reviews and News
Category: Kits
Created on Wednesday, 03 June 2015 04:13
Last Updated on Wednesday, 03 June 2015 04:13
Published on Wednesday, 03 June 2015 04:13
Written by RichB
Hits: 2199
Revell Panavia Tornado IDS 1:48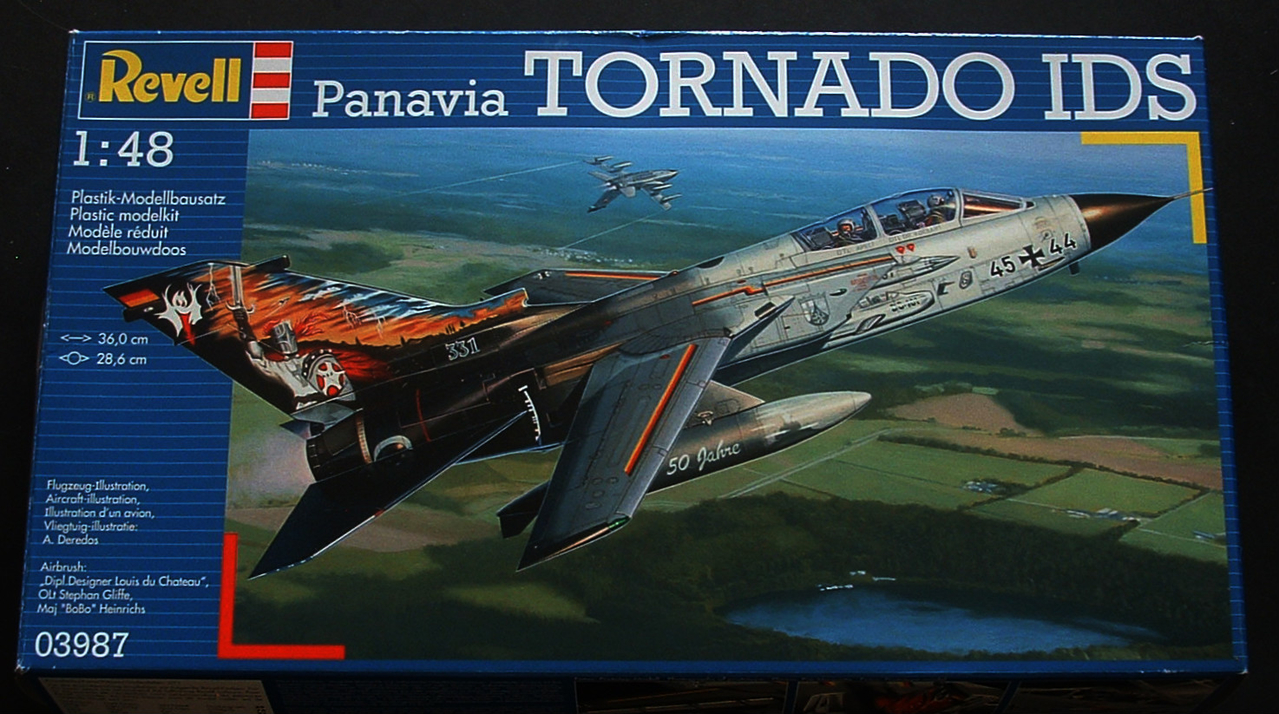 HISTORY

Originally conceived as the MRA (Multi Role Aircraft), later changed to the MRCA (Multi Role Combat Aircraft), the Tornado was to become an aircraft capable of replacing several different aircraft in service with several NATO countries. Germany, Italy, Canada, Belgium and the Netherlands formed the initial working group in 1968 with the United Kingdom joining soon after. Canada and Belgium were the first countries to leave the consortium due to political wrangling and conflicting specifications and requirements, followed by the Netherlands in 1970.

The requirements that emerged from the three remaining partners were for an aircraft to be designed that would excel in the low-level strike role. Two design concepts were presented, the single seat Panavia 100 (favoured by Germany) and the two seat Panavia 200 (favoured by the RAF). Briefly known as the Panther, the three nation consortium selected the Panavia 200 for their new low-level strike aircraft. As the design evolved, the Tornado's multirole capabilities led to it being produced in three main variants: Tornado IDS (Interdictor/Strike), Tornado ECR (Electronic Combat/Reconnaissance) and Tornado ADV (Air Defence Variant), the most extensively modified from the base Tornado airframe.

The first prototype aircraft took flight in 1974, with the first production aircraft being delivered to the RAF and Luftwaffe in 1979. Production ended in 1998 with the last of 992 airframes being delivered to Saudi Arabia. The Tornado was considered by several countries during this time, including Australia, Canada, Japan, Taiwan and South Korea, with no other successful foreign sales.

As with most aircraft operated by the world's air forces today, the Tornado has under gone several life extension and upgrade programs to maintain its viability as a frontline aircraft. It is projected that the Tornado will remain in service until 2025, 50 years after the prototype's first flight.

THE KIT
Read more: Revell Panavia Tornado IDS 1:48
Discuss this article in the forums (7 replies).
Details

Parent Category: Reviews and News
Category: Kits
Created on Saturday, 30 May 2015 22:53
Last Updated on Saturday, 30 May 2015 22:55
Published on Saturday, 30 May 2015 22:53
Written by Old Dog
Hits: 1248


History :
The La-7 was a further development in the Lavochkin line of aircraft dating back to the LaGG-1 in 1938. The LaGG-1 was followed by the LaGG-3 and with a change of engines from in line to radial became the La-5. By 1943 the La-5 had become the mainstay of the Soviet air force but Semyon Lavochkin, the head designer, felt it could be further improved upon. At this point in the war supplies of light alloy metals had become more stable and as a result Lavochkin began replacing some of the wooden parts of the La-5 with light alloy parts. This included the wing spars. Other streamlining changes were made as well increasing performance further. A more powerful engine and heavier armament made the aircraft a potent weapon which was not only faster than the Fw 190, its main competitor, but it was more maneuverable. The La-7 first flew in November of 1943 and entered service the following spring. The La-7 earned itself a superb combat record by the end of the war having been flown by the top two Soviet aces. The La-7 was the only Soviet aircraft to shoot down an Me 262. Total production of the La-7 amounted to 5,753 aircraft, some of which soldiered on after the war.

The Kit:

The HpH Models kit comes in a sturdy top opening tray type corrugated box with color profiles of the two sets of markings supplied in the kit. Inside the box is compartmented and each compartment contains parts that are wrapped in bubble wrap. The smaller parts are enclosed in zip lock bags which are also wrapped in bubble wrap. Also in zip lock bags are photo etch, decals and laser cut microfiber seat harness. Like other HpH kits the box also contains a Belgium chocolate. Also included in the box is a CD with the assembly instructions. If you haven't guessed already this is a mostly resin kit and a pricey one at that but if you have to ask you probably can't afford it. Actually it's about the same price as one of the premium Tamiya kits if you spend money on any after market stuff for it. With this kit there really isn't anything else needed but don't expect it to be as easy to build or fit as well as that same Tamiya kit. But then Tamiya doesn't make 1/32 La-7.

The kit is molded in gray resin and though I haven't looked it over with a magnifier I have yet to find any visible air bubbles, short shots or other molding defects. While some of the parts have some fairly large pour blocks the actual contact point between the part and the block are quite thin and a light scribe with an x-acto knife should allow them to snap right off. Lets start with the fuselage halves shown below. Each half has a pour block across the top edge. Again the connection point is quite thin and should be easy to remove. Both the cowling opening and the cockpit opening are flashed over with thin resin. The halves appear reasonably straight and flat but without cleaning them up first it's not possible to fit them together. There is some bow towards the tail but these castings are as thin or thinner than most injection molded kit so I don't see it being an issue. The exterior surface is very smooth and features finely engraved panel lines as well as rivets and fasteners. There is not an overabundance of either as parts of the plane were still made with wood. The inside of the vertical tail features structural detail as this will be seen through the tail wheel opening. The fuselage halves do have several alignment pins which are not common on most resin kits.
Discuss this article in the forums (3 replies).
Details

Category: Reviews and News
Created on Saturday, 09 May 2015 15:08
Last Updated on Monday, 08 June 2015 21:50
Published on Saturday, 09 May 2015 15:08
Written by sharkmouth
Hits: 1297
This is now my favorite tool to cut parts free from the sprue…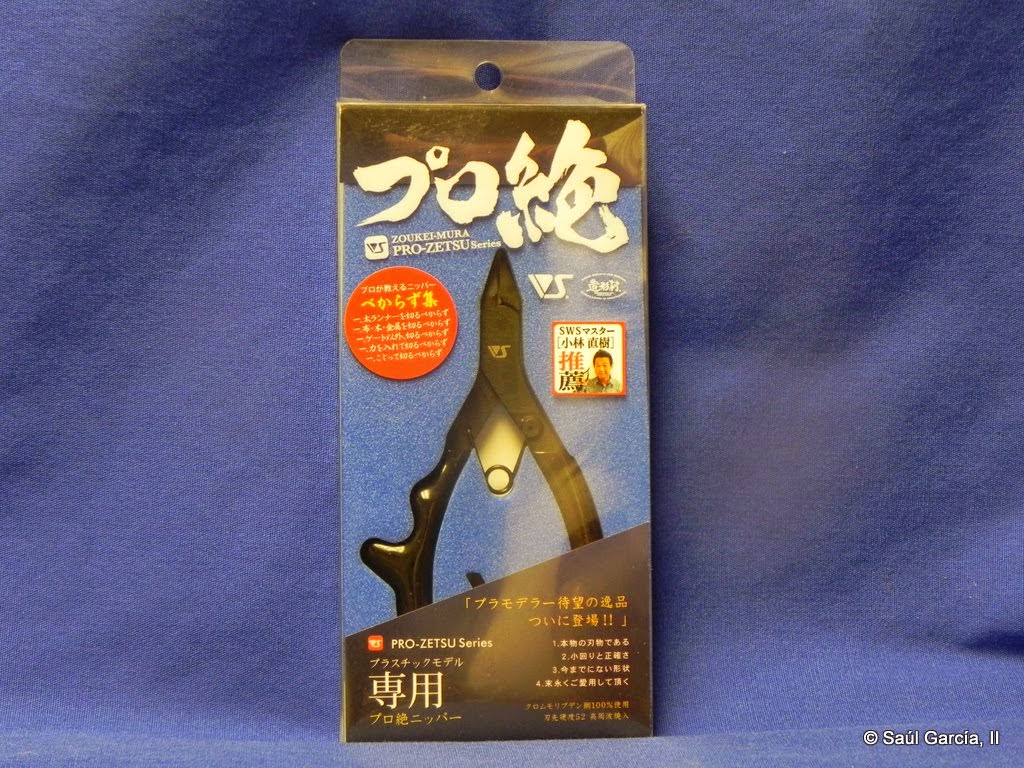 Read more: Zoukei Mura Pro Zetsu Nippers
Discuss this article in the forums (21 replies).
Details

Parent Category: Reviews and News
Category: Aftermarket
Created on Tuesday, 12 May 2015 19:17
Last Updated on Tuesday, 12 May 2015 19:17
Published on Tuesday, 12 May 2015 19:17
Written by chukw
Hits: 1491
Read more: Romainian Lancer 1:48 Conversion
Discuss this article in the forums (12 replies).
Details

Parent Category: Reviews and News
Category: Kits
Created on Saturday, 02 May 2015 10:27
Last Updated on Saturday, 02 May 2015 10:27
Published on Saturday, 02 May 2015 10:27
Written by Old Dog
Hits: 1230
This one was released last year and I haven't seen a lot posted about it so thought I would do one for us.
History: The Cessna A-37 was developed from the T-37C, which was built to meet a trainer specification that the Air Force issued in April of 1952. Cessna won the resulting contract to build the trainer and a contract for three prototypes was issued in April of 1954. The XT-37 made its first flight in October of 1954. After a thorough flight-testing program, changes were made and the first production aircraft was delivered to the Air Force during June of 1956 as the T-37A. The T-37B was basically the same airframe with higher-powered engines and improved avionics. During 1961 Cessna began development of an armed variant to be used for armament training. This included a strengthened wing with two pylons, one under each wing. Provision was also made for 65-gallon wingtip tanks. After successful testing with the armament option, the aircraft was ordered into production as the T-37C. With the armament option the aircraft became a candidate for counter insurgency operations (COIN) however it gained firepower at the expense of performance. As an armed trainer it could carry a wide variety of armament and provision was made for carrying Sidewinder air-to-air missiles.
During late 1962 the Special Air Warfare center evaluated two T-37C's for possible use in the COIN role. Following the evaluation the Air Force decided to develop an improved variant of the T-37C with a greater weapons load, increased range, higher thrust engines and better short field performance. During 1963 Cessna received a contract for two prototypes under the designation of YAT-37D. Changes from the T-37C included two GE J85 engines with more than double the thrust of the original engines, strengthened wings with six pylons for under wing stores, self-sealing fuel tanks, cockpit armor, a nose mounted 7.62mm minigun with 1500 rounds of ammunition, a gun sight, a gun camera, larger wheels and tires, 95 gallon wingtip tanks and a special electronics package for communications, navigation and target acquisition. The first prototype flew in October of 1963.
The Air Force decided the best way to properly evaluate the aircraft would be under actual conditions and as a result placed an order with Cessna for a preproduction evaluation batch of thirty-nine aircraft under the designation of AT-37D. Shortly after this contract was released the designation was changed to A-37A. To speed up the program the 39 aircraft were converted from standard T-37B's. In August of 1967 twenty-five of the thirty-nine were deployed to Vietnam and flew more than 5000 sorties. They operated in six basic roles; close air support, helicopter escort, combat air patrol, armed reconnaissance, forward air control and night interdiction. Some 3000 sorties were flown without a single loss to enemy fire although twenty-four aircraft suffered hits from ground fire and two crashed in landing accidents.
While highly successful the combat evaluation highlighted a number of problems, most notably lack of range and loiter time. Also there was an issue with severe control loads when carrying weapons at normal release speeds and the lack of redundancy in the primary control runs was another concern. As a result of this the Air Force order the A-37A to be modified to over come these under the designation A-37B.
The kit: The Trumpeter kit comes in their typical top open tray type box with a thin top and corrugated bottom. Inside the box one finds five sprues of light gray plastic. Each sprue with the exception of the two with under wing stores is individually bagged. A small sprue with the nose cap and two other parts are included in one bag almost as it it was an after thought or perhaps to provide for a 'B' version. One sprue of clear parts is wrapped in foam and bagged separately and a fret of photo etch is supplied in another bag and has a protective film on both sides of it to protect from oxidation. The decals are also separately bagged.
The parts have a matte finish and are virtually flash free. There is some parting line seams that will need to be cleaned up on some parts. Most of the airframe parts feature sprue attachment points on the mating surface which lessons the chance of creating a divot when trimming them free. Surface detail consists of nice size for the scale recessed panel lines, recessed fastener detail and some raised detail where applicable. The fastener and rivet detail is very restrained with most of the rivet detail on the control surfaces. The Trumpeter mad riveter spared this one.
The fuselage has some side wall detail molded in and a couple of ejector pin marks as well although it appears that these will be covered by the cockpit tub. The cockpit tub is made from two three part ejection seats and PE harnesses are supplied, separate rudder pedals, control sticks and throttles. An instrument cowl and instrument panel complete the tub and a three part nose wheel well is attached to the forward part of the tub before assembling the fuselage halves. No nose weight is supplied and only a single word "weight" with an arrow pointing to the space in the nose ahead of the wheel is noted in the instructions. The amount required will be up to you to determine and will need to be added before closing the fuselage halves. The instrument panel has lots of raised detail including instrument bezels and internal instrument dials for those talented at painting these up.
The wings have a single full span bottom section and separate upper wing halves. No engine assemblies are provided, just engine faces and exhaust nozzles. There is what I believe to be a speed brake below the forward fuselage that can be positioned open or closed. All of the other flight control surfaces are molded in the neutral position. The horizontal tail surfaces are one piece moldings. There is some limited amount of detail molded in the main wheel bays. The landing gear are reasonably detailed and the wheel and tire assemblies are one piece and are not weighted.
Read more: Trumpeter 1/48 A-37A
Discuss this article in the forums (6 replies).