Reviews and News
Details

Category: Reviews and News
Created on Sunday, 01 March 2015 08:27
Last Updated on Sunday, 01 March 2015 08:27
Published on Sunday, 01 March 2015 02:00
Written by jknaus
Hits: 1240
I recently bought the Albion Cutter. This tool is a measuring device by Albion Alloys Ltd.
Discuss this article in the forums (3 replies).
Details

Parent Category: Reviews and News
Category: Kits
Created on Monday, 16 February 2015 09:06
Last Updated on Monday, 16 February 2015 09:06
Published on Monday, 16 February 2015 09:06
Written by Old Dog
Hits: 1466
1/72 Special Hobby B-18 Bolo
History:
Of all of the American bombers of World War II, the B-18 is probably the least known. The story of the airliner turned bomber has languished in obscurity. The few articles that have been written about it have only emphasized its faults and maligned it as a budget bomber with few virtues. The economy minded Congress of the mid thirties chose to fund the twin engined B-18 over the more promising and much more expensive B-17 which the prototype had the misfortune of crashing during testing. When the Air Corps received their speedy and comfortable B-18's in 1937 they seemed cutting edge compared to the Martin B-10 which had been the innovative bomber of the early thirties.

The B-18 had been built using contemporary but dead end design specifications and it soon showed itself to be what it was, an airliner bomber. It had little latitude for future development and thus would not measure up to the B-17, B-24 or the twin engined B-25 and B-26 and its mass production delayed development and production of these more modern bombers that could have made a difference in the grim days following Pearl Harbor. But at the time of Pearl Harbor the B-18 was the most numerous American bomber to be based overseas and proved itself to be useful as a stopgap bomber and jack of all trades until the more modern bombers could become operational. As a stopgap bomber the B-18 left an important legacy. At a time when the B-17 and B-24 could not be spared, it was available in numbers and played a significant role in America's early anti-submarine operations, first off the American and later in the Caribbean.

The Kit:
The Special Hobby kit comes in a medium sized traditional top opening tray top box with a thin cardboard top and a heavier corrugated cardboard bottom. The box top offers some nice artwork. Inside the box one finds a large resealable bag with all of the main sprues, a smaller resealable bag with the clear parts, a small zip lock bag with some resin parts and a small resealable bag containing the decals and a photo etch fret. The main parts are molded in a medium gray plastic and feature recessed panel lines and some rivet and fastener detail. The panel lines are quite fine and not at all like the deep trenches found on some other recent releases in this scale. The surface is reasonably smooth but not polished and a few areas show where the molds were not as smooth as they could have been but these should not show under a coat of paint. There is a light amount of flash on some parts and a medium level of mold separation seams to clean up on some of the smaller parts. There are no alignment pins to be found. As with many limited run kits the sprue attachment point are quite heavy in some places and the mating surfaces would benefit from a light sanding to remove irregularities I found no sink marks or other surface defects on the air frame parts. The fabric surface detail is restrained. All flight control surfaces are molded in the neutral position and the only complaint I have with these are that the joint lines for the control surfaces are a bit shallow which would be an easy fix if this bothers you. There is only one ejector pin tower that may show in the interior but it should be easy to remove.

The interior is provided with a good level of detail, especially the cockpit as can be seen in the excerpt from the instructions shown below. The instrument panel is done sandwich style and a lot of the photo etch and resin parts end up here. Some of them will prove to be a challenge to those vision impaired and ham fisted.
Read more: 1/72 Special Hobby B-18 Bolo
Discuss this article in the forums (6 replies).
Details

Category: Reviews and News
Created on Tuesday, 27 January 2015 10:24
Last Updated on Tuesday, 27 January 2015 10:42
Published on Tuesday, 27 January 2015 10:24
Written by Dusan
Hits: 1565
1/72 scale F-35C Lightning II by Orange Model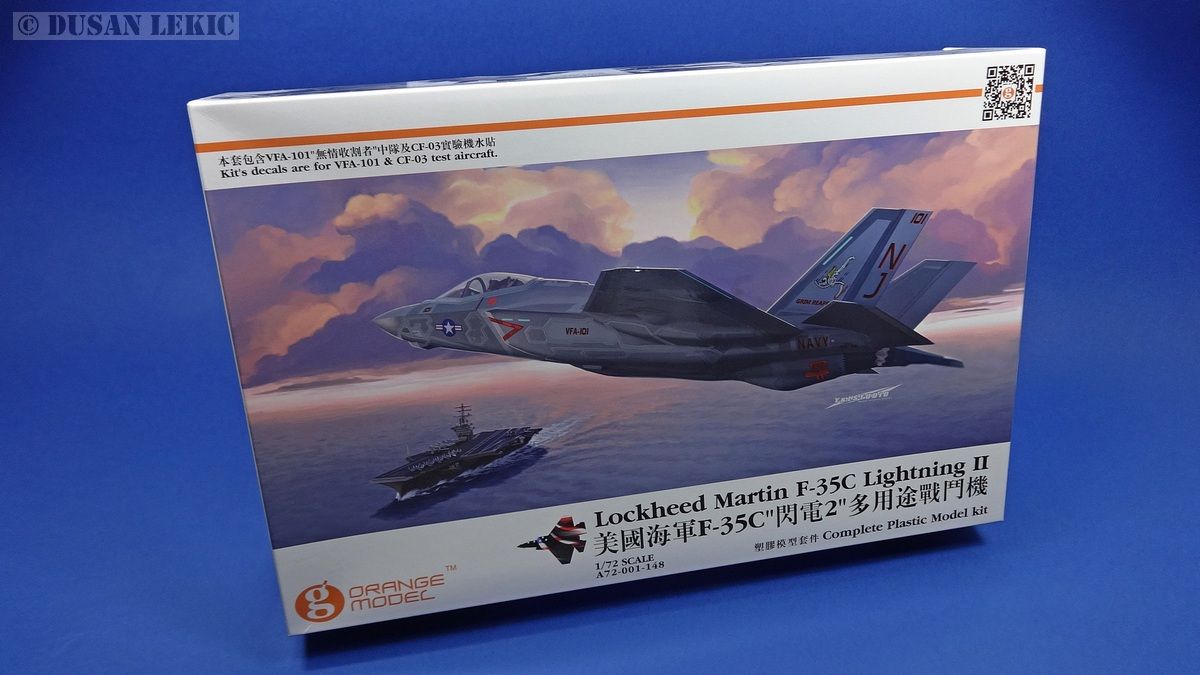 Compared to the F-35A, the F-35C carrier variant features larger wings with foldable wingtip sections, larger wing and tail control surfaces for improved low-speed control, stronger landing gear for the stresses of carrier arrested landings, a twin-wheel nose gear, and a stronger tailhook for use with carrier arrestor cables. The larger wing area allows for decreased landing speed while increasing both range and payload.
The United States Navy intends to buy 480 F-35Cs to replace the F/A-18A, B, C, and D Hornets and complement the Super Hornet fleet... *
https://www.youtube.com/watch?v=arch-mVgCBo&feature=youtu.be

F-35C by Orange Model looks quite impressive out of the box. Brand new mouldings, first kit of this subject in 1/72nd scale.
Discuss this article in the forums (14 replies).
Details

Category: Reviews and News
Created on Monday, 02 February 2015 22:32
Last Updated on Monday, 02 February 2015 22:33
Published on Monday, 02 February 2015 22:32
Written by RichB
Hits: 1824
Academy 1/48 ROKAF T-50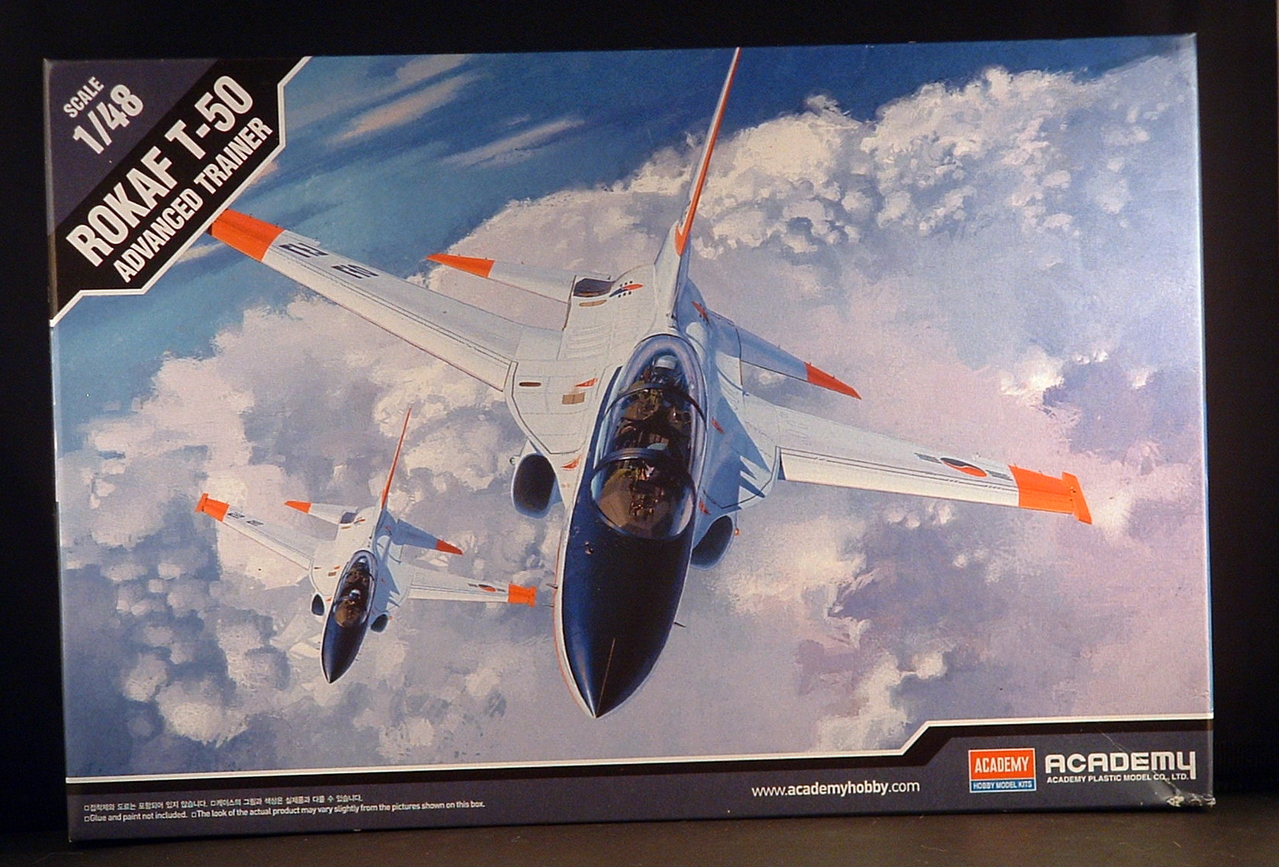 History

The T-50 Golden Eagle is a South Korean supersonic advanced trainer developed by a consortium of Korea Aerospace Industries and Lockheed Martin beginning in the late 1990s. The T-50 is South Korea's first indigenous supersonic aircraft and one of the world's few supersonic trainers. It made its maiden flight in 2002 and the first of 50 aircraft entered active service with the Republic of Korea Air Force in 2005.

The T-50 advanced trainer program has expanded to include the T-50B (aerobatics optimized), TA-50 (light attack/fighter lead-in), and FA-50 (multi-role fighter). The T-50B's began service with the ROKAF's Black Eagles aerobatics team in 2009. In 2011, the first squadron of TA-50's became operational. The maiden flight of the FA-50 Fighting Eagle, with comparable capabilities to the KF-16, also took place in 2011. Deliveries of the FA-50 began in 2013 and will continue until 2017. KAI and Lockheed are developing dedicated reconnaissance and electronic warfare variants, designated as RA-50 and EA-50 respectively.

The T-50 family has seen some success with foreign orders. Deliveries of the Indonesian T-50I began in 2013 with the last of sixteen aircraft delivered in January 2014. Iraq has announced a contract for twenty-four FA-50's, designated T-50IQ, with delivery set for 2015 through 2017. The Philippines have also selected the FA-50, designated T-50PH, signing a contract for twelve aircraft to meet their light attack and lead-in fighter training requirement. Delivery is also set for the 2016-2017 period. Additional export orders are being pursued in countries in South-East Asia, the Middle East, Africa and the United States T-X program.
The Kit
This is a complete new mold from Academy. The airframe sprues are found in four plastic bags, molded in a 'true white' plastic that almost glows. The decal sheet and clear sprue are each in their individual bags.
Read more: Academy 1/48 ROKAF T-50
Discuss this article in the forums (4 replies).
Details

Parent Category: Reviews and News
Category: Kits
Created on Wednesday, 21 January 2015 10:26
Last Updated on Wednesday, 21 January 2015 10:26
Published on Wednesday, 21 January 2015 10:26
Written by Old Dog
Hits: 4175
ICM C-45F Beechcraft Twin Beech 1/48
History:
The Beechcraft Model 18 (or "Twin Beech", as it is also known) is a six to 11-seat, twin-engined, low-wing, light aircraft manufactured by the Beech Aircraft Corporation of Wichita, Kansas. Continuously produced from 1937 to November 1969, (over 32 years, the world record at the time), over 9,000 were produced, making it one of the world's most widely used light aircraft. Sold worldwide as a civilian executive, utility, cargo aircraft, and passenger airliner on tailwheels, nosewheels, skis or floats, it was also used as a military aircraft.

During and after World War II, over 4,500 Beech 18s saw military service -- as light transport, light bomber (for China), aircrew trainer (for bombing, navigation and gunnery), photo-reconnaisance, and "mother ship" for target drones -- including United States Army Air Forces C-45 Expeditor, AT-7 Navigator, AT-11 Kansan; and United States Navy UC-45J Navigator, SNB-1 Kansan, and others. In World War II, over 90% of USAAF bombardiers and navigators trained in these aircraft.

Prior to Pearl Harbor, the Beech 18 was outsold by the Lockheed 12 by two-to-one. However, war priorities forced Lockheed to concentrate on its heavier aircraft, and Beechcraft received a major boost through wartime contracts.

Production got an early boost when Nationalist China paid the company $750,000 for six M18R light bombers, but by the time of the U.S. entry into World War II, only 39 Model 18s had been sold, of which 29 were for civilian customers. Work began in earnest on a variant specifically for training military pilots, bombardiers, and navigators. The effort resulted in the Army AT-7 and Navy SNB. Further development led to the AT-11 and SNB-2 navigation trainers and the C-45 military transport. The United States Air Force Strategic Air Command had Beechcraft Model 18 (AT-11 Kansans, C-45 Expeditors, F-2 Expeditors (the "F" standing for "Fotorecon"), and UC-45 Expeditors) from 1946 until 1951. From 1951 to 1955, the USAF had many of its aircraft remanufactured with new fuselages, wing center sections, and undercarriages to take advantage of the improvements to the civil models since the end of World War II. Eventually, 900 aircraft were remanufactured to be similar to the then-current Model D18S and given new designations, constructor's numbers and Air Force serial numbers. The USN had many of its surviving aircraft remanufactured, as well, these being redesignated as SNB-5s and SNB-5Ps. The C-45 flew in U.S. Air Force service until 1963, the USN retired its last SNB in 1972, while the U.S. Army flew its C-45s through 1976. In later years, the military called these aircraft "bug smashers" in reference to their extensive use supplying mandatory flight hours for desk-bound aviators in the Pentagon.
The Kit
Read more: ICM C-45F Beechcraft Twin Beech 1/48
Discuss this article in the forums (5 replies).