Details

Parent Category: Reviews and News
Category: Kits
Created on Wednesday, 20 July 2011 23:22
Last Updated on Wednesday, 22 May 2013 15:19
Published on Wednesday, 20 July 2011 06:00
Written by sharkmouth
Hits: 5289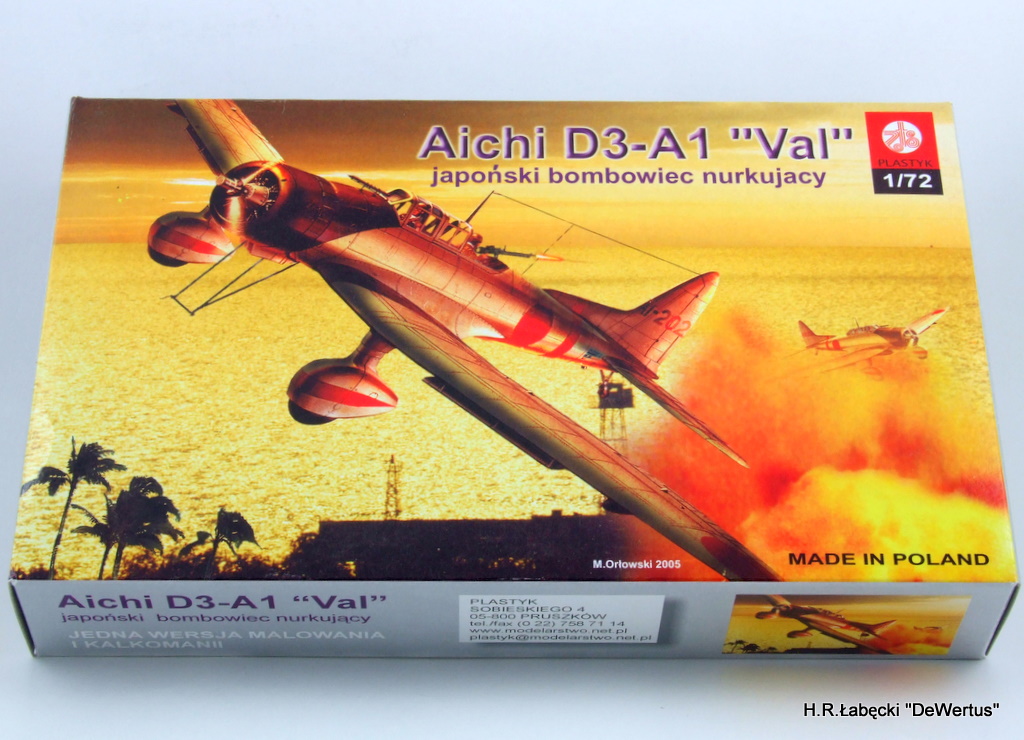 Background
A few weeks ago I went for a walk with my three and half year old son to the Old Town in Warsaw. On one of the main pedestrian street we found fair organized by the City and the cooperative undertakings from the Warsaw / Mazovia province. One of the stands belonged to the oldest manufacturer of plastic models in Poland - ZTS PLASTYK. Motivated partly by curiosity, and partly by childhood memories, I decided to go there and check their offers. My son gaze reviewed the exhibited models and at one moment, on his face, spread across a wide smile – his finger pointed at one of them and he said – "Daddy, this for me". At such a moment, which father-modeler can refuse? - of course not. In next moment my boy proudly carried his model ahead. As it is not difficult to guess he chose a "Val"...
For Polish modelers, ZTS PLASTYK is like AIRFIX for British or Heller for France. The company started production in 1945 – just after the war, when the country was under heavy desolation by the Germans and Soviet army. I don't know when they start to produce model kits – I remember models with ZTS brand from 70's - there were two series of models: one mark as MIKRO144 with simple models in 1/144 scale and second MIKRO72 with models in 1/72 scale. This company wasn't only a simple producer – they have a design bureau as well. Most famous model from ZTS PLASTYK is polish bomber from 1939 – PZL P-37 ?o? (Moose) in 1/72. They created other unusual models like: RWD-14 Czapla (Heron) – polish observation and liaison aircraft from 1939, RWD-5/5bis touring aircraft (polish pilot – Stanis?aw Skar?y?ski cross South Atlantic as a first in history in May 1933), RWD-6 touring aircraft (on this airplane polish crew: F.?wirko / S.Wigura won International Tourist Plane Competition - Challenge 1932).
Now the company's range is quite substantial, but unfortunately mostly based on the old molds (their own, KP and Novo). For me it is very sad that this small but very worthy national modeling company doesn't have enough funds for business and technology development. Models made by ZTS PLASTYK are very cheap (from 2$ to 5$) but quality is gradually reduced every year…
Airplane
Aichi D3A was power by radial engine: 746 kW (1,000 hp) Kinsei 43 or 798 kW (1,070 hp) Kinsei 44. Armament was two forward-firing 7.7 mm (.303 in) Type 97 machine guns, and one flexible 7.7 mm (.303 in) Type 92 machine gun in the rear cockpit for defense. Normal bomb load was a single 250 kg (550 lb) bomb carried under the fuselage, which was swung out under the propeller on release by a trapeze. Two additional 60 kg (130 lb) bombs could be carried on wing racks located under each wing outboard of the dive brakes.
The D3A1 commenced carrier qualification trials aboard the Akagi and Kaga during 1940, while a small number of aircraft made their combat debut from land bases over China. Starting with the attack on Pearl Harbor, the D3A1 took part in all major Japanese carrier operations in the first 10 months of the war. They achieved their first major success against the Royal Navy during their Indian Ocean raid in April 1942. Val dive bombers scored over 80% hits with their bombs during attacks on two heavy cruisers and an aircraft carrier during the operation. During the course of the war, Val dive bombers had to frequently combine their attacks upon enemy warships with the IJN Kate torpedo plane; consequently enemy vessels were often sunk by a combination strike of bombs and torpedoes. However, there were occasions when just the Vals would make the attacks, or at least score the sinking hits. As the war progressed, there were instances when the dive bombers were pressed into duty as fighters, their maneuverability being enough to allow them to survive in this role. In June 1942, an improved version of the D3A powered by a 969 kW (1,300 hp) Kinsei 54 was tested as the Model 12. The extra power reduced range, so the design was further modified with additional fuel tanks to bring the total tankage to 900 L (240 US gal, giving it the range needed to fight effectively over the Solomon Islands. Known to the Navy as the Model 22, it began to replace the Model 11 in front-line units in autumn 1942, and most Model 11s were then sent to training units.
Model
Aichi D3-A1 "Val" is the last model designed and made by ZTS PLASTYK. The model consists of a dozen parts cast from light blue plastic. Molded parts are clean, with no shifts and flash. Panel lines are delicate and engraved. The texture and quality of the material makes you want to begin construction and giving you feeling that assembly will be a nice adventure. The quality and the details of elements is satisfying, although not overly done - thanks to this, it is a model that will be a good choice for a beginner - especially since the price is very low. For advanced modelers this can be a good base for test, enhancements and modifications. Glass elements are clear and transparent. The test fitting of the main parts suggest that putty, files and sanding will be minimal and limited to cosmetic improvements and filling small gaps.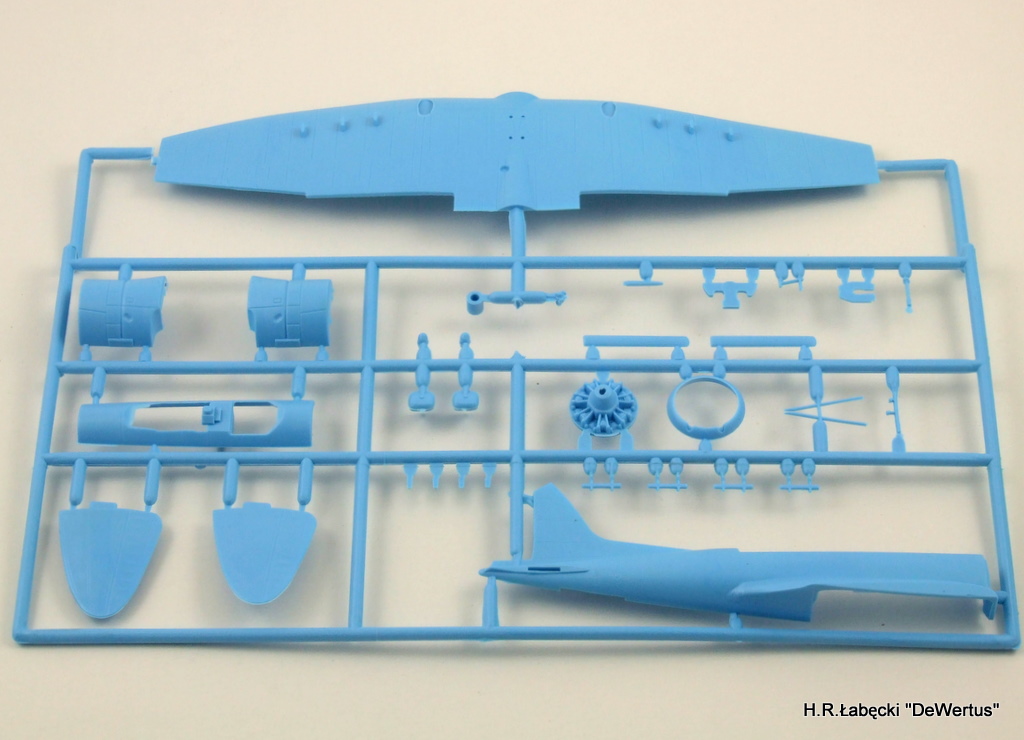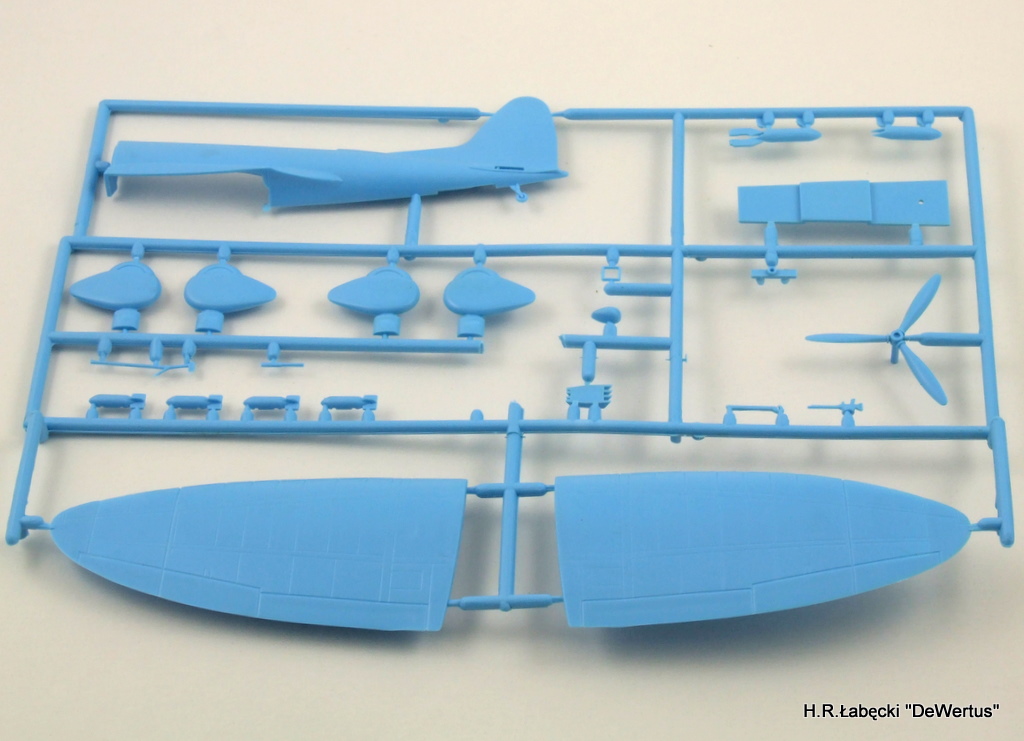 Decals and assembly instructions.
The decals not the best quality – but they are cleanly printed. Only one scheme is offered: it's AI-202 from "Akagi" aircraft carrier – 07.12.1941 attack on Pearl Harbour.
 The producer includes as a standard a … bottle of glue – this is something which connects memories of models from the past with present time. The shape of bottle, glue smell and properties of adhesive hasn't change in 40 years…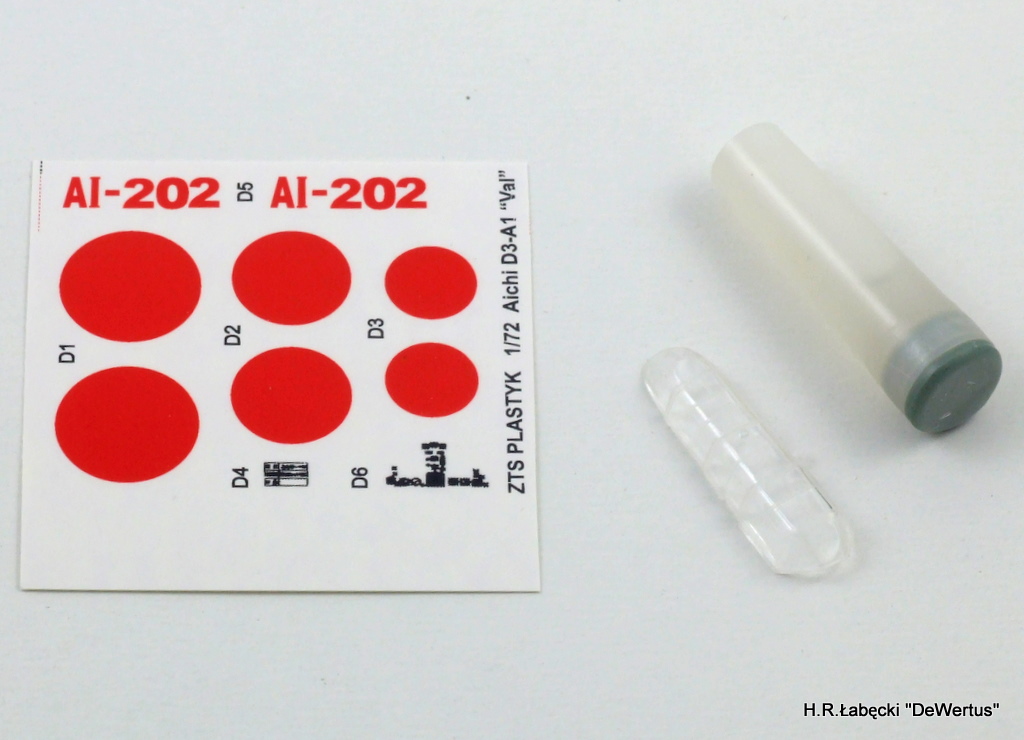 The instructions are printed on both sides of a big sheet. The first page includes a brief description of the aircraft (the history and technical data) and the paint scheme. On second is printed a assembly chart shown on 10 drawings. Assembly is illustrated clearly and logically - building the model should not be a problem. Plastyk specifies colors based on two most popular (in Poland) references: Humbrol and Federal Standard. The paint scheme is also repeated in color version on the bottom of the box.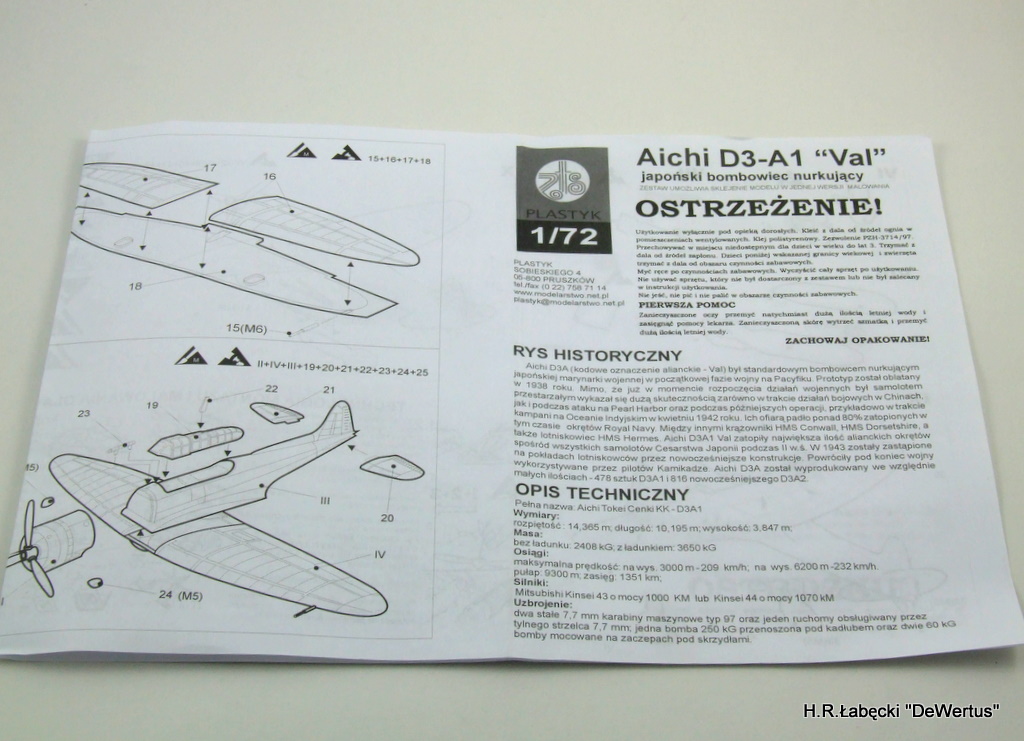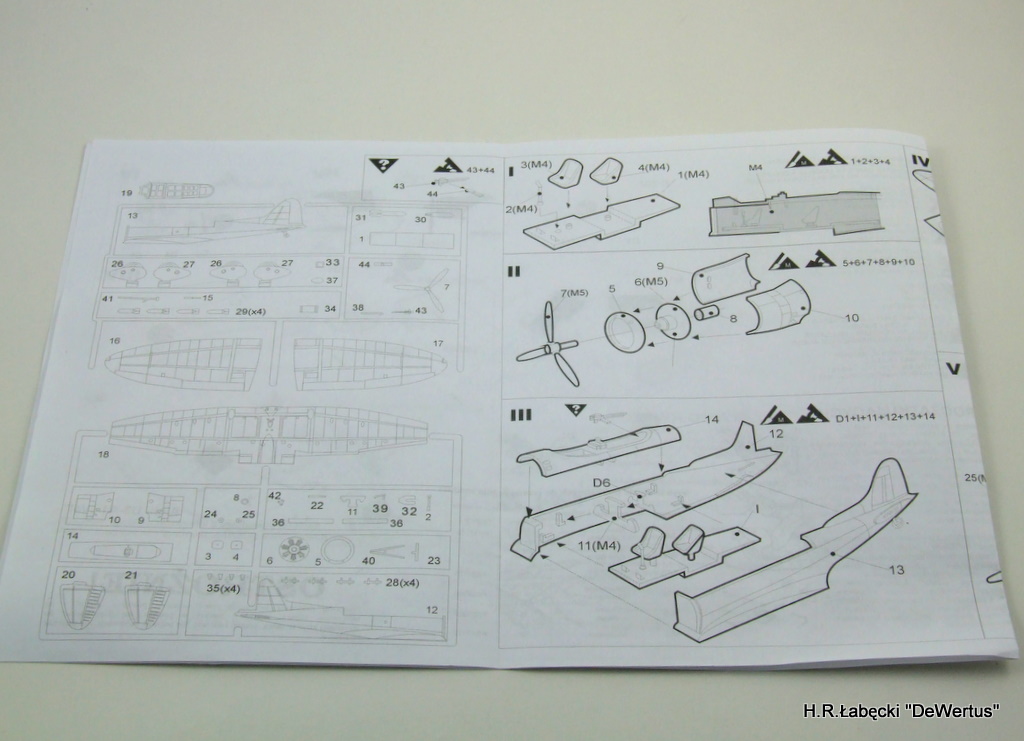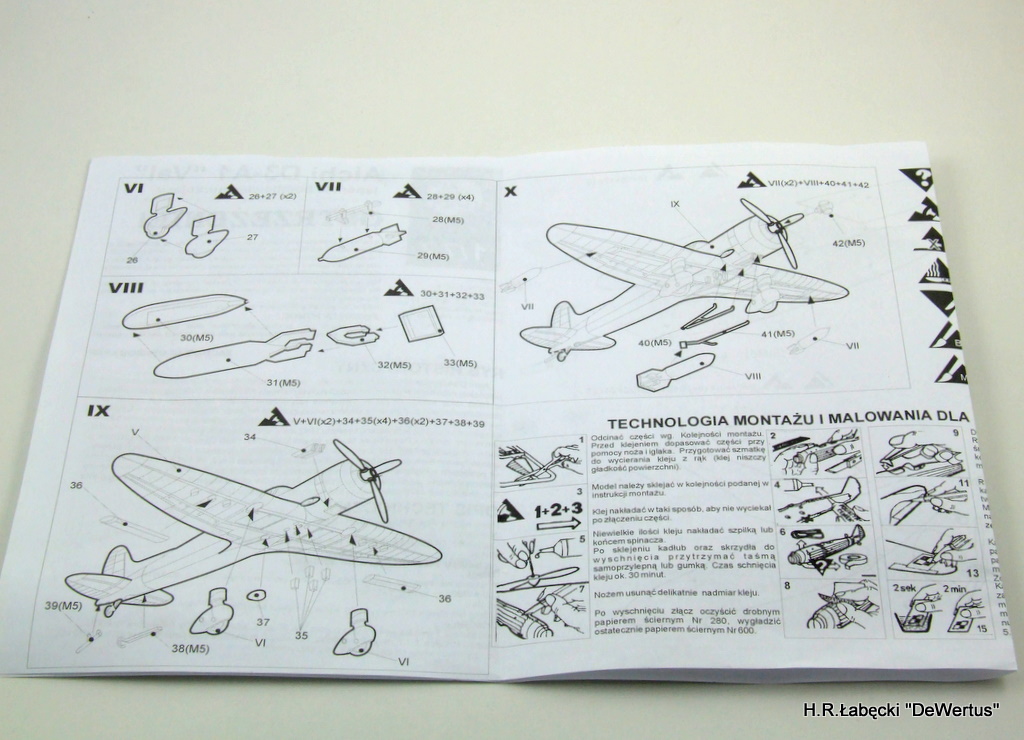 Summary
If you are looking for an unsophisticated, but well made model, then you can turn to this product with a clear conscience. Its very low price (~3$) will help you to make a decision about purchasing.