Modelers Alliance Logon
Search
List of the Masters
Masters Class
The Staff of Modelers Alliance proudly presents the Masterclasses.
These are simple modeling classes conducted by a selection of true Masters of the scale modeling world.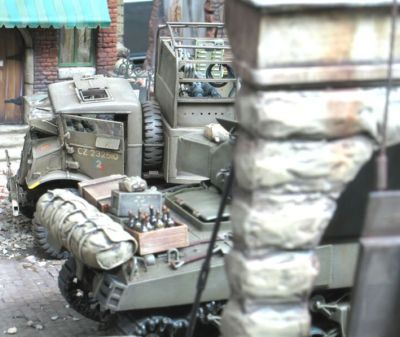 Details

Parent Category: Masters Class
Category: James O'Leary
Created on Saturday, 17 March 2018 09:13
Last Updated on Saturday, 17 March 2018 09:14
Published on Saturday, 17 March 2018 09:13
Written by bob letterman
Hits: 1247
James O'Leary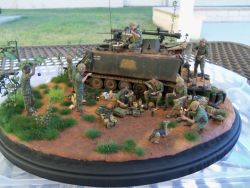 James was born in 1970 as an Army brat. His interest in models began at around the age of 5 when his father built him some buildings and made a large layout with an airfield so he could play with his Roco Minitanks, Matchbox Cars, and Model Planes. Shortly thereafter, he built some of his own models with the help of his dad. When he was 9 years old, he entered his first model contest with some 1/72 Airfix figures and a Roco APC in a diorama. At that point he was hooked on military modeling and was inspired by pictures he saw in magazines like Military Modeler in the early 1980s. His interests in Vietnam War subjects began at this time as he learned more about his father's service in Vietnam. His first IPMS show was Modelfiesta in San Antonio in 1983 where he first met Alex DeLeon who is a member of the Masters on Modeler's Alliance. Although he built a few vehicle models, he was primarily a figure and figure diorama modeler.

Growing up as an Army brat, James developed a passion for Military History which went hand-in-hand with his modeling efforts. Shep Paine, Francois Verlinden, Bob Letterman, Chris Mrosko, Brett Avants, Doug Cohen, Bob Bethea, and a few others were inspirations for his modeling. Upon graduation from High School in 1988, James served 8 years as a Reconnaissance Marine in the USMC-R while attending Texas A&M University majoring in History. Several deployments interfered with school and modeling so he had to take a break from those periodically until he joined the US Army as a Light Infantryman with his first duty station being Fort Wainwright, Alaska where he had lived when he had his introduction to modeling back in 1975. While stationed in Alaska and being frustrated by there not being a local hobby shop until almost the end of his tour of duty there, he started his own on-line Hobby Shop business specializing in Vietnam models and special orders for the members of his model club. After being stationed in Texas and becoming a part of the Active Guard/Reserve force (AGR), he continued modeling and attended his first figure shows. Unfortunately, he had to take a break from modeling again due to multiple deployments to Iraq and Afghanistan. This also resulted in the closing of his Hobby Shop business. After recovering from some head injuries, he started modeling again in 2010 and was pleased to find that the hobby had evolved quite well and there were more figures on the market that were of high quality. In 2012 he deployed to Afghanistan for the last time bringing some materials for sculpting and figure conversions with him for him to work on during his down time. He wasn't able to start working on anything until February 2013, but did manage to sculpt three figures and convert a few others before returning to the US. Upon return, he was assigned to a Warrior Transition Unit at Fort Sill, OK for several surgeries. Between surgeries and therapies, he continued to follow his passion of modeling and ran a Art and Modeling Group for WTU Soldiers to help them with their fine motor skills. He also had the opportunity to intern as a Museum Exhibits Specialist at the Air Defense Artillery Museum where the Museum's Director was also a modeler. He joined the local club and ventured into Armor modeling for the first time. He made several models for the museum and helped with the 1/35th scale conceptual model of the new facility being built to house the new Air Defense Artillery Learning Center. When the WTU at Fort Sill closed down, he was transferred to the WTU at Fort Hood, TX where he he continued his internship at the !st Cavalry Division Museum until he retired from the US Army with over 28 years of service (20 years of Active Federal Service and 8 of USMC-R and TXARNG Service) and 15 deployments under his belt. He feels that his service has helped him create realistic atmospheres and tell effective stories with his models.

I am proud to introduce Jame's O'Leary as a new member of The Master's Forum.

Bob Letterman
Discuss this article in the forums (17 replies).
Details

Parent Category: Masters Class
Category: Mike Trent
Created on Friday, 09 March 2018 20:26
Last Updated on Friday, 09 March 2018 20:28
Published on Friday, 09 March 2018 20:26
Written by bob letterman
Hits: 1657
Mike Trent (Iron Mike)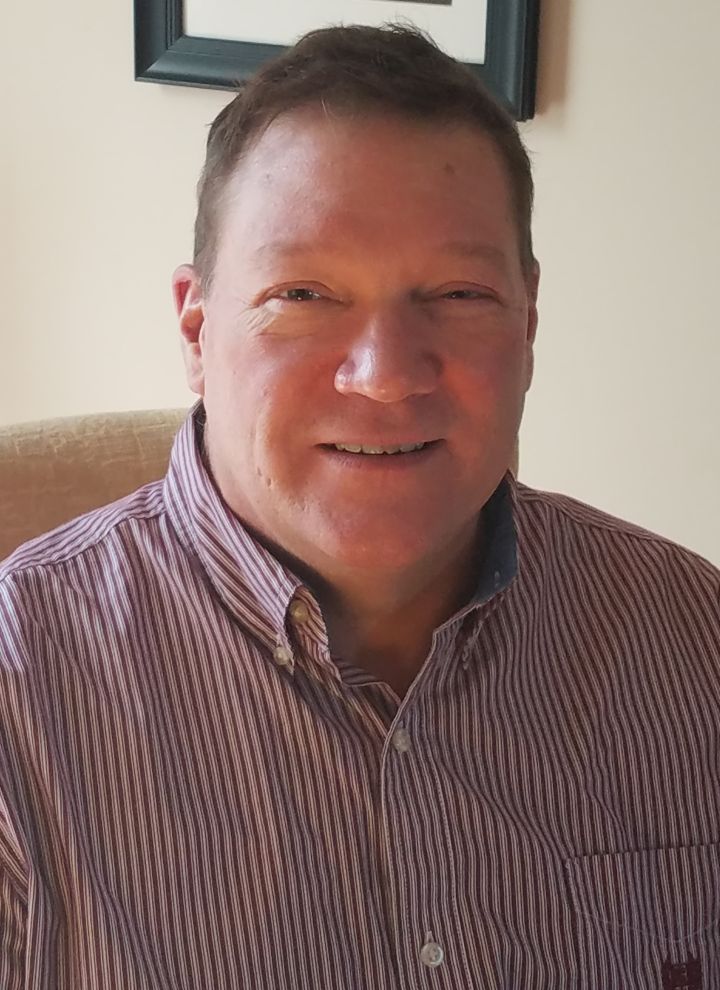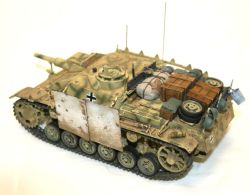 Mike was born and raised in Des Moines Iowa, transplanted by wife Michelle to Shelby, North Carolina. He has a grown son and two grandchildren. Mike started modeling at around age 8, spent every cent of allowance, lawn mowing, birthday and Christmas money buying kits and building supplies. Then moved from car kits to the real thing and modeling was put on hold until looking for a Christmas present for his eleven year old son led to the discovery of Great Hobby Adventures in West Des Moines. The modeling light came back on and father and son built many kits together until son followed his Dad's path. There's hope that history will repeat itself and he will get back into modeling, along with Mike's grandkids. The IPMS Plastic Surgeons chapter fueled the passion and provided the introduction to The Dark Side, he is still an active (via satellite) member and tries to attend regional contests to catch up with old friends. Mike is a member of Gaston County Model Builders club in Gastonia, NC as well as a member of AMPS! He met Bob Britt at a show in Simpsonville, SC, who suggested checking out an online forum and has now been an active member of modelersalliance.com for more than 9 years. Mike is always trying new techniques and products, trying to make the next model better than the last. Other interests are woodworking, reading fiction, good music, photography, cooking and having fun with friends and family. He says he'll never live long enough to build his stash, but he is sure going to give it a go.

I am proud to introduce Mike Trent, (Iron Mike) as a new member of the Master's Forum!

Bob Letterman
Discuss this article in the forums (24 replies).
Details

Parent Category: Masters Class
Category: Jeff Matthes
Created on Monday, 26 February 2018 20:46
Last Updated on Tuesday, 27 February 2018 09:18
Published on Monday, 26 February 2018 20:46
Written by bob letterman
Hits: 839
Jeff Matthes, (AUSF)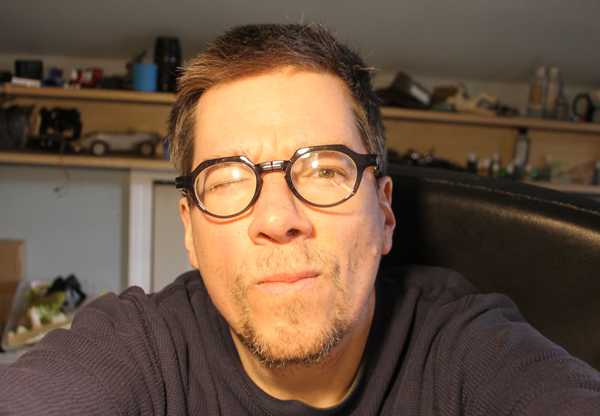 Ausf, (Jeff Matthes), has been a member of modeleralliance.com for 5 years. I had noticed his postings and his talent in building armor. However, he really got my attention with his incredible, realistic personality sculptures. there are a lot of sculptors out there, but, 25 years of running The VLS Corporation had made me keenly aware that only a tiny few were capable of sculpting likenesses. A very rare talent. Just a single example is his MA Icon, Karl-Otto Alberty, the German actor we have seen in so many war movies such as Kelly's Heroes, The Great Escape, The Devil's Brigade, The Battle of the Bulge and many others, whose image was captured dead bang on by Jeff.

His modeling career started at age 5 with an Easter gift of Aurora's Demolition Demon, a model kit that featured a banged up jalopy which rocked his world (He still remembers opening the box, 47 years later). For the next decade or so, all his allowance and lawn mowing money went to Aurora Monsters or later on Monogram 1/48 air craft. His Christmas gift each year would have be a large Monogram, B-17, B-52, etc. He has great memories of building kits on Saturday afternoons while listening to an episode of World At War or a "B" Sci Fi movie on the black and white TV. Like most, discovering girls and music shifted his priorities and scale modeling took a back seat until years later. While shopping for trains for his sons, he happened across a 1/72 DML Tiger I and he was immediately brought back to his youth, Laurence Olivier's voice echoing in his head. In a short amount of time he was building 1/35 scale armor, amazed at how the quality of kits and at the level of detail in kits had evolved.

As an adult, he primarily built WWII armor, starting a small side business making modeling tools and importing aftermarket products under the company name of Ausfwerks. After a while, on a dare, he began sculpting which eventually led him even further back into his childhood, now focusing on Universal Monsters, 60s TV and 50s "B" movie subjects.

When he wasn't modeling, he has been lucky to make a living with some sort of art field: ranging from music, film makeup effects to fine arts framing as well as working as a professional dive master which brought him to some of the most beautiful places on earth.

He was born and raised in New York City and currently lives about 60 miles North in the Hudson Valley. He has been married to his wife, Lynn for 20 years, has two sons (one away studying engineering, the other on the verge) and a Silver Lab named Easy.

I am proud to Introduce a new Master's member, Jeff Matthes. (Ausf). Jeff will no doubt be another asset to our Master's Forum.

Bob Letterman
Discuss this article in the forums (16 replies).
Details

Parent Category: Masters Class
Category: Abdin Santoni
Created on Friday, 02 March 2018 20:10
Last Updated on Friday, 02 March 2018 20:13
Published on Friday, 02 March 2018 20:10
Written by bob letterman
Hits: 1116
Abdin Santoni, (Fledermaus)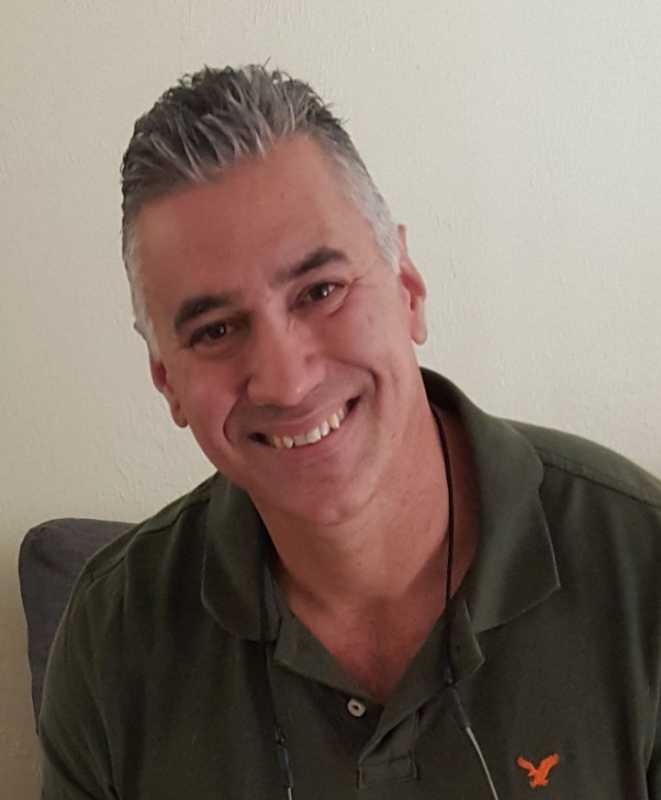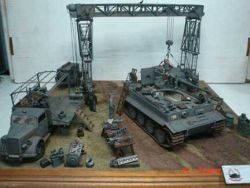 Abdin was born on July 1, 1965 in Aguada Puerto Rico. He started in the hobby back in the mid seventies when he discovered the 1/32 monogram kits, then, by the end of that decade ,a local store began selling the Testor's Italeri 1/35 military model kits and that was it, he fell in love with model building. He was about 10 years old then and hadn't even painted the kits, just assembled them and played with them. Then one day he received a VLS catalog and saw the plaster diorama kits and was blown away, that catalog started it all for Abdin. He ordered about a dozen of the kits and started to do his first dioramas inspired by the Verlinden books. Later, he also experimented with the Schmidt vacuum kits and with resin kits. With time and practice, the models got better and the rest is history. The part he enjoys best is doing scratch built parts and adding or correcting parts on the kits. And, brother, if you want to see some scratch built parts, just check out his 1/35th scale Dora build! Incredible!

I am proud to announce our new Master's member, Abdin Santoni!! (Fledermaus)



Bob Letterman
Discuss this article in the forums (19 replies).
Details

Parent Category: Masters Class
Category: Eddy Janssens
Created on Tuesday, 22 April 2014 09:20
Last Updated on Tuesday, 22 April 2014 09:20
Published on Tuesday, 22 April 2014 09:20
Written by zwettejef01
Hits: 3119
These models were actually commissions from a large firm in Belgium where my son works. The commission was for three different trucks they use in their operations. I still have one more to finish and will post that and some of my military scratchbuilds when the last one is finished. They have set deadlines, so I am quite busy at the moment.

Read more: Eddy Janssens Trucks
Discuss this article in the forums (3 replies).
Subcategories
Bob Letterman

Bob Letterman


I think as a modeler you would have to be living under a rock, not to know who Bob Letterman is. People will know him as the Businessman behind the giant VLS Empire, more people will know him for his amazing dioramas.

We here on TnT know Bob for his easy going approachable manner, I know that there are people that are great modelers, well I can tell you that Bob is one of those modelers who are great people.

Bob is legendary for his achievements as a modeler, a businessman, a highly decorated police officer, but for me the greatest thing for me is that both he & his wife Susan are my friends.

To have Bob, demonstrating hints and techniques he uses, is going to be amazing, as masters go, they do not get much better than Bob.



---

Article Count:

2

Joe Hudson

I met Joe Hudson at a Mastercon way back when! Sorry Joe, I can't remember which one. Chalk it up to senility! Joe was an ex-policeman as I was and that meant we had several things in common. Joe, from the beginning, had an obsession with models. At the time, he was an armor guy. Later, he began experimenting with figures. He had a great mentor, Bill Chillstrom, who, in my opinion, is one of the very best sculptors in the business. After a time, he asked to sculpt for Warriors, Custom Dioramics or the new company just launched, The Streets of Laredo. As I remember, the first professional piece he did was an old west miner figure that was great! Thus began his professional career. Since then, his skills have continued to improve year after year. His current work needs no Kudos from me, it speaks for itself! BTW, Joe sculpted a figure for Susan's birthday, Elvis Presley. It is in a place of honor in Susan's office! Here is Joe, Susan and I am honored to call him a friend! Joe, show them how!!!!

Bob Letterman

---

Article Count:

5

Ian Hill

I first met Ian Hill back in 1993, at the second Mastercon show. He was quite young as I remember him then, and I also immediately recognized a budding talent that was beyond the norm. Everybody was so busy back then, I didn't get the time I would have liked to talk to him. At the end of the show, he had to go home to Australia and didn't want to carry his gold medal winning diorama all that way back on the plane. To my surprise, he gave it to me! After that we lost contact but I recall hearing about him from others. I placed that diorama in the Miniature World Museum. Now that I have retired, it sets in my private museum and is one of my most prized possessions.

Since Ian and I were reunited on T&T, he has told me he originally got into modelling because of WW II movies, and a great love of technical art and realistic miniatures. He had started drawing his own war comics and sci-fi spaceships when he discovered that he could buy models of them. This led to airbrushing, poster painting and then to landscapes. He did a stint at University in Industrial Design at the beginning of the 1980's, mainly because that's what all the ILM guys did (star wars effects section). He left before completing the course, but gained a lot of techniques that he applied to his 3D ART - Models. He had started building dioramas about 1978 but they where not that good, he loved them regardless. A couple of years later He saw Francois Verlinden's models and immediately discovered the possibilities. About that same time he came across Shepard Paine's work as well, and was blown away by the battle damage and weathering.

From there he developed, practiced and by the late 1980's felt confident to go to the Australian Open Model Expo and entered competition for the first time in 1989. He surprised himself and won 4 trophies and his first People's Choice Award, (which, coincidentally was also the first time the award was given ). Between 1989 and 2008 he competed on a irregular basis in that event, and won in various categories. He has won a best of show award with his Dragon Wagon diorama, (see below) as well as the Peoples Choice award 8 times out of 8 entries.

In 1993 he travelled to the USA and competed in Mastercon II, where he was awarded a Gold Medal for his diorama, (the one he gave me). He remembers that trip as being quite special because he met all of his diorama Gurus, Francois Verlinden, Lewis Pruneau and me. (His words, not mine)

Over the years he has managed to have articles and pictures published in the Verlinden Productions Magazine, Fine scale modeller, Australian Plastics Modeller, Models and Hobbies as well as a win in the Fine scale gallery photo of the year (1996). He landed a place in the AFV modeller Digital Imagination Competition in 2006 . He has been selling his work to private collectors since 1989 and has also completed displays for Hobby companies as well.

He was invited to be among the first to post his work on Missing Lynx website in 2000. He also did some work for the Custom Dioramics Catalog, but this never went to press as they sold their company to me/VLS shortly afterwards. (BTW, If I had been aware of that, I would have contacted him and went ahead with it!) The same year he attended Mastercon, he was selected by Dragon Models to create diorama commissions for their 1994 catalog however, fate stepped in and he did not have the spare time to complete what they required, (Two new children, one a baby - with a short deadline), and he had to decline. He also organized some portfolio design and sketchings for Universal studios in Florida on his 1993 Mastercon trip. That was for Universal's "Star Wars Exhibition", resulting in his Avatar on T&T. Recently, he has been selling his work on EBAY as a Hobby business. In conclusion, Ian says it has been quite a ride and he has enjoyed every minute of it! He loves modeling and the Internet has only enhanced his experiences. I think we can all learn from Ian and I am proud to introduce him to the Masterclass!

Bob Letterman

Here is a shot of Ian with some of his work!

And this is his favorite diorama he has built so far!

---

Article Count:

8

Yasuyuki Watanabe

Yasuyuki Watanabe

some say he is a ghost, some say he is a wizard, some say he comes from outer space but in reality Yasuyuki Watanabe comes from Amagasaki City in Hyogo prefecture, Japan!

48 year old Yasuyuki Watanabe married and having two adult children - a daughter and a son - started modelling when he was at the age of 30 and specialized on WW1 and WW2 armor. With this hobby increasingly fascinating him it became his main hobby and since about 5 years Watanabe-San focuses on brass and copper scratchbuilding his vehicles!

Watanabe-San has his own blogpage that can be visited here:

http://y-a-nabe.blog.ocn.ne.jp/first

On his page you find some older works of him where he actually used plastic kits and enhanced them in his unique style. Also you find his fascinating Panzerwerfer42 completely build from scratch in brass and copper Check out his page - you won't regret it!

---

Article Count:

3

Anthony Reeves

ANTHONY REEVES

Anthony had stopped smoking and while trying to relieve his urge to smoke at work one night he took some wire and started to twist it into a tree like shape.

Night after night he would cut himself a few lenghts of wire to try to improve on the "tree" he had made the night before. He had previously grown Bonsai trees for many years so had studied tree growth patterns and habits so had a pretty sound knowledge of how individual species would grow depending on the enviroment they were growing in. Over a period of weeks he played around with various materials to find a medium which would result in a realistic and durable bark to cover the bare wires.

After a chance meeting with a member of the Manchester Model Railway Society, he was given the opportunity to visit Pete Watermans massive 7mm (o gauge) where he worked on the trees and scenics for a couple of years. It was around this time Anthony also started attending various trade shows as a trader. It soon became apparent that not all modellers wished to pay the premium of buying ready made trees. It seemed to him that most modellers wanted to make their own trees . This is where he got the idea for a Tree Kit. All the materials required to make truely realistic trees in a bag with full instructions. This original approach has now seen a large range of scenic modelling materials being produced by TREEMENDUS and also includes Scenic Kits, Scatters, Earth powders and Scenic Glue etc.

TREEMENDUS is growing from strength to strength. New products are being introduced at affordable prices and he hopes he can continue to supply modellers all over the world with the materials they need to produce wonderfully realistic models.

Hopefully this will be the first of many SBS's as we all would like to see the whole range of TREEMENDUS products and show us some of their uses and the effects that can be achieved using them.

Jenny

---

Article Count:

3

Per Olav Lund

PER OLAV LUND



I would like to introduce Per Olav Lund to the Tanks and Things members. I have only recently met Per Olav, but have been an admirer of his incredible works of art for years.

Actually, he is one of those modelers who doesn't need an intro from anybody, so this is more or less a formality.

Per Olav has agreed to enter into our Masterclass and give us some step by steps on how he does some of his unbelievable dioramas!

Bob Letterman



---

Article Count:

2

John Steinman

John Steinman



It was many years ago when I met John Steinman on the Internet. At first I confused him with his brother who has been published in MMiR but it became obvious the incredible talent he had. Over the years, he has published many articles in MMiR as well as posting gallery entries on various web sites. Recently, he completed an online build log on Track-Link and before that he showed his diverse skills by tackling a modern subject, an AFV Club YPR-765.

It has been my pleasure in providing what little reference support I could. His efforts have garnished him numerous awards and he competes at the National Advanced level in AMPS. Yet, he remains humble and willing to share his techniques. On that note, I introduce to you; John F. Steinman.



_________________
Saúl García



---




Article Count:

3

Giovanni Azzara

Please Welcome Giovanni Azzara as a "Modelers' Alliance Master"

I only recently met Giovanni Azzara'

I was looking through the figure forum and saw this incredibly well done. I began looking at all this figure painter's work and was very impressed. I should have been. I contacted him and invited him to become a member of the masterclass.

Here is his modeling biography!

---

Born in Potenza, in southern Italy in 1975, his beginnings in modeling began with his set of "Legos". He soon discovered modelling thanks to his dad who brought him a set of German figures from Italeri, which he soon transformed into an African-American basketball team, playing on a side street basketball court. Basketball was and still is one of his passions. Since then he has built planes, helicopters, cars and motorbikes (another of his great passions).

In the early nineties, Giovanni attended university in Pavia, and it was there he learned about Milliput, He bought some and made his first scratch built model, "The Crow" from the famous comics and movie, and he still has it in his home collection. Later, he met many talented people who introduced me to the military figure world, and he started to enter competitions, winning a few prizes here and there.

Then, Giovanni met his, at the time, partner in crime and still very good friend, Danilo Cartacci, with whom he started a collaboration that led him to win gold medals at some of the most important shows around the world. From the World Expo to the Euro Militaire, to SCHAMS, Chicago MMSI, Seillans ,and even a best of show in St.Vincent, to name a few.

He was doing the sculpting while Danilo was doing the painting. All this lead him to meet some of the most amazing painters and sculptors around, and with some of them, he created various pieces that are now the hands of collectors all around the world.

Then he took a break and decided to finish his university studies. He wanted to acquire an education that would enable him to earn a living at something maybe not as amusing as military miniatures , but necessary for survival! That also meant a moratorium in my modeling for about 5 years.

Giovanni moved to London and then in July 2008 moved back to Milan, Italy.

Last year he finally decided to get back to modelling and here he is again, painting figures mostly, also learning how to build AVF's and soon he'll begin getting into those! I have been communicating with him frequently. He is very modest and humble for someone with so large a talent.

It is my pleasure to introduce Giovanni Azzara' to the Master class forum!

Bob Letterman

Article Count:

4

Terry Barrow

Terry Barrow Modelers' Alliance Master

I first met Terry Barrow at Mastercon 6 in 1997. Then later in Moscow Mills, Missouri in the VLS conference room. He had came from his home town of Clinton, Missouri with his wife Mary for a meeting with the late David Harper who worked for me at the time. He returned several times and we had some joint ventures going. I have visited Terry and Mary in both Clinton as well as in Kansas City where we share the love of a restaurant called Jack's Stax and their unbelievable Barbecued Burnt Ends.


Terry was born on January 17, 1963. He built his first model at age seven. It was a P-36A by Monogram and Terry says it cost seventy five cents, that was three weeks allowance in those days, and he still has it. He has built models on and off ever since. He doesn't really have a favorite kind of model, if it looks neat he may build it.

He lean toward armor, but has done just about every type of model. He became serious about modeling in the 1990's when he entered his first model contest at the local hobby shop (90 miles away in Kansas City, Missouri). He received a second place and has been addicted ever since. He is never really satisfied with his work, always thinking he could have been done better. (He has a lot of company there). He always seems to be amazed by the work of others I guess that's what keeps pushing him to improve.

Terry believes that if you stop trying to learn new modeling techniques you might as well stop modeling. He have learned a lot from the modelers he has been around and owe them a lot. To pay them forward he is always ready to help other modelers even though he's always a little embarrassed when someone asks. He tells them "Oh it's really not that hard or I couldn't do it". He has received quite a few awards, but he still has goals. He modestly says he is just a regular modeler that's been lucky a few times.

Some of his awards are as follows:
Best figure Mastercon 11
Best ship IPMS Region 5 (twice)
Best ship Mastercon/Eaglequest
Theme Award Eaglequest
Best Military Vehicle Eaglequest (twice)
Best Science Fiction Eaglequest
Best Science Fiction IPMS Region 5
Best Automotive IPMS Region 5

He was elected Eaglequest Grand Marshal in 2013

I am honored and pleased to introduce Terry Barrow into the Master's Forum

Bob Letterman

Article Count:

3

Chuck Wojtkiewicz

Article Count:

1

Andy Fettes

Article Count:

1

Tony Lee

Article Count:

1

Luiz Barroso

Article Count:

1

Randy Ditton

Article Count:

1

Luc Klinkers

Article Count:

1

Eddy Janssens

Article Count:

2

Jeff Matthes

Article Count:

1

Abdin Santoni

Article Count:

1

Mike Trent

Article Count:

1

James O'Leary

Article Count:

1

Michael Walsh

Article Count:

1

Christian Lacroix

Article Count:

1

JeffreyRiedesel

Article Count:

1

Laurence Maftei

Article Count:

1