Details

Parent Category: Modelers Alliance News
Category: Website News
Created on Tuesday, 20 October 2009 22:32
Last Updated on Saturday, 01 June 2013 23:11
Published on Tuesday, 20 October 2009 16:00
Written by moon puppy
Hits: 1672
This is a very simple step by step instructions for creating articles for submission
Click on Submit an Article link on the User Menu

1.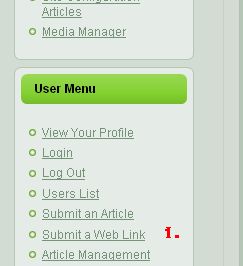 This launches the JCE Editor page.
Use the Editor to create the content you intend to submit.  
To insert your Photobucket or other third party hosted image use the "Insert/Edit Image" 2. button to embed your image into the article. 

Insert images by encoding standard HTML image tag "img src"'
You may use the "image insert/edit tool"
Insert your weblink to your image in the Image URL box 
on the Dimensions tab, enter a percentage value in stead of a static pixel size. Always make sure it's a percentage, you only have to put it in the first block. Then the image will resize automatically as it bumps down the page. This is necessary so when the article is rearanged on the multiple column page the image will resize to the area it has to work with.
If you have uploaded your images to the Tanks and Things Gallery click on the "Joomimage" button on the bottom of the editor frame and navigate to your user category and select your image.
when you are satified with your article you may sumit your article. Depending on your level of rights you may select if the artilce will be published directly or reviewed by our editors and publishers.
Under the Publishing options you may select the Section and Category you intend to submit your article to. Such as "Product Reviews" section and "Armor Kit Reviews"
Once you have all the options set simply click "Save" at the top of the page and you're done.
There will be more of these instructions to show more advance editing options
There are many options and tools that can be used to create rich content articles here at Tanks & Thinks so play around and experiment. Show us what you can do!