Modelers Alliance Logon
Search
Welcome to Modelers Alliance Website
Details

Parent Category: Reviews and News
Category: Kits
Created on Sunday, 04 October 2015 11:17
Last Updated on Sunday, 04 October 2015 11:20
Published on Sunday, 04 October 2015 11:17
Written by 135engineer
Hits: 795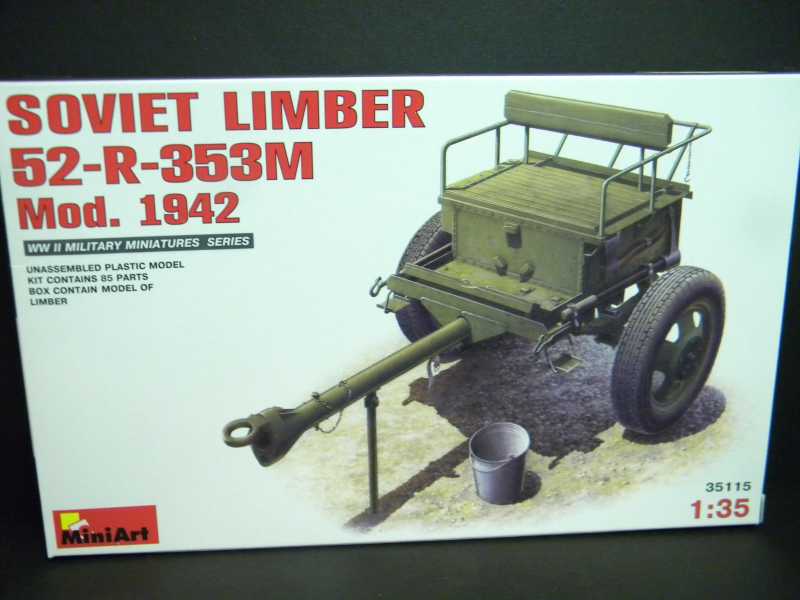 The subject of this review is the un sung hero of the artillery soldier. The mighty limber. The hauler of ordnance and whatever else is needed as well as the often time resting place of a weary soldier. Limbers are pulled by vehicle both wheeled and tracked as well as horse drawn and sometimes moved by manpower alone.
Miniart came to the rescue with a 1/35 scale soviet limber in the form of the 52-R-353M .

The kit was purchased from red frog hobbies ( which has great service ) Cost $24.24 at first I thought that was probably a bit too much for a simple kit , by simple I imagined it to be a box two wheels and a tow post. I really wanted it for a project that is planned so I dropped the dime and added it to my order.
Well the grand day had arrived my order was here from red frog and upon opening the Limber kit ,I was pleasantly surprised at the level of detail that was staring back at me.


Read more: Mini Art Soviet Limber
Discuss this article in the forums (5 replies).
Details

Parent Category: Reviews and News
Category: Finishing
Created on Friday, 18 September 2015 21:45
Last Updated on Monday, 12 October 2015 08:22
Published on Friday, 18 September 2015 21:45
Written by MrT
Hits: 724


All modelers have, to some degree, AMS (Advanced Modeler Syndrome) when it comes to model building. This can manifest itself in many ways from adding simple small details all the way to scratch building whole assemblies to correct a dimensional issue. In extreme cases it can cause some modelers to declare that a model is "unbuildable" and prevent them from building at all. While making detailed models is our stock and trade those extreme details may go unnoticed in a competition especially when judges don't care how many screws are present on panzer IV turret roof. In fact we should not expect them to know the specific nuisances of any model we make. We add those details more for our own pleasure and satisfaction. In this article let's look at what IPMS and AMPS consider to be "details". We may find out that our ideas about details are somewhat different from what judges are looking for.

Ok let's start off with the IPMS rules on "details"

Details for Aircraft:
Read more: Modeling for Competition: The Details
Discuss this article in the forums (1 replies).
Details

Parent Category: Reviews and News
Category: Kits
Created on Monday, 07 September 2015 11:09
Last Updated on Monday, 07 September 2015 11:09
Published on Monday, 07 September 2015 11:09
Written by Brokeneagle
Hits: 825
Brief Background
WW2 Soviet Tractor - this version was a development of the earlier S-60 version. The s-65 being the most numerous with 37,656 being produced before the ChTZ factory switched to tank production in 1941.
The Kit
- 200 plastic parts (light grey plastic)
- 234 track parts (light brown plastic)
- 5 clear plastic parts
- 8 photo etch parts on 1 sheet
- 1 decal sheet
- Instruction book of 12 pages.
An interesting subject that lends itself to many exciting diorama ideas for WW2 armor modelers, including people who want to 'walk on the wild-side' and modify the kit to depict a wood burning version, or various other configurations.
The kits parts are modeled very crisply with the detail popping out perfectly for painting and highlighting.
Bring on the scratches and Rust!
See the pictures below for a look inside.....
Read more: 1/35 Trumpeter ChTZ S-65 Tractor with Cab
Discuss this article in the forums (4 replies).