Modelers Alliance Logon
Search
Welcome to Modelers Alliance Website
Details

Category: Reviews and News
Created on Saturday, 01 July 2017 20:49
Last Updated on Saturday, 01 July 2017 20:49
Published on Saturday, 01 July 2017 02:00
Written by jknaus
Hits: 736
Forgotten Archives 2: The Lost Signal Corps Photos.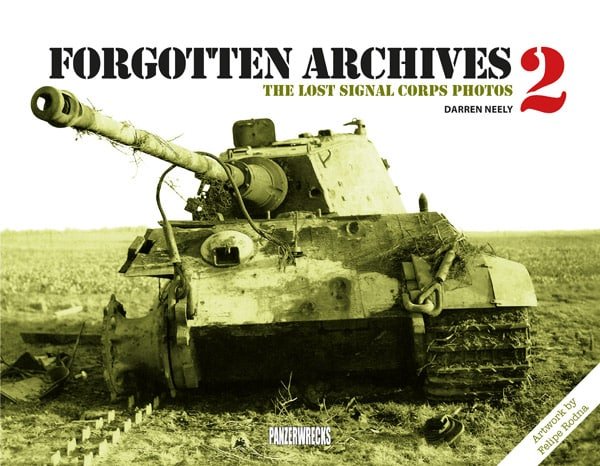 Having reviewed the first volume of this series by Panzerwrecks, I was exceptionally happy to find the second volume in my mail box. What a treasure trove of interesting pictures and history it provides, care of those unsung members of the Armed Forces who captured the war and the detritus left over from intense action. Whether in action or after the fact they documented the war and its many facets for the intelligence community, posterity, and for consumption by the general public.
Read more: Forgotten Archives 2
Discuss this article in the forums (4 replies).
Details

Parent Category: Reviews and News
Category: Kits
Created on Friday, 28 April 2017 07:51
Last Updated on Friday, 28 April 2017 07:53
Published on Friday, 28 April 2017 07:51
Written by Old Dog
Hits: 707
Bobcat 1/48 Yak-28P
Before starting a couple of things, first Bobcat, ohh noo another Chinese kit maker, well sort of, it seems that Bobcat is a reincarnated Xuntong Model. At least it's easier to pronounce. After turning out a couple of kits Xuntong all but disappeared. Looking at the packaging and the instructions it's easy to see the linage. That said it appears that this kit has a finer level of execution, panel lines are smaller and detail more petite. The mold maker company name and address has changed but it is still in the same city and province in China so I assume it was some sort of reorganization.

Secondly I'm am no expert on the Yak-28 series of aircraft nor do I have any good references. Therefore I will not be critiquing the kit for accuracy or things that the manufacturer did not do right. If anyone wishes to do so, be my guest but my review will limit itself to reviewing the kit from an execution standpoint.

A brief history: The Yak-28P is an all weather interceptor of the Yak-28 family. It was developed from 1960 and deployed operationally from 1964. 443 were produced between 1962 and 1967. The Yak-28P omitted the internal bomb bay to allow for a larger fuel capacity. Interception radar was added. Generally armed with two medium range K-98 air-to-air missiles and two short range K-13A air-to-air missiles, the Yak-28P was able to destroy low to medium altitude targets such as bombers and surveillance aircraft. The Yak-28P was the last Yakolev aircraft that served in the Soviet Air Force. The Yak-28P was withdrawn in the mid 1980s and replaced by the Sukhoi Su-15.

The kit...




The Bobcat Yak-28P comes is a large top open tray type box made entirely of thin corrugated cardboard resulting in a nice sturdy container. While it's a bit over sized the largest sprue just fits within the confines of the box. Inside the box are five sprues molded in gray, each one in a resealable bag. There is also one bag with clear parts and one that has an alternative nose piece in it. The decals are in a separate plastic sleeve.

The parts are cleanly molded with only a few hints of flash and mold separation lines on parts are light. The parts have a smooth matte finish and surface detail consists of fine recessed panel lines as well as recessed rivet and fastener detail. Rivets and fasteners are restrained and not over done and they vary in size as one might expect them to be depending on their purpose. There are some very delicately molded openings and raised details where appropriate. There are some antennas molded to one half of the fuselage and on one of the wings that will probably get broken off during assembly. I hate when they do that. Looking over the main air frame parts I did not find any noticeable flaws or defects. As near as I can tell most of the ejector pin marks have been kept out of visible areas.

Detail wise starting with the cockpit, it looks pretty busy to me The pilots instrument panel has recessed instruments with internal indicators and raised knobs and switches. The rear seat panel has raised bezels on the instruments with internal pointers and raised internal detail. The excerpt from the manual below shows the assembly. There are no harnesses for the bang seats.


Read more: Bobcat 1/48 Yak-28P
Discuss this article in the forums (8 replies).
Details

Parent Category: Reviews and News
Category: Kits
Created on Tuesday, 21 February 2017 16:06
Last Updated on Tuesday, 21 February 2017 16:06
Published on Tuesday, 21 February 2017 16:06
Written by Old Dog
Hits: 979