Modelers Alliance Logon
Search
Welcome to Modelers Alliance Website
Details

Category: Reviews and News
Created on Sunday, 25 February 2018 10:11
Last Updated on Sunday, 25 February 2018 10:11
Published on Sunday, 25 February 2018 10:11
Written by bob letterman
Hits: 796
Well, it has been nearly five years since the last batch of Master's Forum members were made.

This time, I used a new search criteria. I looked at many aspects, but focused on four.

1. Above average and very talented. Not all are necessarily master modelers currently, but definitely have the potential.

2. Participation rate. How often does the candidate post his builds as well as post on other's builds and discussions on our website. This is important! The Master's forum helps generate new members to the site. So, keeping the forum current is a necessity!

3. This time, and from now on, I will try to strike a balance between modelers of the various categories, Aircraft, Armor, Figures, Ships, Cars, Sci-fi and Dioramas, so we can have diversity within the Master's forum..

4. I also looked for the enthusiasm factor. Is the candidate motivated and active? I have been doing this now 11 years, since 2007 when the site had a different name. There have been a few masters made that rarely posted. In fact, back in 2008, at the former webmaster's insistence, I made one who never bothered to post. He just wanted the title. He was removed two months later.

I do my best to be as objective as I can possibly be. I named two other members who declined. One due to his position on the forum and another due to his inability to spend sufficient time. Both, in my opinion, were well qualified. I like to think I have a lot of friends on this website, but try my best not to allow personal relationships to enter into my choices.

I am proud to introduce the following New Members, and in no particular order.

1. Jeff Matthes, (Ausf) New York State, USA
2. Abdin Santoni, (Fledermaus) Puerto Rico, USA.
3. Mike Trent, (Iron Mike) North Carolina, USA.
4. James O'Leary, (James O'Leary) Texas, USA
5. Michael Walsh, (Mike Walsh) Australia
6. Christian Lacroix, (Phantom II) North Carolina, USA.
7. Warren Joyce, (Sharkman) Nova Scotia, Canada
8. Jeffrey Riedesel, (Sherman 18), Kansas, USA
9. Laurence Maftei, (White Wolf) Australia by way of Romania.

My heartfelt congratulations to all you guys! I am proud to have you aboard The Master's Forum! I feel certain your contributions will inspire others to excel as you have!

Bob Letterman
Discuss this article in the forums (19 replies).
Details

Category: Reviews and News
Created on Wednesday, 24 January 2018 11:41
Last Updated on Wednesday, 24 January 2018 11:41
Published on Wednesday, 24 January 2018 02:00
Written by jknaus
Hits: 1117
Today I'm reviewing the newest Nuts and Bolts book, Nuts and Bolts #39 Sd.Kfz. 6, 5 ton Zugkraftwagen, Büssing - NAG and variantsn.
This newest volume is again a treasure trove of information and reference pictures.
Read more: Nuts and Bolts #39 Sd.Kfz. 6
Discuss this article in the forums (3 replies).
Details

Parent Category: Reviews and News
Category: Tools
Created on Thursday, 07 December 2017 17:00
Last Updated on Thursday, 07 December 2017 19:42
Published on Thursday, 07 December 2017 17:00
Written by moon puppy
Hits: 1215
HAKKO FX888D Intro

Over the years I have been back and forth over getting a resistance soldering station but I just could not pull the trigger on $400+ for something I may not use that often.

Biggest problem I have had with soldering is the heat and the tip. Most of our soldering irons we get a the local shops are not made for detail and small application, just utilitarian in nature. The big Waller gun I have heats up nice but it's heavy and has limited selections of tips. The smaller irons are generally 25-35 watt, takes a while for them to heat up and the tips are still rather big.

Allow me to introduce you to my new Hakko FX 888D BY (Blue and Yellow) soldering station, they have a silver model also.

Read the technical info about the FX888D here. I'll not get into all this because it's lost on me, I just need heat!

www.hakko.com/english/products/hakko_fx888d.html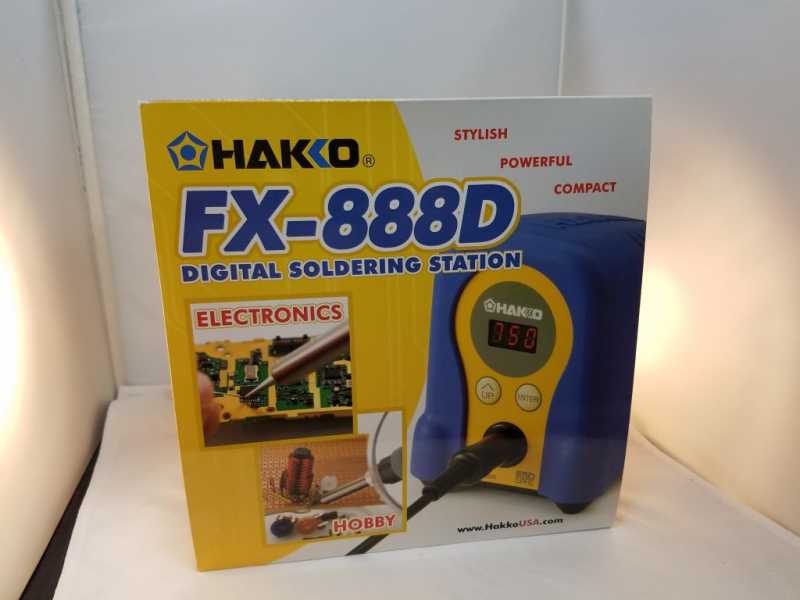 Stylish, Powerful, Compact. Just like the box says.
Read more: Hakko FX888D Soldering Station
Discuss this article in the forums (18 replies).